Introduction
Three months ago I wrote about the IP Camera market and its growth potential in both the commercial and consumer space (link). Since then Ambarella (NASDAQ:AMBA), Avigilon (OTCPK:AIOCF) and other stocks have performed very well. Recent news and further research in the video hardware space makes us feel particularly bullish about the wearable camera market, a new and underappreciated product category. This product category places a premium on portability (small form factor and lower power usage) in addition to high performance, features where Ambarella remains the most attractive, defensible pure technology play. Sports cameras, a subcategory of wearable cameras, have driven a steady 12-fold growth in Ambarella's revenue since mid-2010. We see emerging new subcategories and use cases of wearable cameras, which are likely to drive additional revenue growth for Ambarella and other companies, such as Himax (NASDAQ:HIMX), Invensense (NYSE:INVN), CSR, Taser (TASR) and Vuzix (NASDAQ:VUZI) in 2014 and beyond.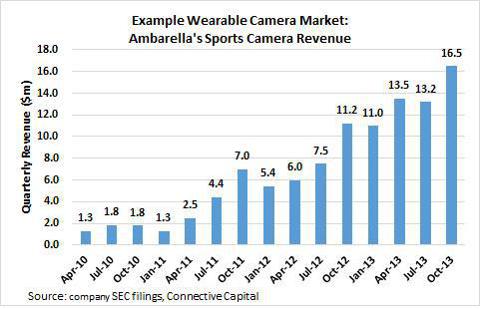 We are enthusiastic about four key applications for wearable cameras: sports and action (e.g., GoPro), cameras for law enforcement personnel (nascent field with Taser's AXON cameras), connected task-oriented wearable cameras (e.g., for Google's Helpouts), and smart glass with recording capability (e.g., Google Glass). In the last year, video camera technology has reached impressive price, size and performance thresholds, setting up a new overall product category, wearable video capture devices ("Wearables"), for a breakthrough year in 2014. The widespread appeal and usefulness of these products gives us conviction that the market is underestimating the proliferation of wearable cameras. It's not too late to get involved in stocks that can benefit from this trend.
As we prepare for our annual visit to the January Consumer Electronics Show (CES) in Las Vegas, it is timely to examine the current market landscape. This article surveys the wearable camera market and identifies the 2014 investment opportunities that may be highlighted at CES.
Wearable Video Capture Devices
When we talk about wearable cameras, GoPro is usually the first thing that comes to mind. Indeed, GoPro is arguably the most successful and recognized brand in the world of consumer wearable video cameras. Nevertheless, the Wearables market is more than just sports cameras. Currently, this space consists of at least four subcategories.
Action cameras, such as GoPro Hero C3+ and Garmin VIRB;
Law enforcement wearable body cameras, such as Taser Axon and Digital Ally FirstVu;
Connected personal wearable cameras, such as MeCam, Looxcie 3 Social and the Google Helpout+ camera suggested by a recent press release (link); and
Smart glasses, which also have a head-mounted screen, such as Google Glass and Vuzix M100.
While all Wearables require compact physical form factor each these subcategories require a different functional optimization or design tradeoffs and faces various social or policy acceptance dynamics. These issues are being addressed, so all of the subcategories see impressive growth in the next few years.
Action cameras
Action cameras exploded onto the scene in 2007 as a category with the launch of GoPro Hero. People resonate strongly with the idea of taking incredible videos with a rugged and versatile camera in extreme conditions and sharing these experiences. Such a use case is something beyond the capabilities of today's smartphone cameras. It was a big surprise for digital video camera (DVC) industry watchers as GoPro was a huge success amid a steady decline in units and profits for the DVC industry. According to an interview published by Forbes (link) and other sources (link), we expect this market to grow at 79% CAGR from 2012 to 2014.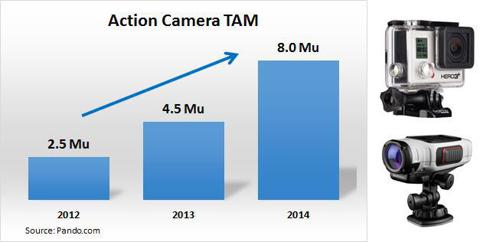 Most sports cameras compete on video quality metrics, such as frame rate (e.g., 240 FPS in WVGA by GoPro Hero3+ Black Edition) and resolution (e.g., 4K). These capabilities are usually beyond those found in mainstream display devices, although we expect 4K (a.k.a. UHD) TV to be a key theme at the upcoming CES. Sports cameras are also waterproof by design (e.g., Garmin VIRB) or offer waterproof casing (e.g., GoPro) to allow them to be used outdoors or for water sports.
High performance requirements for encoding chips. Fast-moving scenes, ultrahigh resolution and frame rate and airtight enclosure add considerable challenges to the electronics. Fast-moving scenes are notoriously difficult to encode and compress. Encoding such scenes is computationally intensive, which implies greater power consumption by the encoder chip. Since these cameras are battery powered, the electronics must consume minimum power to achieve good battery life. Furthermore, many CMOS sensors used in consumer video capturing devices are susceptible to ambient temperature (see my previous article). At above 50 degrees Celsius, the thermal noise becomes so significant that the sensors are no longer usable. However, airtight enclosures are not well suited for heat dissipation.
The sports camera market is clearly booming given GoPro's popularity on Amazon and the proliferation of GoPro video footage on YouTube. While GoPro is still privately held, Ambarella, GoPro's sole provider of video encoding chips, is a great proxy. Ambarella is the most recognized vendor for video encoding chips, and its sports camera revenue, estimated in Figure 1, has been a key driver for Ambarella's excellent stock performance since its IPO in October 2012.
Law Enforcement wearable cameras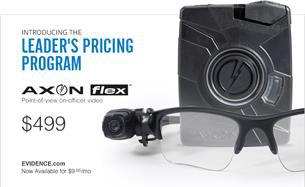 In recent years, wearable camera applications for law enforcement have grown in popularity and acceptance. The trend started in the 1990s with dashboard-mounted cameras in police cars, providing video footage leading to more efficient and just outcomes in traffic-related court cases. According to Taser, however, US law enforcement organizations still spend over $2 billion each year to resolve claims. To address the broader range of law enforcement incidents, Taser introduced its point-of-view (POV) wearable video offering, AXON Flex, in 2011 (link). Despite some initial trepidation on the part of both officers and the public (link), experience has shown that wearable video improves the behavior of all parties involved and dramatically reduces the number of false complaints and lawsuits. In fact, a groundbreaking study on law enforcement wearable video in the U.K. showed a dramatic decrease in claims (link).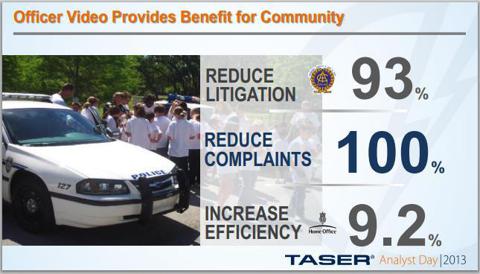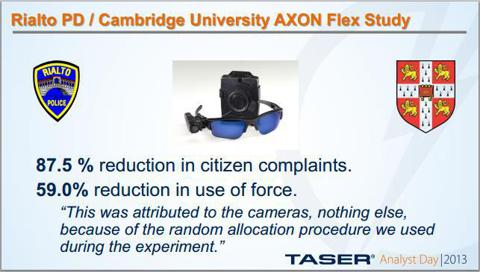 To be effective, such cameras must be rugged, have wide viewing angles, work well in the dark, and record tamper-proof video that can be trusted by the public. Furthermore, to provide full coverage of an incident, it is important to capture pre-event video footage. For privacy, appropriate video access control and purging policies have also been developed. Taser couples its wearable offering with a secure cloud service (www.evidence.com) to store video footage. This robust and secure backend solution is vital for data management and to ensure the privacy and integrity of the video for its use in court. There have been numerous announcements of wearable video adoption by US law enforcement agencies (link, link, link). Furthermore, U.S. Department of Justice published a primer (link) to promote the adoption of wearable cameras by law enforcement agencies. Some even think that "[t]his is the future of policing. In 10 years, it'll be just like issuing a gun and a badge." (link).
As the leading supplier of non-lethal weapons, Taser is one of the most recognized law enforcement equipment vendors. Driven by increased adoption of its signature stun gun, a broad replacement cycle fueling upgrade purchases, and rapid adoption of wearable cameras, Taser's stock has outperformed in 2013.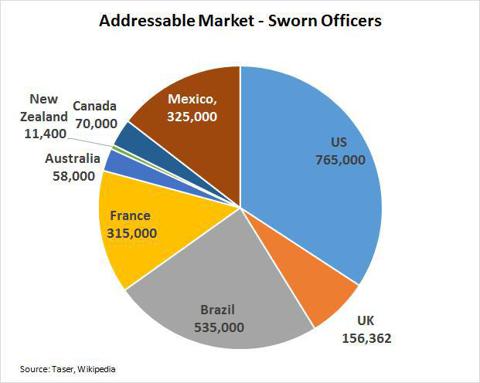 Besides the law enforcement market, military is another specialized vertical for wearable cameras. For several years, military has been equipping soldiers with helmet cameras to stream video to a command center or military outpost. Per Wikipedia (link), during the mission to raid Bin Laden's compound, live video of the raid is believed to have been streamed to the White House. Although it could be a big opportunity, this market is out of the scope of this survey, which focuses on commercial opportunities.
Connected wearable cameras
The use of wearable cameras by consumers for one-on-one interactive help sessions in a variety of routine areas of life is an exciting new product area highlighted by Ambarella's December 20, 2013, announcement (link) to cooperate with Google on its Helpouts application and service. By enabling Helpouts with a connected wearable camera, users can get real-time help on repairing a bicycle, instructions on cooking gluten-free dairy-free meals, or one-on-one coaching to improve tennis strokes.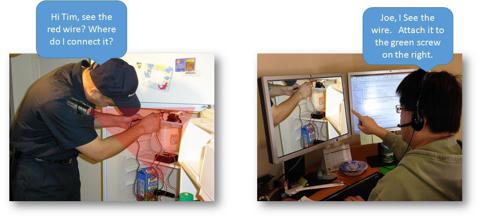 Currently, Google Helpouts is a platform that relies on traditional PC-bound webcams to provide two-way video sessions where users can interact with experts and receive help. Wearable cameras allow the helper to see live video from the customer's perspective, or vice versa enables a new level of interaction between the two parties and makes the service a lot more valuable and effective. With wearable cameras users have the freedom to move freely and hands free, offering the helper a first-person view.
The market potential for such service is significant. Small business owners are already taking advantage of Google Helpouts to offer "free" consulting sessions as a way to generate potential sales (e.g., link). This is just the tip of the iceberg. With the remote "first person point-of-view" connected wearable, field service personnel such as an electrician or plumber, or in-home nurse, can have access to expert help from headquarters to get problems resolved quickly and avoid repeated visits.
The key to fulfill this opportunity is a connected wearable camera that has good performance in difficult lighting conditions, high resolution and good battery life. Ambarella so far is at the forefront among the technology providers. The form factor for the Google Helpouts wearable camera is still unknown, and we expect to check out a reference design by Ambarella at CES.
Example: Looxcie Wearable Cameras
Smart Glass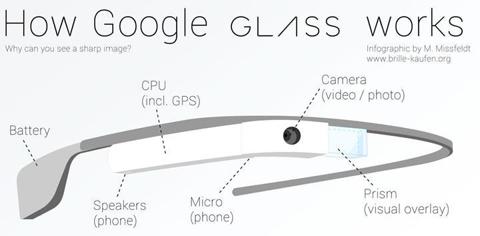 Google Glass is the most recognized example for the burgeoning smart wearable display product category. While many are excited about the revolutionary device made possible by the LCoS display from Himax and the connectivity to the Internet via WiFi or Bluetooth, the integrated video camera greatly expands the range of potential applications. The integrated camera elevates Google Glass from a mere display device to an interactive device, for example by improving above field-service expert-support interactions by delivery of key information such as diagrams, maps, checklists etc.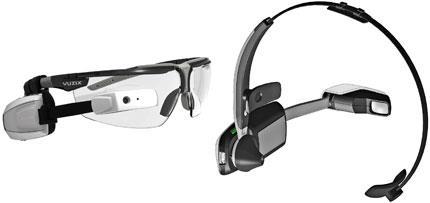 Interestingly, Vuzix, a small pure play in the wearable display and smart glass market, articulates compelling use cases for its M100 smart glasses (link), a functionally similar device to Google Glass. The M100 Smart Glasses is Android-based and "well suited for a variety of industrial, medical, retail and prosumer applications." It offers "[h]ands free access to data, direct and remote video capabilities, direct onboard processing of video capture for lag-free Augmented Reality and more." In the video interview with SAP's Global VP of Enterprise Operations Management, Vuzix laid out a case for warehouse personnel to use the M100 device to efficiently manage inventories by linking real-time views captured by the device camera to the back office database. The M100 device won the BEST OF INNOVATIONS award at CES 2013. We expect to see a more refined iteration from Vuzix in January.
Wearable Camera Market Size
While we are still in the early days to accurately forecast the market size of wearable cameras, we can sketch out a reasonable idea in a three-year time horizon. We think that the market size can reach 63 million units in 2016. At a blended ASP of $250 per camera, the total addressable camera hardware market is $16 billion. Note that the data do not include field services outside the US, nor does it include revenues from related cloud services. If we gross up for these items and assume a three-year replacement cycle, we think that $10 billion is a reasonable estimate of the annual market opportunity.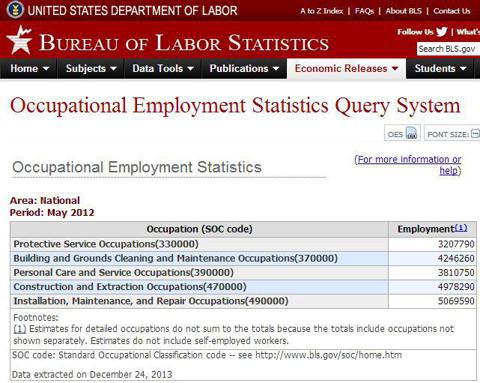 Investment Thoughts
The momentum of wearable cameras is building rapidly, and 2014 will be a pivotal year. Several products and prototypes will be being shown at the CES show, and it is rumored that Google Glass will officially launch the first part of 2014 to consumers at around $500. The clarification of product pipelines and market opportunity could do a lot to boost the shares of companies related to wearable cameras.
A prominent example is Himax in 2013. It was trading at below $3 at the beginning of 2013. As investors discovered that it was the supplier of the LCoS display used in Google Glass in early March 2013 (link), the stock rallied dramatically throughout the year. Year-to-date, Himax has returned well over 380%, even though a major shareholder (Innolux) sold off all of its holdings (22 million ADRs, or 15% of Himax's total shares outstanding) in June 2013.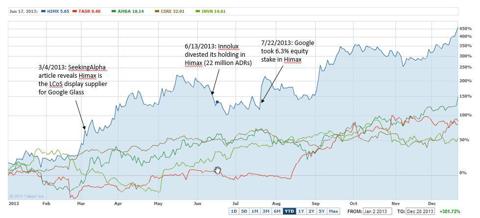 The rise of camera and other connected device stocks is starting to attract healthy skeptical views, and some insiders decreasing their holdings. While we understand the motivation of insider diversification, we still see huge growth ahead for the wearable camera investment space to grow.
Ambarella currently trades at one-year forward P/E of 25.2x with the consensus assumption that revenue will grow at a modest pace of 17% YoY to $182.5 million. The revenue growth is most likely taking into consideration secular growth of the IP security camera market and the growth in the action camera market. Given the market leadership of Google with Glass and Helpouts-type applications, we believe that connected wearable cameras will provide a meaningful boost to Ambarella's growth trajectory. We estimate that if Ambarella's encoders capture just 3.5% of the $10B wearable camera market opportunity, its EPS in 2016 can exceed $2.00. This growth profile justifies a forward P/E of 21x (Himax's forward P/E), and suggests that the stock can reach $42 as the Wearables market plays out.
Now is a great time for thematic investment around the wearable camera space. Besides the names we have mentioned so far (AMBA, TASR, HIMX, VUZI), we see the following companies benefiting from the proliferation of wearable cameras and smart glasses.
Disclosure: I am long AMBA. I wrote this article myself, and it expresses my own opinions. I am not receiving compensation for it. I have no business relationship with any company whose stock is mentioned in this article.
Additional disclosure: Also long GOOG, HIMX and INVN.