As 2013 is coming to a close, an interesting technology name is close to its 52-week high. That might not surprise you at first, since US markets are racing to new highs almost daily at this point. However, this is a company that has greatly disappointed in both 2012 and 2013, so the stock's rally seems a bit questionable. Investors are betting that 2014 will be a turnaround year for the company, but the name issued much weaker than expected guidance a month ago.
If you haven't figured it out by now, I'm talking about chip giant Intel (NASDAQ:INTC). The stock has recovered its losses from the warning given during the company's Investor Day, and is actually even higher now. Even though the company warned, there has been a shift in investor sentiment regarding Intel lately. However, it's not in the direction you would think. Today, I'll explain what's changed with Intel recently.
The latest numbers are in:
The key number I'm focusing on today is Intel's short interest. This is a number I've been discussing for quite a while now, as Intel's short interest for most of 2013 was rising higher and higher. Recently, Intel's short interest backed off its multi-year high, but one or two declines needed to continue for a trend to be in place. With the latest update showing a fourth consecutive decline, I think we can now say that sentiment is shifting. The chart below shows Intel's short interest going back to the Spring of 2012.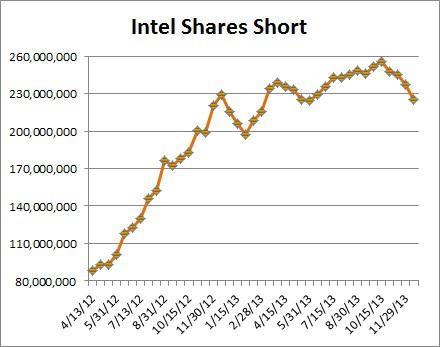 The latest number for Intel's short interest was just below 225 million shares. That's a decline of nearly 12 million shares, or 5%, from the prior update on short interest. When you add up the four straight declines, Intel's short interest is down by just over 30 million shares, or nearly 12%. Based on where Intel has been trading, that's about $750 million worth of shares that have been covered. That might not seem like much considering Intel's market cap is over $127 billion, but you are talking about nearly 1 in every 8 shares short being covered. Intel's short interest is now at its lowest point since the end of May, and that's quite significant. This is also the first time this year where Intel's short interest declined year over year.
Short interest for the chip giant is still a little elevated, however, up 154% over the past 20 months. The other important number to look at is Intel's days to cover ratio. This number represents the days it would take all shorts to cover their positions. If Intel has 200 million shares short, and trades 40 million shares a day, it would take five days to cover, for example. The chart below shows Intel's days to cover ratio over the past year.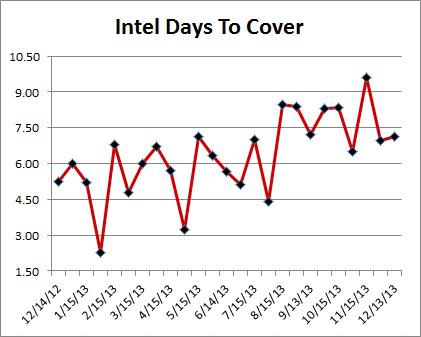 Intel's days to cover ratio actually increased from 6.98 to 7.14 at this short interest update, despite the decline in shares short. This was due to the nearly 2.4 million share drop in average trading volume, per the NASDAQ update. Investors shouldn't read too much into the rise here, just because December trading volumes can be light. In fact, if Intel's short interest stays the same at the next update, I'd expect weak holiday trading volumes to push this ratio back up towards 8. The key point here is that the days to cover ratio is still a bit high. While Intel is not a short candidate at this point, the days to cover ratio is worth monitoring for now.
Numbers still a bit elevated compared to peers:
In my last update on short interest, linked above, I mentioned how Intel's short interest metrics were high compared to other top tier tech names. I compared Intel against Apple (NASDAQ:AAPL), Microsoft (NASDAQ:MSFT), Google (NASDAQ:GOOG), Cisco Systems (NASDAQ:CSCO), and Qualcomm (NASDAQ:QCOM). The following chart shows a comparison of the days to cover ratio for these six names.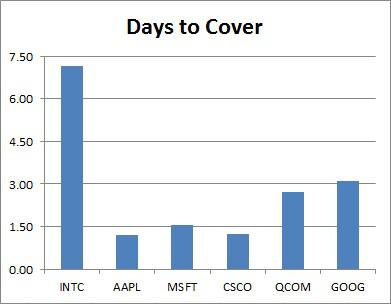 Just like the previous update, Intel's days to cover ratio at 7.14 is more than double the next highest number, Google's at 3.09. At my prior update, the average among the other five names (not Intel) was 2.07, and this time, the average was down to 1.96. Intel's days to cover ratio is more than three and a half times that of the five name average. The other numbers I looked at last time were each name's short interest in relation to its outstanding share count and float, taken from its key statistics page on Yahoo. The table below shows the results of this analysis.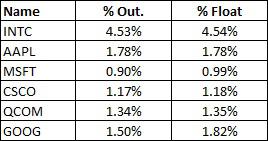 Intel's percentage of float is down by about 25 basis points since my last update, which makes sense given the decline in short interest. The average for the other five names remained at 1.42, with a few changes here and there. So Intel's numbers are getting closer to the average here, but still remain well above those of its peers.
Where estimates stand currently:
Intel guided for flat revenues in 2014, which was below expectations for 2.1% growth at that time. Current estimates are down to 1.2% growth, meaning analysts believe Intel was sandbagging a bit. Intel analysts still expect $1.89 in 2014 for earnings per share, and this may all depend on Intel's subsidies. For a while, that was equal to their expectation for 2013. However, the current average is up to $1.90 for 2013. A penny or two here or there probably does not make a difference. Should Intel come in with a strong finish to 2013, the company would need to have a solid 2014 to not have another year of declining earnings. Remember, Intel produced earnings per share of $2.39 a few years ago, and that was with a much higher share count. Net income has fallen even more dramatically.
Final thoughts:
We've now seen four consecutive declines in short interest for chip giant Intel. This move has become fairly significant, thanks to a number of metrics I've provided here today. However, some of Intel's short numbers still remain elevated and well above other top tech peers. There has certainly been a shift in sentiment regarding Intel, with a fair amount of short sellers deciding to cover as we approach 2014. That's why this article is being tagged as "Long Ideas", as sentiment is changing in a positive direction. Intel still has a lot to prove next year, and investors may not be able to get everything they want. The chip giant is close to a 52-week high, but January will be a key month for Intel. An earnings report highlights the month, but a decision on the dividend is due as well. These items will decide where Intel shares, and its short interest, go next.
Disclosure: I have no positions in any stocks mentioned, and no plans to initiate any positions within the next 72 hours. I wrote this article myself, and it expresses my own opinions. I am not receiving compensation for it (other than from Seeking Alpha). I have no business relationship with any company whose stock is mentioned in this article.
Additional disclosure: Investors are always reminded that before making any investment, you should do your own proper due diligence on any name directly or indirectly mentioned in this article. Investors should also consider seeking advice from a broker or financial adviser before making any investment decisions. Any material in this article should be considered general information, and not relied on as a formal investment recommendation.