In recent articles I focused on why I am bullish on Delta Airlines (NYSE:DAL) and the new American Airlines (NASDAQ:AAL). The story for both of those companies is the potential for increasing profits as well as the high likelihood of multiple expansion - leading to (if I'm right) returns north of 100% by 2015. Both of those companies provide such great opportunity because the market has discounted them based on past sins and as they execute their business plans they will not only be highly profitable but also likely to change perceptions in the market. While initially not as enthusiastic about Southwest Airlines (NYSE:LUV) because of their higher P/E multiple, I believe that there is significant opportunity for them going forward as well. The primary drivers of their success will be their expansion at LaGuardia and Washington National, as well as in international markets, their completion of the merger with AirTran and, most importantly, the opportunity for significant additional income from the implementation of certain ancillary fees. On that last point, I believe that it is highly likely that Southwest adopts the standard industry practice of charging for bag fees and charging change fees for non-refundable tickets. This implementation has the potential to add $1.2 Billion to the company's bottom line each year. To put that number into some sort of perspective, it's important to remember that Southwest has reported net income during the past four quarters of approximately $620 Million.
Southwest Airlines has long been the airline industry darling. From their Texas triangle conception on a cocktail napkin to stewardesses wearing hotpants while dispensing bottles of Chivas, to rapid expansion and consistent profits following de-regulation, the corporate history is incredibly rich and the company, highly successful. More recently, investors have been rewarded with share price appreciation of over 200% since the March 2009 lows (although US Airways and Delta have had higher percentage gains within the airline industry). Unfortunately for the value minded investor, the current TTM P/E multiple is around 21, which compares to Delta, which has a current P/E of 12 and US Airways (LCC) (before its merger with American) which had a P/E of around 8. Clearly, if value is there for Southwest, it likely won't be in multiple expansion. However, it is my opinion that significant revenue and profit growth is likely which will send shares up a minimum of 40% by the end of 2014.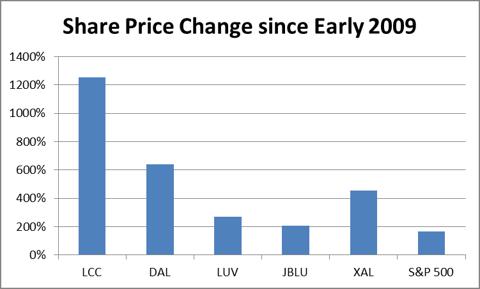 Network Expansion Opportunities:
Southwest is one of the biggest beneficiaries of the US Airways and American Airlines merger. Not only do they benefit from one less competitor on the scene but they also stand to benefit significantly from the divestiture of slots and assets, primarily at Washington's Reagan National airport and New York's LaGuardia. Southwest has already purchased 22 take-off and landing slots at LaGuardia, which will allow it to expand capacity by eleven flights per day. There will be an additional 88 slots (44 flights) available at Washington National airport that will be available in the next few months that Southwest has indicated it will bid on. It is important to note that although these slots will be sold, that the slots will most likely be sold for below market value because non low-cost airlines are excluded from bidding. Current margins at LaGuardia and Washington National are among the highest in the country and will provide an ongoing future revenue and income boost. How much of a boost is difficult to say, but Scott Kirby, the President of the newly merged American Airlines, recently said that Washington National was the most profitable hub for US Airways by operating margin and that it was the second most profitable in the country - behind Newark. LaGuardia didn't factor into his analysis because it wasn't a hub, but as the preferred business airport for New York, and a (comparatively) much cheaper airport for the airlines to operate in, it is likely that its profit margins are near or even greater than Newark for comparable flights.
In addition to the domestic expansion opportunities, the merger with AirTran has brought international flights to Southwest's network for the first time. As margins on international flights historically have been much higher than domestic routes, the international expansion promises to increase profit potential. However, one factor with international travel is that demand is more disbursed than domestic travel (fewer people need to go international - especially in Southwest's bread and butter leisure market). Southwest has historically claimed to operate a point to point network (although lately it is suspiciously looking more and more like a hub and spoke system) but traffic aggregation into a central hub to feed those international flights is incredibly important for the viability of those flights. With the expansion of Houston's Hobby airport to accommodate international flights (with $156 Million being invested by Southwest) Southwest should have its international hub. Adding direct service from Hobby to Washington Reagan and New York's LaGuardia will provide Southwest with a direct link to the most lucrative international and business travelers in the country.
Synergy Gains from AirTran Merger
Southwest has estimated that it will complete its merger integration with AirTran by the end of 2014 and that it will achieve annual net synergies of approximately $400 Million beginning in 2013 (excluding merger integration expenses that will continue through 2014). In the third quarter financial statements, Southwest indicated that it was on target for that $400 Million number.
Low Debt Level Which Permits Buybacks and Dividends
Southwest is the only major airline founded before the beginning of de-regulation that hasn't declared bankruptcy and has avoided the boom and bust cycles that have plagued the legacy carriers. As a result, the company's debt level is much lower than its peers. This is a competitive advantage that allows Southwest to save money on debt service and permits it to be more aggressive in returning cash to shareholders through dividends and repurchases. In comparing major domestic airlines, only Delta and Alaska (NYSE:ALK) have dividend and repurchase arrangements in place and Southwest is by far the most generous of the group, returning $422 Million to shareholders in 2012.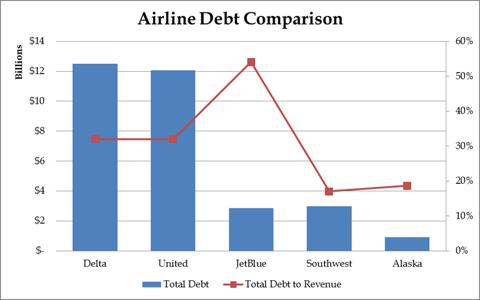 Future Ancillary Revenue Opportunities:
The most promising future development affecting Southwest's valuation is in the area of ancillary fees. As most people know, Southwest has made a name for itself as the airline where "bags fly free." Conspicuously, this slogan, and the major advertising campaign associated with it has mostly gone away. Also, as the Wall Street Journal noted after Southwest's third quarter earnings call, there seems to be an evolution of opinion from Gary Kelly, the CEO of Southwest, from February 2012, to October 2013. In my view, these signs are early indications of a logical step towards a la carte pricing. Further validating that view is the recent change in policy regarding non-refundable tickets.
Before September 2013, Southwest permitted passengers to freely change, cancel or alter reservations with any class of ticket purchased - without fees - before or after departure. This is in contrast to the other major carriers who in most cases charge a $250 change fee for any modification in a reservation of a non-refundable ticket, with changes permitted only before departure (ticket forfeited if a no-show to a flight). In September, Southwest made a relatively small change to its non-refundable ticket policy, essentially making non-refundable tickets truly non-refundable for those who don't cancel or change reservations prior to 10 minutes before departure. While, the impacts from this policy were described as immaterial in Southwest's 3rd Quarter 10Q, and would only apply to a very small group of passengers, it is another sign pointing to future changes in how Southwest approaches ancillary fees.
So, assuming that Southwest is moving towards implementing baggage and reservations fees, what is the opportunity? Among the four largest domestic carriers (excluding Southwest) the average fees collected per passenger (2013 YTD fees collected annualized with 2012 passenger totals) amounted to $5.21 in baggage fees and $4.90 in change fees. Southwest is currently collecting baggage fees from its AirTran subsidiary for the time being and collects a small amount for oversize bags. By comparing current and potential future collections per passenger, Southwest should be able to increase its revenue by approximately $1.2 Billion per year.

Although some passengers would likely no longer book on Southwest after adoption of these policies it is hard to imagine that bookings would drop enough to significantly offset the additional gain. Additionally, since Southwest is already providing the baggage and change fee services (albeit systems and training would need to be updated), all of this revenue would flow through to the bottom line.
Risks:
The largest risk to all carriers, including Southwest, is the potential impact from macro events outside of the airlines control. Most worrisome would be an event such as a war in the middle-east that trigger an oil shock that increase prices for jet fuel while at the same time decreasing demand for air travel. Other major events that could impact Southwest would be pandemics or terrorist events. In my view, while there is risk from all of these events, the industry has strengthened to the point where these events are much less worrisome than they were in the past. Just as the airlines reduced capacity dramatically in 2008 and 2009 to offset rising oil prices and decreasing demand, a smaller and more concentrated industry (in a much better financial position than in 2008) would be expected to weather any storm successfully. It may also be that a little macro pressure may provide cover to Southwest management and help speed Southwest's adoption of a la carte pricing - just as it did for the legacy carriers in 2008.
Valuation:
Current TTM earnings for Southwest are $0.89 per share and analyst consensus earnings projections are for $1.05 per share for calendar year 2013 and $1.26 per share for 2014. I believe these estimates are likely conservative considering the expected merger synergies and expansion opportunities that are present as well as the impact from share buybacks and overall industry trends. However, assuming those projections are accurate, and applying Southwest's current TTM multiple of 21, then by the end of 2014 Southwest's stock price should be $26.66, representing an upside of over forty percent. As a bonus, any movement on ancillary fees would have the potential to send shares significantly higher.
Disclosure: I have no positions in any stocks mentioned, and no plans to initiate any positions within the next 72 hours.
Business relationship disclosure: I wrote this article myself and it expresses my own opinions. I am not receiving compensation for it (other than from Seeking Alpha). I do have a business relationship with US Airways (I am an employee) but US Airways has not reviewed this article nor do they necessarily endorse any opinion expressed.