Google (NASDAQ:GOOG) had a healthy third quarter as revenues grew 12% to $14.9 billion compared to $13.3 billion in Q3 2012 and $14.1 billion in Q2 2013 (a plus of 6%). Q3 2013 non-GAAP EPS came in at $10.74 beating analyst estimates of $10.34. Non-GAAP EPS also increased on a q-o-q (+12%) as well as a y-o-y basis (+21%): Google's Q2 2013 EPS stood at $9.56 and its Q3 2012 EPS at $8.87. Income from operations (non-GAAP) increased to $4.3 billion in Q3 2013 compared to $4.0 billion in Q2 2013 (plus 9%) and $3.8 billion in Q3 2012 (plus 16%). Double-digit revenue and earnings growth has provided tailwinds for Google's share price in 2013.
Historical share performance
Google shares have steadily run higher through much of 2013 marking a series of new 52-week Highs as well as new two-year and five-year Highs. Google produced a whopping 58% return for shareholders over the last twelve month and shares jumped 14% as the company presented decent Q3 results with strong revenue growth and an EPS beat of 4%.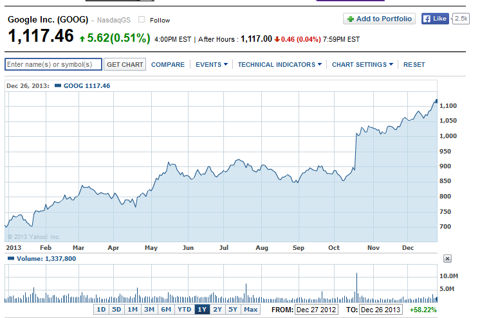 Even though Google has done extremely well over the last years, Yahoo (NASDAQ:YHOO) has done even better. Partly driven by shareholder activism, shares of Yahoo shot up 153% while much-hyped Baidu (NASDAQ:BIDU) gained only 44%.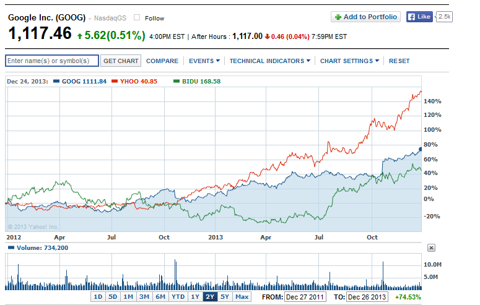 Free cash flow valuation
I have summarized Google's cash flow data from its 2013 10-K filing and utilized the most recent 10-Q document as a basis for my 2013 and 2014 cash flow projections. Overall, I estimate Google's operating cash flow to grow in the low teens while investing cash flows and net borrowing activity are in line with historical figures (2011 and onwards). Investing cash flows, as presented below, consist of property and equipment purchases, acquisitions and include investments, maturities and sales of securities as well.
Despite a significant jump in underlying free cash flow to equity in 2014 (+37% y-o-y), Google's free cash flow profitability remains low at just 1.95%. This is not surprising as many high-growth companies trade at significant premiums. Consequently, Google's strong price appreciation over the last years has led to a premium forward P/FCFE ratio of 51. The marginal investor also seems to be a speculator hoping for incremental growth down the road rather than an investor driven by fundamentals.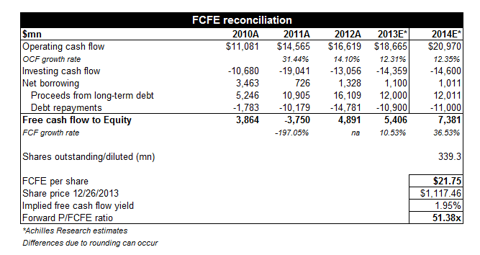 Market valuation
The most relevant market-related metric for me to determine the attractiveness of an investment remains the forward P/E ratio. Usually, I regard everything above a P/E of 15 as at least fairly priced if not overpriced. High multiples of course reflect huge implied growth expectations and growth investors who don't mind paying a growth premium might as well look at Google as an investment.
Like many other high-growth technology companies, internet information providers fetch high multiples. Other companies in the sector such as Facebook (NASDAQ:FB), LinkedIn (NYSE:LNKD) and Twitter (NYSE:TWTR) exhibit outrageous multiples (P/E ratios of 50 to 100) that reflect valuations which are vastly detached from their underlying fundamentals. Compared to those companies, internet service providers such as Google, Yahoo and Baidu trade at comparatively low multiples. Nonetheless, investors pay a premium in order to benefit from future revenue and earnings growth.
Google trades at 21.45x forward earnings which compares to 24.58x for Yahoo and 25.35 for Baidu. Google remains the cheapest company in the peer group with a 10% discount to the average P/E ratio of 23.79.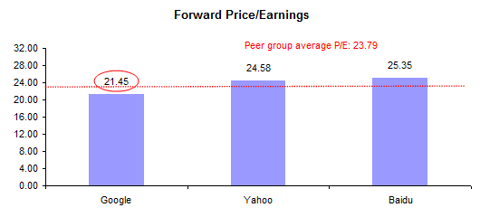 Conclusion
Google trades at a high P/E ratio of 21.45 and I think the company is way overbought at the moment. While it appears that Google is among the cheapest technology companies in the internet information services sector, the company commands a significant growth premium which makes an investment more of speculative nature rather than a sound investment based on cash flows. The cash flow summary and free cash flow to equity reconciliation from above indicate that even if Google's cash flows are fairly in line with historical figures, the company trades at a massive 51 times estimated forward free cash flow. Google shares have run way ahead of their fundamentals and value investors should avoid the company.
Disclosure: I have no positions in any stocks mentioned, and no plans to initiate any positions within the next 72 hours. I wrote this article myself, and it expresses my own opinions. I am not receiving compensation for it (other than from Seeking Alpha). I have no business relationship with any company whose stock is mentioned in this article.