The current low price of Millennial Media (NYSE:MM) provides a perfect opportunity for investors to buy it on the cheap. Millennial Media is rated as the world's number one independent mobile advertising company. VentureBeat also ranks Millennial Media as one of the top 10 mobile advertising company. It is one of the early players in the mobile ads business and was competing with AdMob before Google (NASDAQ:GOOG) bought it.
These industry accolades failed to prevent MM's decline this year. The stock yielded a YTD 43.81% decrease and MM is also down 54% from its original March 2012 IPO price of $13.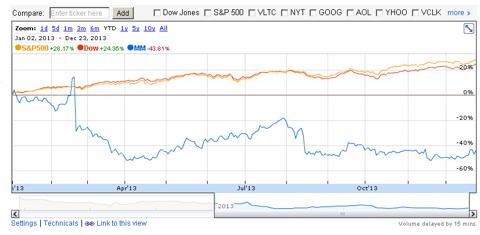 The company's IPO in March 29, 2012 was greatly received and MM soared to $25 on its first day of being publicly listed. MM's debut in the stock market was much anticipated because, during that period, Millennial was the No. 2 mobile ad company, with 17% share of the $630 million mobile ad market. Google/AdMob was No.1 with 24% market share and Apple's iAds was No.3 with 15%.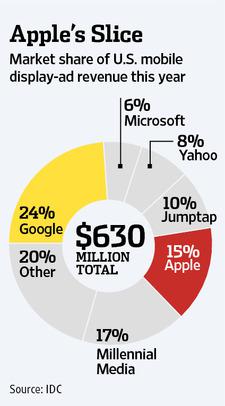 After Google's buy out of AdMob in 2009 and Apple (NASDAQ:AAPL)'s purchase of Quattro Wireless, Millennial Media became the subject of Microsoft (NASDAQ:MSFT) takeover rumors. The Microsoft offer in 2010 may have been true and was only rejected because Millennial Media's management wanted to remain independent. Aside from Facebook (NASDAQ:FB), Millennial Media was one of the most successful tech IPOs of last year. Unfortunately, the stock market was not as forgiving of MM like it was of FB.
I know this is an unfair comparison on my part - MM is just a baby compared to FB. Facebook is already a mature company with ready-made 1.2 billion pairs of advertising eyeballs. I just want to show you that MM may not have had the success of Facebook this year, but Millennial Media's formidable mobile advertising platform makes it a good long-term investment. I am not scared to bet that MM may hit $9 or $10 by the end of 2014.
Millennial Media is in the Right Place at the Right Time
Mobile is the future of digital marketing. Millennial Media, aside from Apple and Google, is the leading player in mobile ads. Microsoft or Adobe would love to have its hands on Millennial Media's industry-leading targeted mobile advertising platform. In the U.S. alone, mobile advertising is projected to generate $35.62 billion by 2017. Millennial, even if it stays independent, has a very big chance to get at least 3% of that sweet mobile ads pie.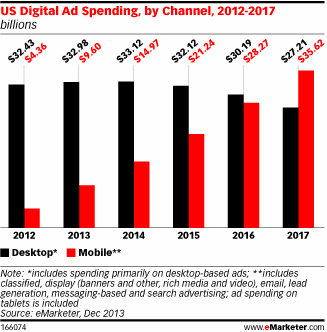 It can be more if MM gets bought out by a tech giant like Microsoft or Yahoo (NASDAQ:YHOO). A Yahoo+Tmblr+Millennial Media may be enough to equal Facebook's mobile ad presence. A Microsoft+Lumia Phones/Tablets+Bing+Millennial Media+Facebook deal+Intel support is big enough to challenge Google/AdMob in the digital marketing arena.
In advertising, whether traditional or digital, the players with bigger resources will always corner the biggest market share. Large-cap players like Google can afford to offer cheaper ad rates to clients. Google is now king of mobile ads and Facebook is the prince… but Millennial Media is an independent Duke who has the MYDAS technology rifle to snipe these two giants.
The chart below shows MM has less than 1% of total mobile advertising sales in 2012 and 2013. However, the mere fact that it is on the top 6 is compelling evidence that this company has a solid base of customers. Internet behemoths like Amazon, Microsoft, Adobe, Yahoo, are not even on the top 6.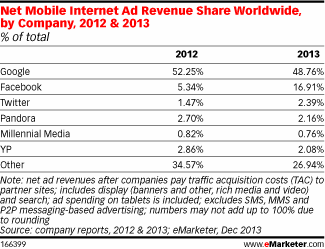 The tiny share of MM now has nowhere to go but grow bigger. Millennial Media has made moves to expand its operations to Asia and Latin America. Two years ago, Millennial Media opened its branch in Singapore to cater to South East Asian customers.
Last October, the company also announced its plans to expand to Latin America and Asian countries. Emerging markets like China, Brazil, India, Mexico, are big markets for digital advertising. The proliferation of cheap Android phones and tablets in Emerging Countries gives Millennial Media's mobile ad platform a huge ready-made pool of audience.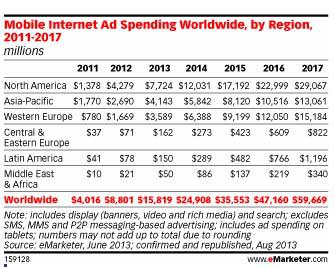 mMedia Service is Perfect for SMEs
Millennial Media's new mMedia self-service advertising service is also perfect for budget-limited companies such as those found in less developed countries in Asia and Latin America. Clients can use mMedia to monetize their mobile apps and do in-app advertising at the same time. Here's a screenshot of what this mobile ad product is all about.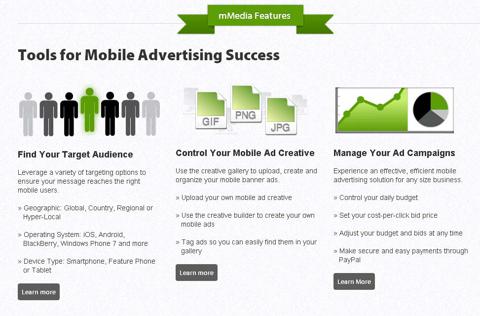 The description on the third column reeks of genius strategy to steal SMEs customers from Google AdMob clients. mMedia allows small companies 100% control over their mobile advertising campaigns. Instead of paying a big upfront fee to hire Millennial Media, customers can use mMedia on a daily budget scheme. It even allows customers to 100% creative/design control of their mobile advertising campaigns, a feature that is very important for promoting brand awareness.
Millennial Media used to focus only on premium services which Fortune 500 companies can only afford. For the past five years, made most of its money from providing mobile ad campaigns to enterprise clients. Of Adage's list of top 100 ad spenders, 75 of them does business with Millennial Media.
Google's big success in selling affordable mobile ad campaigns to small companies can also work for Millennial Media's new mMedia product. The company's revenue stream will greatly benefit from this new shift towards the non-premium sector.
It's a strong tailwind for MM's future sales performance starting 2014 when more non- Fortune 500 companies starts using Millennial Media's self-service mMedia service. The expansion in Latin America and Asia is also another strong tailwind because mMedia is perfect for those countries.
Millennial Media's success in the U.S. market can be replicated by the company with the help of mMedia. MM's American market share is already bigger this year because it bought Jumptap. The new MM/Jumptap combined market share is now almost equal to Google's total share.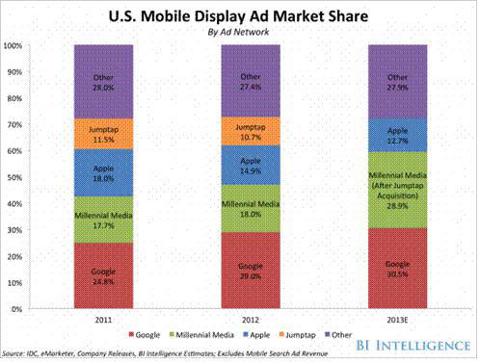 The chart above is another strong evidence that MM's current low price of $7 is a tech-focused bargain hunter's good buy. Millennial's purchase of Jumptap is a strong tailwind that will help it soar high from 2014 and beyond.
Universal Consolidation in Cloud Computing Services
The MM IPO euphoria in 2012 was shortlived, MM immediately slid down a day after the launch. It never did recover from its $25 historical high. Most investors would stay away from MM right now but I'm taking a contrarian view. I am going to buy a few MM not only because it is cheap, I also see a big upside probability for the company. There's a tidal wave of consolidation coming. Statistics says brilliant but small fishes are always on the menu of hungry sharks.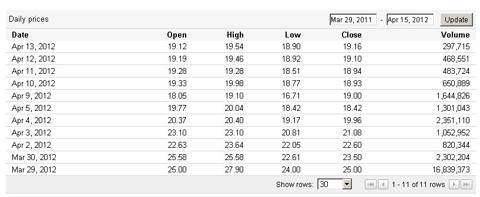 Some Buffett-inspired investors like me are not really afraid of long-term bets on money-losing tech companies. I studied B.S. Mathematics for 2 years in College, 3 years of Advertising and 3 years of Computer Science. Those three disciplines give me a unique perspective to value investing.
It's not all about the mathematics or predicting the future statistics. My three-year stint in an advertising company taught me that understanding human psychology and target demographics is important in selling a product.
I may be wrong, but I understand that the stiff competition in the e-commerce market will ultimately compel companies to form alliances. It doesn't take a genius to realize that different e-commerce and cloud computing services players in CRM, PaaS, SaaS, Digital Marketing, Social Network, and digital advertising, will have no choice but to buy more allies in order for them to survive.
Those companies who have everything consolidated under one roof will be the best miners of the e-commerce gold mine.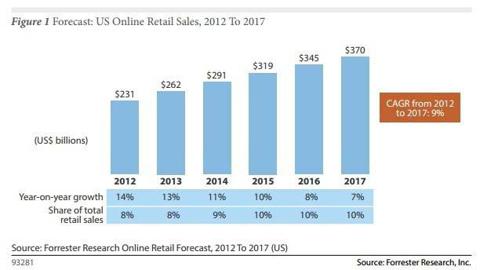 2014 Might be the Year of Consolidation in Digital Advertising
Millennial Media's gradual decline to its $7 price level is in great contrast to digital marketing specialist Responsys (NASDAQ:MKTG), which enjoyed a tremendous 2013 run before it got bought by Oracle. While these two companies are not direct competitors, both are small-cap digital advertising companies so they are worthy of relative comparison.
The contrasting performance of Responsys and Millennial Media stocks this year is not due to MKTG having a better balance sheet or income performance. Responsys' success was fueled by year-long speculations of Mergers and Acquisitions ((M & A)) over the digital marketing and CRM industry. 2013 is the year of the big consolidation M&A wars in the CRM/Digital Marketing sectors. CRM heavy hitters went on a shopping spree this year:
I suspect that these CRM companies might also want to include mobile advertising to their portfolio. Come 2014, when mobile becomes the norm for digital marketers, Millennium Media will be a hot topic for takeover rumors again. Consolidation is always great for any industry.
Mobile advertising is part and parcel of CRM and e-commerce. Microsoft has a sizeable CRM business and adding Millennial Media's industry-leading mobile technology may help it improve its new cloud computing war plan. I hope the new incoming CEO of Microsoft might be more persuasive than Steve Ballmer. Microsoft's buyout of Nokia's phone unit could synergize well with Millennium Media's mobile-centric platform. Google AdMob has Android OS, Apple iAds has iOS devices, Microsoft's Windows 8 phones and tablets also needs an inhouse OS-optimized advertising system.
Staying Independent and Surviving
I reiterate my buy rating for MM even if its management rejects all M&A offers. A peek on its recent balance sheet and performance metrics shows this company has enough money to weather one or two years of losses.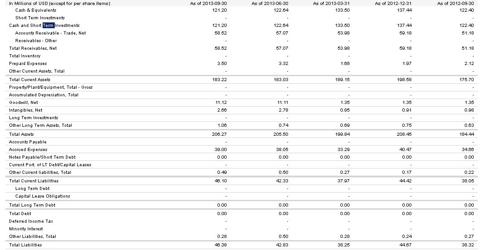 As of Q3 2013, MM has $120 million in cash & equivalents with $58.5 million in receivables. It has zero long-term debt and $39 million in short-term debt. This company is not in danger of going bankrupt soon, its recent quarterly performance shows the losses are still in the six-figure level.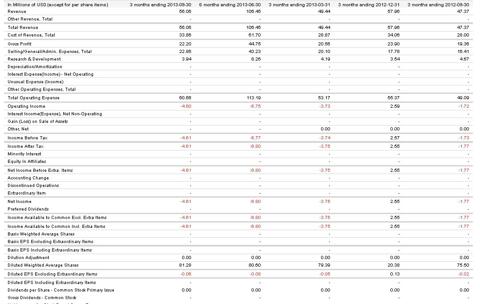 The year-over-year revenue growth in revenue, profit margin, and operating margins are impressive. Millennial Media's net operating losses is understandable because the company is still spending money to improve its platform and expanding its global presence. The most important thing is that the company's revenue stream is increasing by leaps and bounds. These charts below are enough to convince me that MM has a great upside potential next year.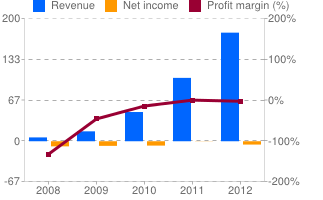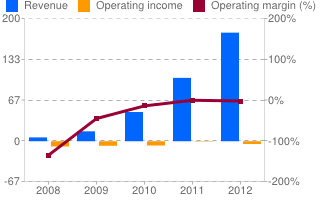 The 40% gross margin of Millennium Media is commendable. For 2013, MM's average projected revenue is $257 million, a slow down but I'm betting it will be better next year. The Jumptap acquisition and cheap mMedia self-service implementation will help add more revenue stream.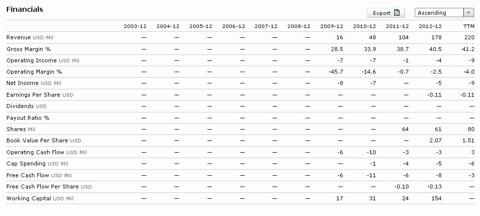 Here are more important ratios that makes me believe MM is in good shape for a turnaround in 2014.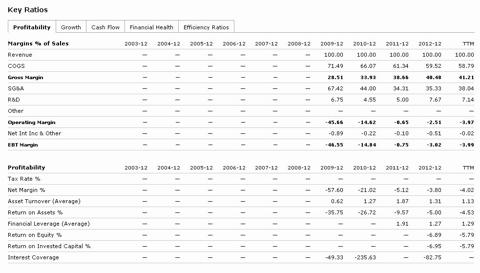 The percentile ratios and numbers are all pointing towards the positive. Q4 2013 report is not yet out but I'm confident it will support this upward trend in terms of revenue, gross margin, ROI, and Return on Assets. If the estimates by experts prove true, Millennium Media's 2014 revenue will be at around $422 million.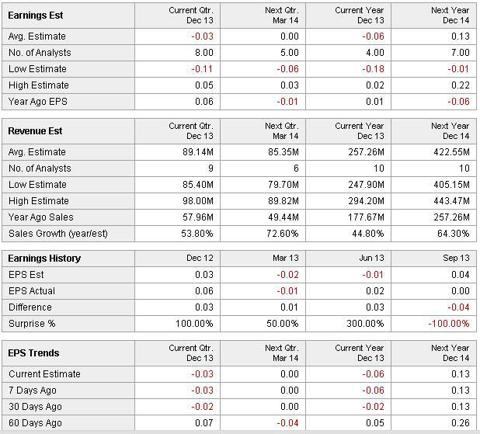 Conclusion:
Millennium Media is a Buy. It has several tailwinds behind it that I'm seeing at least 20% upside for MM next year. It's a safe momentum growth bet with lots of positives going for it.
Strong presence in the U.S., 28.9% market share vs. Google's 30.5%
Superior mobile advertising technology
Asian/Latin American Expansion
mMedia Cheap Mobile Advertising Daily Plan
Four Years of 40% YoY Revenue Growth
Zero long-term debt
Healthy Cash Position of $120 million
There's also the high statistical probability that a giant tech company may soon buy out MM next year, or the year after. If Facebook dared to spend $1 billion for Instagram when it wasn't even making money, Millennium Media should at least be worth that much to Microsoft or Adobe.
The majority of shares of MM, 80.5 million in total, is held by mutual funds and institutional investors. A good offer may be acceptable to these fund managers. I'm buying MM @ $7.50 and below for long-term investment. I'm also betting and rooting for a takeover bid soon.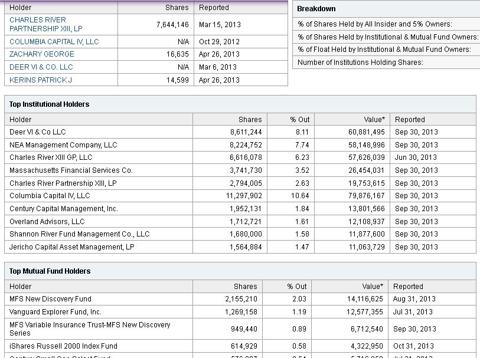 Disclosure: I am long MM. I wrote this article myself, and it expresses my own opinions. I am not receiving compensation for it (other than from Seeking Alpha). I have no business relationship with any company whose stock is mentioned in this article.