Back on October 1, 2013, I wrote an article explaining how it was time to buy Marathon Petroleum (NYSE:MPC) based on an attractive valuation and an oversold condition. The stock was trading at $64 at the time, and has increased 39% in less than 3 months to $89. Marathon stands out above the other refiners for its higher expected growth. The higher expected growth is attributed to Marathon's various competitive advantages. The company owns seven refineries with an oil refining capacity of about 1.7 million barrels per day. Since it is difficult to predict the short-term fluctuations in the WTI-Brent and other spreads, it would be better for investors to focus on the longer-term prospects for the company. With that in mind, let's look at how Marathon Petroleum compares to the competition.
 

Marathon

Valero (NYSE:VLO)

Phillips 66

(NYSE:PSX)

HollyFrontier (NYSE:HFC)

Dividend Yield

1.9%

1.9%

2.1%

2.5%

Trailing PE

13

11

13

9.4

Forward PE

9.9

10.2

11

11.22

PEG Ratio

1.5

3.02

- 1.87

- 1.58

Price to Book

2.5

1.44

2.08

1.6

EV/EBITDA

5.9

5.84

10

4.18

Return on Equity

19.9%

13.7%

17%

16.7%

Next Year's Expected Earnings Growth

48%

44%

18%

13.6%

5-Yr. Avg. Annual Expected Earnings Growth

11%

4.9%

- 7%

- 8%
After looking at this comparison chart, the factor that separates Marathon from its competitors is its higher expected earnings growth not just for next year, but for the next five years. Marathon also achieves a higher return on equity, so the company is earning more for its shareholder dollars than the others. This should help the company achieve its higher expected earnings growth.
The dividends among this group are modest, but do contribute to investor's overall return in addition to price appreciation. The valuations of the refiners are similar, but the key here is the PEG ratio. Phillips 66 and HollyFrontier have negative PEG ratios due to their negative expected earnings growth. Valero's PEG is too high for my taste at 3. Marathon is trading in a sweet valuation range with a PEG under 2. This is due to its attractive 5-year expected earnings growth, which should drive the stock price higher over the long-term.
Marathon Petroleum's Refining and Marketing segment comprised 86% of total segment revenue for the first nine months of 2013. Revenue for this most impactful segment for Marathon increased 24% year-over-year during that period. The company sells its refined products to wholesale market customers in the U.S. and abroad.
The Speedway segment comprised a little over 13% of total segment revenue for the first nine months of 2013. Speedway revenue increased by 2.4% year-over-year for the first three quarters of 2013. This segment sells fuels transportation fuels and convenience items in the Mid-Western U.S.
The Pipeline Transportation segment comprised less than 1% of total segment revenue for the first nine months of 2013. This segment increased by about 2.4% year-over-year during this period. This segment transports crude oil to its refineries, delivers refined products to wholesale and retail markets, and includes the aggregated operations of MPLX and Marathon Oil's (NYSE:MRO) retained pipeline assets and investments.
Marathon's Competitive Advantages
Marathon's higher expected earnings growth over its competitors is linked to its competitive advantages.
1. One of Marathon's competitive advantages is its ability to refine heavy and sour crude oils which can be purchased at lower prices than light sweet crude. This allows the company to maximize its margins.
2. The company has advantages through its strategic geographic network of refineries. Refineries are located near Canada, in the Mid-West, and on the Gulf Coast. This allows Marathon to obtain crude oil from various sources which provides the company with the flexibility to optimize crude supply costs (ie. lower transportation costs). The refinery locations also allow Marathon to access export markets and to serve a large variety of U.S. markets in a cost effective manner.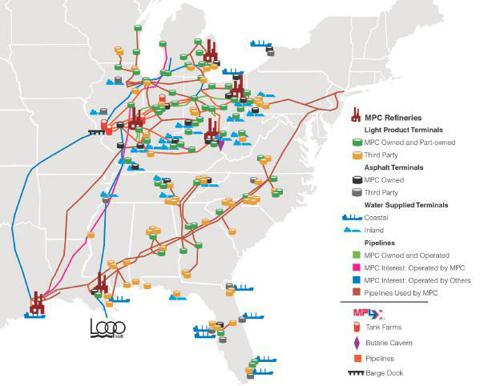 Source: Marathon Petroleum Annual Report
There is a 7th refinery not shown on the map, which is located at Galveston Bay.
3. Marathon's extensive system of 8,300 miles of crude oil and product pipelines is also an advantage among the refiners. The company is one of the largest petroleum pipeline companies in the U.S. It also has one of the largest private domestic fleets of inland petroleum barges and one of the largest terminal operations in the U.S.
4. The company's investment in MLPX provides an efficient way to invest in projects and to acquire midstream assets.
5. The company is one of the largest wholesale suppliers of gasoline and distillates. It also has two strong retail brands in Marathon and Speedway. This allows Marathon to reap the benefits of having competitively positioned marketing operations in the form of revenue and earnings.
The Risks
The largest risks for the company are the fluctuations in the various price spreads which affect Marathon's gross margin. The LLS 6-3-2-1 crack spread has a large impact on the company's net income. For every $1 per barrel change in this crack spread, Marathon's net income will change by $425. For every $1 per barrel change in the sweet/sour differential, net income will change by $225. For every $1 change in the natural gas price per mBtu, net income will change by $140. Unfavorable changes to these spreads can trigger the stock to sell off.
Conclusion
Marathon Petroleum is attractively valued with the highest expected earnings growth among the large refiners. The company's various competitive advantages should help drive this growth going forward. Ultimately, the earnings growth will lead to an attractive stock price growth over the long-term.
Disclosure: I have no positions in any stocks mentioned, and no plans to initiate any positions within the next 72 hours. I wrote this article myself, and it expresses my own opinions. I am not receiving compensation for it (other than from Seeking Alpha). I have no business relationship with any company whose stock is mentioned in this article.