Introduction
I am always looking out for new and exciting opportunities to make money in the stock market. Having over 25 years of experience behind me, one thing I have learned (sometimes the hard way) is: "Don't try to tell the market what you think a stock is worth. Go with the trend and be ready to quickly adjust the plan if & when the winds change."
About 13 years ago, after the first major IPO by a Chinese company on the U.S. exchanges (Sina.com), Chinese stocks became one of the hottest sectors out there. I mean, it was just like the good ole dotcom days. If your company did anything in China, your stock suddenly had wings and it just flew up towards the sky. You did not have to have any other reason or qualification to have the stock go up 50% or sometimes 500%. That initial wave of Chinese technology listings featured companies like Baidu, which has been described as China's answer to Google. In total, more than 200 companies from China achieved listings on American markets, raising billions of dollars through traditional public offerings or reverse takeovers. They ranged from technology companies to alternate energy to financial and other sectors.
Beginning about 2010, short-sellers and regulators started exposing what grew into a flurry of accounting scandals at Chinese companies with overseas listings. In some cases, such accusations have led to the filing of fraud charges by regulators or to the dissolution of the companies (due to excellent research work by the likes of Muddy Waters, Citron and many other smaller shops).
In response, American demand for new share offerings by Chinese companies evaporated, and investors dumped shares in Chinese companies across the board. It became so bad that the tide of listings reversed direction: De-listings by Chinese companies from American markets have outnumbered public offerings for the last two years.
Chinese IPOs Are Back
In early 2013, a nice rise started for many of the bigger Chinese technology players such as SINA, SOHU,YY, VIPS, NTES, BIDU, CTRP. Some of these have gone up 100%-400% in less than a year.
The fondness towards Chinese companies seems to have gotten traction and at least 11 Chinese companies have listed in the United States in 2013, compared with just two in 2012. Why is this happening? Many believe that the economic improvement world-wide and the appetite of the American investors following such IPO successes as Twitter (NYSE:TWTR), Rocket Fuel (NASDAQ:FUEL), Voxeljet AG (NYSE:VJET), the rebound in Facebook (NASDAQ:FB) shares and continued rapid and steady rise of Google (NASDAQ:GOOG) together with better financial scrutiny of Chinese companies before they are taken public has a lot to do with the resurgence.
Another big reason is that big-name underwriters are taking these new companies public. We are talking about Goldman Sachs, JPMorgan, Credit Suisse, Deutsche Bank, BofA Merrill Lynch, RBC Capital Markets to name a few.
"If they (Chinese IPOs) are brought by top-tier underwriters, then investors are a lot more interested," said Francis Gaskins, a partner at IPO research company IPODesktop.com.
Sungy Mobile (NASDAQ:GOMO) - A little Background
Sungy Mobile Ltd (GOMO) is a global provider of mobile internet products and services with a focus on applications and mobile platform development. GOMO was one of the top three publishers worldwide on Google Play (after Facebook and Google) as measured by the number of downloads in the Applications category for the nine months ended September 30, 2013, based on the App Annie Intelligence Report.
For the first nine months of 2013, revenues spiked by 84.4% to $37.6 million. In fact, Sungy Mobile has also been able to post strong profits, with net income reaching $10 million. In terms of users, about 30% are in China, 15% in the US, 13% in Korea and 10% in the EU. However when it comes to revenues, things are much different. About 85% is outside China. And of this, 60% comes from the US.
GOMO's platform product, GO Launcher EX, manages apps, widgets and functions on Android-based smartphones and serves as users' first entry point to their phones. GO Launcher EX was the No. 1 most downloaded product in the Personalization category on Google Play in both 2012 and the nine months ended September 30, 2013, according to the App Annie Intelligence Report. It has attracted 239 million users as of September 30, 2013, with the average monthly active users reaching 42 million in the third quarter of 2013. GO Launcher EX is available in 38 languages and has attracted users from over 200 countries and regions since it was launched in November 2010.
Intellectual property
The intellectual property rights Sungy owns as of September 30, 2013 include: (1) six patents relating to its proprietary technology; (2) 11 registered domain names that are material to its business, including 3G.net.cn, 3G.cn and jiubang.com; (3) copyrights to 55 software programs relating to various aspects of GOMO's operations; and (4) 50 trademarks and service marks for its brands and logos, including logos for GO Launcher EX and GO series products.
Additionally, GOMO has filed 32 patent applications covering certain of its proprietary technologies and 18 trademark applications in China and 20 trademark applications in South Korea.
Stock Performance
Sungy Mobile priced its 7 million shares (ADRs) at $11.22, which was at the high mark of its expected $9.50-$11.50 range. At the close of first day of trading, GOMO was up almost 19%. As of market close on December 26 (which makes 23 actual trading days), GOMO closed at $19.41, which is up 73% from its IPO price.
Comparing GOMO to other recent Chinese IPOs' performance
Here is a comparison to other recent Chinese IPOs
Autohome (NYSE:ATHM) 7,820,000 IPO shares priced at $17
ATHM price today: $33.81 (stock is up 99%)
500.com (NYSE:WBAI) 5,786,000 IPO shares priced at $13
WBAI price today: $34.59 (stock is up 205%)
Qunar (NASDAQ:QUNR) 11,111,000 IPO shares priced at $15
QUNR price today: $27.36 (stock is up 84%)
Montage Tech (NASDAQ:MONT) 7,100,000 IPO shares priced at $10
MONT price today: $17.29 (stock is up 73%)
Stock Chart
Although the stock chart for GOMO is young, there is solid support at the $17-$18 level: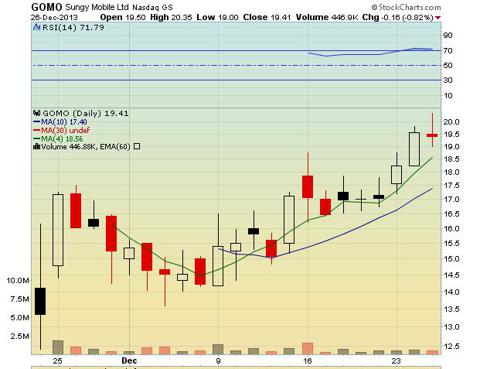 Click to enlarge
Conclusion
I can't stress enough that before making an investment in GOMO or any other stock you read about here or anywhere, please do your own due diligence. There are risks always associated with any company you invest in.
Where will GOMO trade in a year, it's hard to predict. I am certain that a company like GOMO will get more and more noticed, the more its price goes up. People want a winner in this market. The same can be said about Twitter (TWTR). Think about what TWTR has done since its IPO less than two months ago. The company priced an IPO at $23, which nearly doubled on the open. People started to say it's going to crash, but now it is trading at $73+ (which is up more than 200% from the IPO price). And guess what: It has a US $40+ billion dollar market cap with no earnings. But the simple thing remains intact: Don't fight the market as it knows much more than you ever will. Supply and demand is what makes the price go up or down. Most of the covering analysts have targets on TWTR anywhere from $32 - $60 and you may think that Twitter is overvalued, but the market at this point does not.
The joint managers for the Sungy Mobile IPO were: Credit Suisse and JPMorgan. These are firms who have solid history and clients. So far only Credit Suisse has issued an Outperform Rating with a US $23 price target for GOMO. I personally think that GOMO will trade above $30, and this may come very soon. The momentum in Chinese technology stocks alongside with Sungy Mobile's real earnings, massive growth and a tiny 7 million share trading float (with a 180-day lockup agreement on the rest of the shares, which can be verified by going here and looking at the bottom of page 12 of the PDF file or page 8 of the actual document) makes for a perfect storm that should have Sungy Mobile one of the most sought-after stocks.
Additionally, have a closer look below at the charts of the two most recent Chinese IPOs. Based on what I am seeing, I think that GOMO is starting to get noticed but it has yet to make the explosive move upwards.
Autohome (ATHM) Chart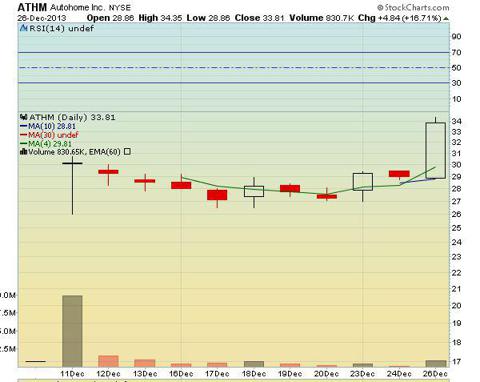 Click to enlarge
500.com (WBAI) Chart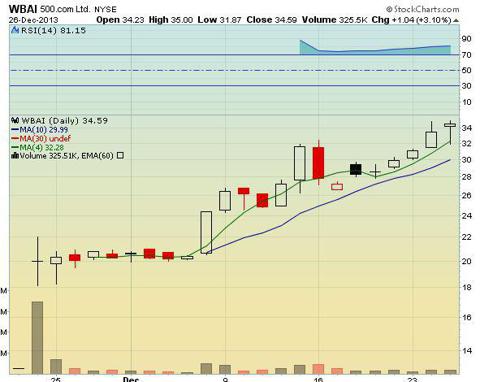 Click to enlarge
The amazing thing - in my opinion - is that GOMO has a much better balance sheet and better growth than both of the companies above.
Good investing and trading for all in 2014 and beyond!
Disclosure: I am long GOMO. I wrote this article myself, and it expresses my own opinions. I am not receiving compensation for it. I have no business relationship with any company whose stock is mentioned in this article.