By Imari Love
Now that Vivo (NYSE:VIV) and Claro (America Movil's (NYSE:AMX) Brazilian unit) have reported fourth-quarter results, we pause to take stock of the Brazilian wireless sector's earnings season. Given the ever-changing economic and competitive landscape of the country, we thought it worthwhile to examine some of the key performance indicators that we've witnessed thus far for the fourth quarter of 2009.
On the macro front, Brazil once again has things going in the right direction. Over the course of the past year, unemployment in Brazil has gone from multiyear highs to a multiyear low.
The economy has now witnessed 10 consecutive months of credit expansion, lower loan rates, and tax cuts, thanks to President Lula's government stimulus package. Even better, Finance Minister Guido Mantega expects Brazil to create an additional 1.6 million jobs during 2010. However, Lula's policies aren't the only ones benefiting Brazil's economy. Brazil is getting a boost from China's stimulus package as well. In 2009, China surpassed the United States as Brazil's top trading partner, thanks to its insatiable appetite for iron ore. This has driven a recovery in Brazil's industrial production, which filters down into more jobs and disposable income for its workforce. (Click charts to enlarge)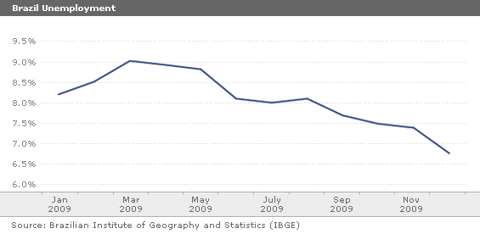 Thanks in part to the lower loan rates, consumers are opening their wallets once again. Sales of passenger cars and light trucks grew by 13% in 2009, and could rise by double digits again in 2010. Foreign Direct Investment (FDI) is projected to rise by 80% in 2010, and there are plenty of infrastructure projects underway as the country prepares to host the World Cup (2014) and Summer Olympics (2016).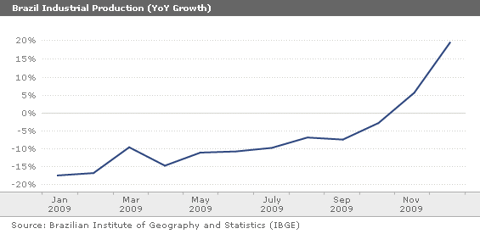 The competitive landscape in Brazil has also been a bit of a roller coaster ride. Oi (NYSE:TNE) and Claro have been very aggressive over the past year in terms of handset subsidies. This has eroded sector profitability, pinched margins and increased churn. The early returns from the fourth-quarter results, however, hint that things might be improving.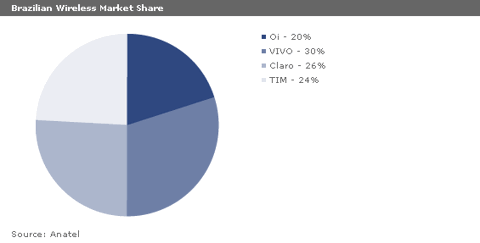 As we start to ponder the prospects of new players entering the fray after next quarter's spectrum auction, it's important to note that Brazil is one of the only wireless markets with more than three players with substantial scale. With a penetration rate exceeding 90%, it will be an extremely difficult investment case for new entrants. Some of the early takeaways from Vivo and Claro are highlighted in the charts below. We include just Vivo, Claro, and TIM (NYSE:TSU) because Oi doesn't report these wireless metrics on a proforma basis.
ARPU
Both Vivo and Claro saw their ARPU decline on a year-over-year basis for the eighth consecutive quarter. Data growth has been strong, up 51.4% in the quarter for Claro, and up 65% for Vivo. However, this strong showing hasn't been enough to offset competitive pricing pressures.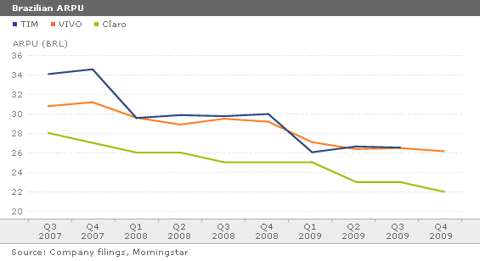 As we go into 2010, we expect the sector's blended local-currency ARPU to continue to decline, because of strong subscriber growth and steady pricing pressure.
Usage
Not much of a read-across here. The two firms went in opposite directions during the quarter. Claro had a 6% year-over-year drop in minutes of use (MOU), while Vivo set a multiyear high after a 40% jump, to 119 average minutes of use per month. Vivo's uptick was driven by new promotional campaigns the firm launched last fall, namely, "Recharge and Win," that focused on stimulating traffic.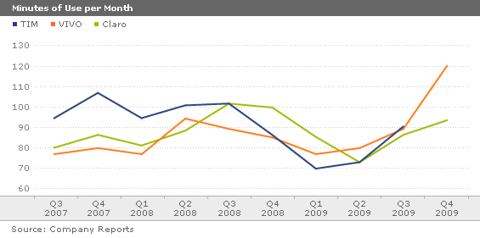 Subscriber Growth and Retention
Very solid. Both firms registered 15% growth for the quarter. As we mentioned earlier, the penetration rate is now over 90%, so as subscriber growth inevitably slows, the firms' ability to retain customers becomes more important. Vivo held its churn rate flat at 2.5%, while Claro saw a 40-basis-point jump from the fourth quarter of 2008, to 3%. For the record, of the major players, Vivo recorded the fewest complaints to Anatel, the Brazilian telecommunications regulator.
Profitability
This is probably the most important metric of all when trying to gauge the fundamental health of the sector. Last quarter, Claro saw EBITDA (earnings before interest, taxes, depreciation, and amortization) margins widen by nearly 5 percentage points year over year, to 24.5%. This pushed its full-year margin to 24.2%, versus 23.6% in 2008. Vivo also generated margin expansion in 2009, with EBITDA widening by a more modest 1 percentage point, to 32%. However, Vivo's fourth-quarter margin remained flat, at 32.7%. It seems that subscriber acquisition costs are finally dropping off, thanks to more SIM-only sales and lower handset subsidies. However, we note that only Vivo has reported this metric, showing a 22% decline year over year, and 25% drop sequentially. In fact, Vivo reported handset subsidies were down 65% year over year during the fourth quarter, or 57% sequentially. This is a positive precursor for 2010, where we expect all four firms to expand their margins further.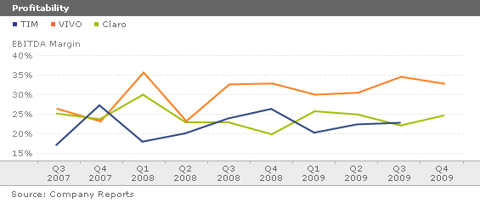 Outlook
Neither firm offered 2010 guidance, probably because there is not a lot of visibility right now. After all, we aren't sure if the market will be consolidating (possibly through a VIV and TIM merger) or expanding (possibly by GVT or NII joining the sector). What we do know is that we are now more concerned with the quality of the incremental subscriber than the quantity. The hope is that collectively, management will prioritize market share of profits over the share of subscribers. Thankfully, the four carriers seem to be on the same page and have begun building their promotional initiatives around higher-quality customers. We expect Oi and TIM to post solid fourth-quarter results, but after that, the sector's 2010 share price fate will hinge on how many players will be in the mix and how rational they will be.
Disclosure: Morningstar licenses its indexes to certain ETF and ETN providers, including Barclays Global Investors (BGI), First Trust, and ELEMENTS, for use in exchange-traded funds and notes. These ETFs and ETNs are not sponsored, issued, or sold by Morningstar. Morningstar does not make any representation regarding the advisability of investing in ETFs or ETNs that are based on Morningstar indexes.