Historical Perspective
Headquartered in Richfield, Minnesota, Best Buy (NYSE:BBY) is the world's largest consumer electronics retailer. With over 4000 locations throughout the world, revenues are expected to approximate or even exceed $50 billion annually when they next report. In fiscal 2009 their segment mix was 78% domestic and 22% international.
Figure 1 below depicts the Enterprise Revenue Mix for fiscal 2009 taken from Best Buy's 10K.
Figure 1. Best Buy Revenue Mix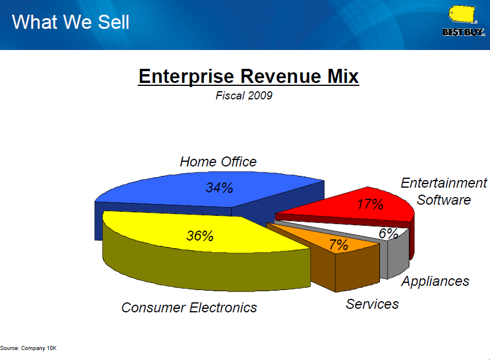 Click to enlarge
Overblown Fears Create Value
Overblown fears of margin erosion have, in our opinion, driven Best Buy's share price down to one of its lowest valuations over the past 15 years. A review utilizing our Fundamentals Analyzer Software Tool [FAST] illustrates today's relative undervaluation. Figure 2 below shows that excluding the recession-induced 2008 to current (yellow shaded area) you would have to go all the way back to October 2002 to find Best Buy trading at less than 12 times earnings (red arrow, figure 2).
Figure 2. BBY 15yr EPS Growth Correlated to Price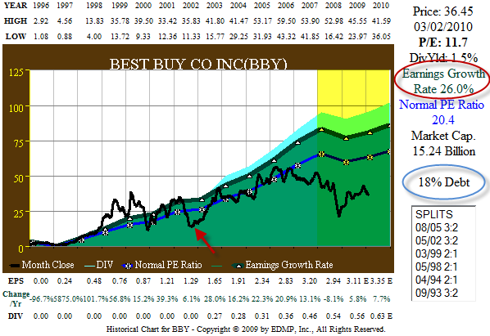 Click to enlarge
(Click to enlarge)
Additional takeaways from figure 2 above include the initiation of a dividend in 2003 (light blue shaded area) and an exceptional earnings growth rate of 26% (red circle). This is over five and a half times faster than the S&P 500 earnings growth of 4.7%. Also note how many times Best Buy has split their shares and their low debt level of 18% (blue circle).
Figure 3 below provides Best Buy's performance associated with figure 2. Long-term shareholders of Best Buy have been richly rewarded, even measured at today's historically low valuation.
Figure 3. BBY 15yr Dividend and Price Performance


Click to enlarge
Thesis for Growth
As previously mentioned, investors appear concerned over a recent although modest erosion of Best Buy's gross margin. Valueline Investment Survey attributes this to strength in low margin notebooks and promotional entry price points on HDTVs. Our own view is that gross margins are still very healthy and strong gains in market share should more than compensate for margins slightly weakening. Margins are still high enough to make it up in volume.
Although Circuit City's bankruptcy lessened direct competition, Best Buy nevertheless faces formidable foes. Wal-Mart (NYSE:WMT) and Costco (NASDAQ:COST) are strong rivals, as are the office suppliers such as Staples (NASDAQ:SPLS), Office Depot (NYSE:ODP) and OfficeMax (NYSE:OMX). Additionally, many see internet retailers like Amazon (NASDAQ:AMZN) and eBAY (NASDAQ:EBAY) as threats. However, we believe Best Buy's customer-centric model distinguishes them from the pack.
Purchasing technology can be confusing and intimidating to those of us who are not computer geeks. Best Buy's Geek Squad, comprised of highly trained and dedicated employees, simplify things. This commitment to customer satisfaction and service has turned Geek Squad into a recognized and important Best Buy brand.
According to Best Buy's management, the company operates under four key business priorities:
Grow share locally
International Growth
Connected digital solutions
Efficient and effective enterprise
The following slides from Best Buy's presentation at the Morgan Stanley 2009 Global Consumer & Retail Conference on November 19, 2009 summarize their opportunities.
Figure 4. Strong Leadership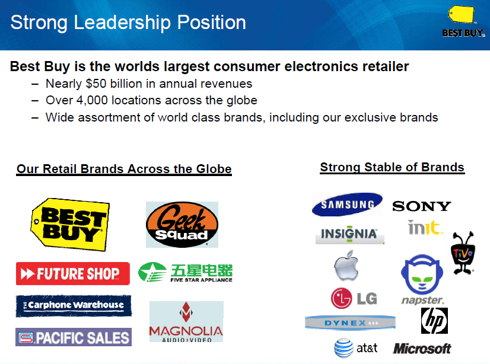 Click to enlarge
Figure 5. Connected World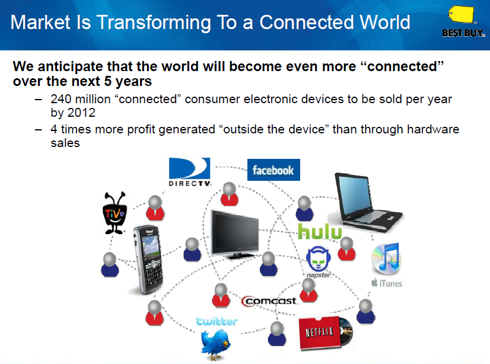 Click to enlarge
Figure 6. World of Opportunity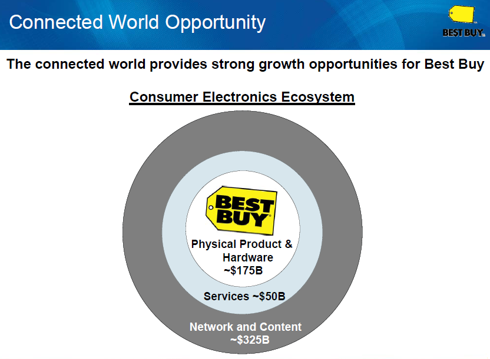 Click to enlarge
Figure 7. Poised for Growth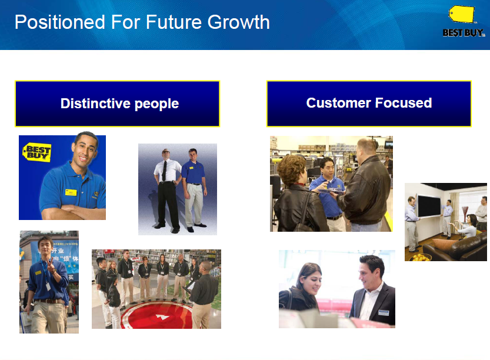 Click to enlarge
Figure 8. Expanding Opportunities and Markets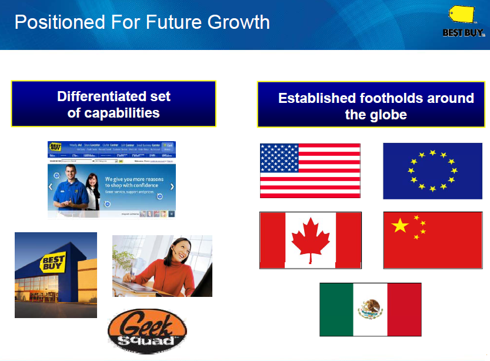 Click to enlarge
Opportunities in Technology
We believe that technology is rapidly entering a major upgrade cycle and a digitally-connected revolution. Best Buy is committed to simplify the "three screens" leading this change for the customers: (1) Digital HD & 3D TV (2) Laptops & Notebooks and (3) Smartphones (see figures 5 & 6 above). Best Buy is well-positioned to exploit these opportunities all over the world.
Management
A lot of companies jawbone about being people-oriented, claiming that their employees are their most important asset. For some it's just a lot of words, others are sincere. We believe Best Buy falls into the sincere camp. A review of Best Buy's current leadership supports our view.
Brian J. Dunn, Chief Executive Officer has been with Best Buy since 1985, starting out as a sales associate. Working his way up the ranks he became CEO on June 24, 2009. The passion and enthusiasm in his voice when he talks about the company, is extraordinary for someone with 25 years at the company. It leads us to believe that Best Buy truly is a people oriented and a customer centric enterprise. (click on this link to hear Brian talk about Best Buy's future.)
Morphing from Growth to Growth and Income
As depicted in figure 2 above, Best Buy has been a powerful growth stock since 1996. In figure 9 below, our FAST Graphs illustrate that Best Buy has morphed into a growth and income stock since 2003, the year they started paying a dividend. Note that although growth has essentially been halved at 13.4% (blue circle), it is still twice the general markets growth as defined by the S&P 500 of 6.5% since 2003. Also note how the dividend has steadily increased (light blue shaded area).
Figure 9. BBY 8yr EPS Growth correlated to Price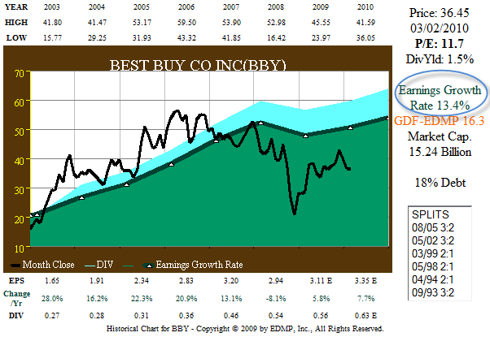 Click to enlarge
(Click to enlarge)
Figure 10 below calculates shareholder returns since 2003 (12/31/02). Considering that Best Buy is undervalued based on its earnings justified True Worth™, the return is still very attractive on a capital appreciation basis, i.e., much higher than the S&P 500. Add in dividends and shareholder returns are better yet.
Figure 10. BBY 8yr Dividend and Price Performance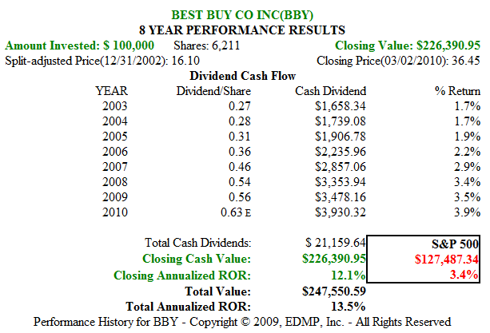 Click to enlarge
Our final graph, figure 11, shows that Best Buy's current price to sales at 0.32 is also historically below normal.
Figure 11. BBY Price to Sales


Click to enlarge
(Click to enlarge)
Conclusion
We believe that Best Buy is very well positioned for above-average future growth. We believe that current valuation does not adequately reflect the true value of this leading retailer. Best Buy's low debt, high operating cash flows, and growing dividends are all pluses. Therefore, we believe Best Buy is an excellent choice for the long-term oriented, prudent investor seeking growth and an increasing dividend.
Disclosure: Author long BBY and EBAY