Who would have thought 25 years ago that the U.S. would be able to export ample amounts of natural gas, coal, NGLs, petroleum products, etc.? A great way to profit from this secular trend is by investing in Kinder Morgan (NYSE:KMI). This article provides a 1,000-foot view of Kinder Morgan, emphasizing its carbon-based energy export growth potential.
Kinder Morgan owns the general partner (GP) interest of master limited partnerships (MLPs) Kinder Morgan Energy Partners (NYSE:KMP) and El Paso Pipeline Partners (NYSE:EPB), which entitles it to incentive distribution rights IDRs from those MLPs. I prefer to invest in KMI, which has access to all the assets and where CEO Richard Kinder who owns 24% has his money invested. All these combined makes Kinder Morgan the largest midstream and the fourth-largest energy company (based on enterprise value) in North America that owns/operates approximately 82,000 miles of pipelines and 180 terminals. Kinder Morgan's stated strategy is to expand, build, and acquire fee-based energy infrastructure in growing markets. These assets should generate substantial stable cash flow with minimal exposure to commodity price volatility. You can read more facts here about Kinder Morgan, which CEO founder Richard Kinder declares "is a company run by shareholders for shareholders."
KMI Revenue Sources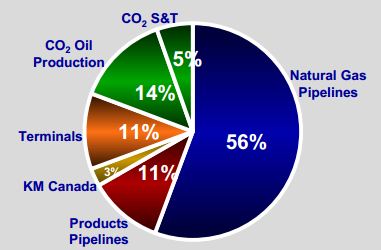 There are many reasons to want to own KMI for 25-plus years, including:
Unmatched network of natural gas, oil, petroleum products and CO2 pipelines, storage and processing terminals being connected to every major U.S. natural gas resource basin and Canadian oil sands
Rising demand for natural gas particularly from electricity generating power plants, which are increasingly moving away from coal and nuclear to natural gas-fired power plants
Growing North American energy independence largely from improved technology extracting more natural gas and oil from continental United States shale basins and Canadian oil sands
Strong demand for CO2, which is used in enhanced oil recovery EOR CO2 injection
Solidifying position as the largest independent transporter of petroleum products in United States at nearly 2 MMBbl/d
Second-largest oil producer in Texas
Recently launched Kinder Morgan Resources LLC that owns coal reserves in North America, which the company intends to lease to miners and collect royalty payments
Increasing demand for LNG and CNG fueled vehicles
Think of Kinder Morgan as the big time distributor of carbon-based energy in North America. It is also becoming the big time exporter of carbon-based energy out of North America because of its natural gas pipelines into Mexico, coal export terminals, Canadian oil sands pipeline to the Pacific Coast, and LNG export terminals in development. It is the established pipeline-based exporter of natural gas to Mexico today, with total incremental export growth by 2020 projected to be 2-4 Bcf/d.
Click to enlarge images.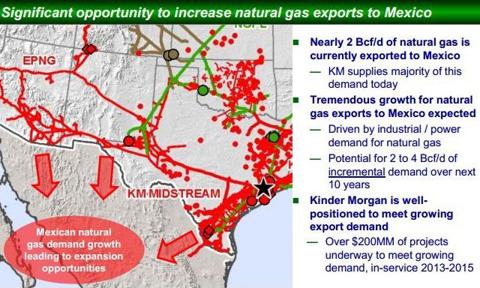 Click to enlarge
It has the only Canadian oil sands pipeline delivering crude oil to the Pacific Northwest coast with expansion plans from today at 300,000 bopd to 850,000 bopd in 2017.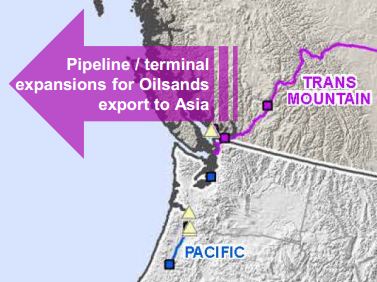 It is the largest independent terminal operator in the U.S. and is expanding to accommodate coal producers needing to sell more to export markets.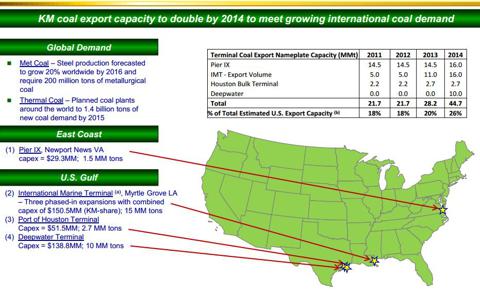 Click to enlarge
It has liquefied natural gas (LNG) export terminal JV projects in development in Mississippi and Georgia.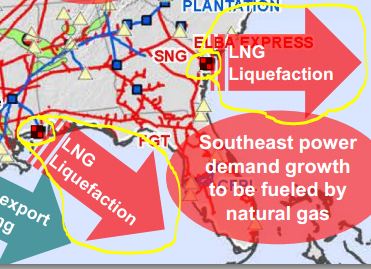 Risks to consider are that KMI has a heavy debt-to-asset percentage of 86% and the fact that it's still absorbing the acquisition of El Paso (EPB), so its balance sheet will need more time to improve. Plus, it sports a lofty P/E of 31. If you believe ethanol will become the dominant transportation fuel, solar and wind turbine energy will eventually replace existing base load electricity generation fuels, and new rivers to dam up for hydroelectric power will suddenly materialize worldwide, then Kinder Morgan is not for you.
Kinder Morgan -- with its stellar management, unrivaled midstream assets, and nearly 5% dividend yield -- has exceptional growth potential from its business divisions. These facilitate the export of natural gas, LNG, petroleum products, and coal from North America to higher-price markets, with KMI perpetually profiting like a busy toll road.
Disclosure: I am long KMI. I wrote this article myself, and it expresses my own opinions. I am not receiving compensation for it. I have no business relationship with any company whose stock is mentioned in this article.