By Roy Vimer, BA, and Nir Etkovitz, PhD
KaloBios Pharmaceuticals (NASDAQ:KBIO) is a small-cap biopharmaceutical company that focuses on developing patient-targeted, first-in-class monoclonal antibodies. The KBIO's patented Humaneered® antibody technology platform is used to treat serious medical conditions with a primary clinical emphasis on respiratory diseases and cancer. The customized antibodies production strategy by KaleBios' Humaneered® technology converts non-human antibodies, usually from mice, into recombinant antibodies that have a high binding affinity to their target, high manufacturing yields, and minimal to no immunogenicity (inappropriate immune response) when used repeatedly. KaloBios believes that its Humaneered® strategy allows a true alternative to the classic antibody engineering technologies. KalBios novel system offers important economic and clinical advantages over antibodies produced by classic engineering methods which makes KalBios more suitable for chronic treatments.
Product Pipeline
KaloBios has three Humaneered® antibodies being tested in four clinical development programs for respiratory diseases and cancer (See figure below).
Click to enlarge images.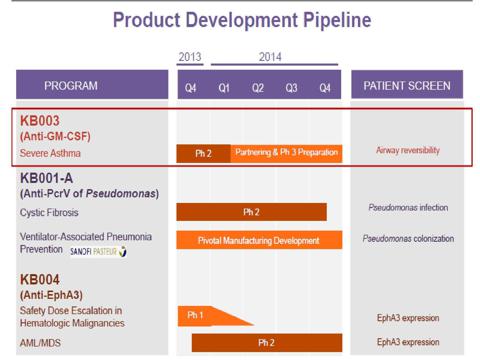 Click to enlarge
The Upcoming Catalyst: KB003 for Severe Asthma
In this section we review the KB003 and state why we believe it is a major catalyst to emerge from Phase II clinical trial. It is currently only one of the reasons we believe that KaloBios is a game changer in antibody development technologies and why KaloBios has a potential blockbuster on its hands once the data from its Phase II clinical study in severe asthma will be available in early 2014.
KB003 is a Humaneered®, recombinant monoclonal antibody (MAB) that is designed to target and neutralize soluble granulocyte macrophage colony-stimulating factor ((GM-CSF)) and has the potential to treat inflammatory and autoimmune diseases. GM-CSF is a cytokine that plays a central role in the inflammatory immune response cascade. GM-CSF causes proliferation, prolonged survival, and differentiation of monocytes, macrophages and granulocytes (eosinophils, neutrophils, and basophils). Abnormal functioning of this cascade and increased GM-CSF tissue levels in particular, is associated with a number of inflammatory and autoimmune diseases. Preclinical studies have shown neutralization of GM-CSF or GM-CSF gene knock-outs to be effective in a variety of disease models, including allergic and non-allergic asthma, chronic obstructive pulmonary disease (COPD), rheumatoid arthritis (RA), multiple sclerosis, psoriasis, cancer bone destruction, and other diseases. This breadth of activity makes GM-CSF an attractive therapeutic target for the treatment of a wide variety of diseases.
KB003 Substituting for KB002
KaloBios completed a Phase I study in rheumatoid arthritis and a Phase I/II study in severe asthma with a chimeric molecule, KB002. KB002 was evaluated in early safety and proof of principle clinical studies with the intention of replacing it with KB003, which was designed to be less immunogenic, for all future clinical studies in this program. KB003 is a Humaneered version of the chimeric KB002 antibody, with the same epitope target and the same mechanism of action. Both of these studies support further development of KB003 in asthma and RA.
The company's Phase I RA study randomized 32 subjects 3:1 active vs. placebo in four escalating dose groups. A single dose of KB002 at the higher doses demonstrated an early, durable, and clinically important reduction of DAS28-CRP (a marker of disease activity) over placebo, which persisted for more than 90 days. A Phase II repeat-dose, safety run-in study with the Humaneered® mAb, KB003, was conducted in moderate to severe RA patients and showed the drug to be well-tolerated.
Good Safety and Tolerability With KB002
The KB002 Phase I/II asthma study, which enrolled both allergic and non-allergic subjects (i.e., subjects with eosinophilic and neutrophilic asthma, respectively) who had persistent asthma despite treatment with oral or inhaled corticosteroids. KaloBios randomized 24 subjects, active versus placebo, for a single infusion of KB002. KB002 was found to be generally safe and well-tolerated. Of the 24 subjects enrolled in this study (17 on KB002 and 7 on placebo), 59% on KB002 vs. 29% on placebo had a >100ml FEV1 increase at day 42. In addition, when the data was segmented retrospectively by the criteria of "reversibility," with reversible patients defined as having a >12% improvement in FEV1 from baseline after a beta agonist, reversible patients on KB002 experienced a greater increase in FEV1 from baseline at day 42 vs. those on placebo.
A majority of responders showed an FEV1 improvement of more than 10%, which is a level that is generally accepted as clinically meaningful. At day 42, 78% of KB002-treated reversible subjects had at least a 100-mL increase in FEV1 compared with 38% of KB002-treated nonreversible subjects, 33% of placebo-treated reversible subjects, and 25% of placebo-treated non-reversible subjects. KB002 was measurable in sputum of eight of 17 subjects and six of those eight had a decrease in sputum eosinophils by day 28. Furthermore, six of the seven subjects who had a decrease in eosinophils by day 28 had a ≥10% increase in FEV1 from baseline.
KB003 Uniqueness
KB003 is unique among antibodies being developed to treat severe asthma because it reduces inflammation caused by both eosinophils and neutrophils, thus acting on both the allergic and non-allergic forms of asthma. Diagnosed cases of severe asthma are divided almost equally between both types, and many patients have a mixed form that has both eosinophilic and neutrophilic components. Since currently available therapies for severe asthma treat predominantly allergic asthma, KB003 has a great potential to provide a clinical and commercial advantage by treating both allergic and non-allergic severe asthma.
The Market
The severe asthma market represents approximately 5%-10% of the total asthma population of approximately 300 million worldwide. Two main types of asthma have been identified or are clearly recognized: allergic asthma characterized by the presence of large numbers of eosinophils in pulmonary tissues and airways, and non-allergic asthma, in which neutrophils predominate. As GM-CSF plays an important role in the differentiation, proliferation, and enhanced survival of both inflammatory cell types, Neutralization of GM-CSF in both forms of asthma has the potential to be an effective treatment for both forms of severe asthma.
Ongoing Phase II Clinical Trial
KaloBios is now conducting a randomized double-blinded placebo-controlled multi-dose Phase II clinical trial of KB003 in severe asthma. Enrollment of 160 patients has been completed in the U.S., Europe, and Australia. The primary endpoint is percent change in predicted FEV1 as compared to matching placebo, and secondary endpoints are change in exacerbation rate, effect on asthma control, asthma symptoms, use of rescue therapy, pharmacokinetics, safety and tolerability. Exploratory endpoints include assessment of change from baseline of various biomarkers. Based on findings from the earlier Phase I/II clinical study, only subjects with FEV1 reversibility are enrolled in this Phase II study to enrich the population for those more likely to respond to KB003. Top line data is expected early 2014.
Scope of the Market and KBIO Potential
The asthma market is forecast to grow from $16.6 billion in 2012 to a projected value of $21.6 billion in 2019. In addition, KaloBios has completed several clinical studies with a mouse-human chimeric precursor antibody, KB002. Two studies, with the Humaneered® mAb, KB003, an anti-GM-CSF are ongoing in Phase II without safety issues. In both studies the drugs are well-tolerated by both asthma and RA.
See figure below for the potential of biologic market trends for asthma as it may follow the rheumatoid arthritis biologic market.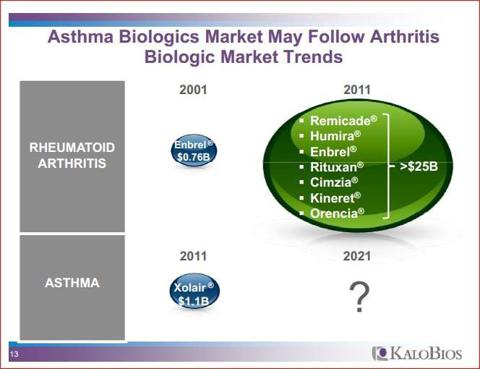 Click to enlarge
KaloBios Potential in the Asthma Market
Given the huge potential of the market for Asthma and rheumatoid arthritis combined with the fact that KaloBios intends to seek a corporate partner to support the development and commercialization of KB003 upon completion of the Phase II clinical study in severe asthma, investors may be looking at a probable deal of hundreds of million dollars in up-front and milestone payment collaboration. Our estimations indicate that a successful trial could open the door to the signing of a partnership agreement with a major pharmaceutical company like GlaxoSmithKline (NYSE:GSK) who signed a $586 million deal with Morphosys to develop its anti-GM-CSF antibody MOR103 in RA and MS on completion a Phase I/II RA study.
With a market capitalization of $135 million, with approximately $87 million in cash the opportunity to at least double its price is likely if similar deals, such as those made between GSK and Morphosys are considered. But KaloBios is not resting on KB003 alone. Other products in the pipeline are as impressive.
KB001 More Coming Down the Pipeline
KB001-A is being developed to prevent or treat a common opportunistic gram negative bacterium, Pseudomonas aeruginosa (Pa). Pa can cause pneumonia in mechanically ventilated patients and chronic respiratory infections in individuals with cystic fibrosis (CF). Patients with CF often cannot clear mucus from their lungs, leading to obstruction of the airways, infection, inflammation, and further mucus buildup. KB001-A could break this cycle given its dual anti-infective and anti-inflammatory effect. KB001-A is a Humaneered®, high-affinity, PEGylated Fab antibody designed to block Pa from causing harm to host cells, thus preserving immune and lung epithelial cell function. KB001-A blocks an extracellular component of the type III secretion system (TTSS), which enables bacteria to kill immune cells by direct puncture (oncosis) or injection of protein toxins. Blocking the TTSS is intended to prevent immune cells from being killed and reduce inflammatory cytokine release.
KB001 Mechanism of Action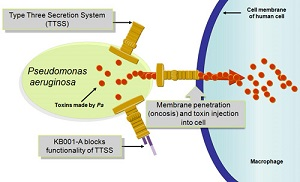 KB001-A has a unique mechanism of action because it binds only to Pa, a bacterial target, and avoids known Pa resistance mechanisms. KB001-A could be used as a complementary therapy with inhaled antibiotics that are currently available or as a monotherapy. In addition, due to its unique anti-inflammatory mechanism of action, KB001-A has the longer-term potential of reducing the overall rate of lung function deterioration.
Exclusive License Agreement With Sanofi
In January 2010, KaloBios entered an exclusive license agreement with Sanofi Pasteur (Sanofi), one of the world's leading infectious disease companies for KB001-A. KaloBios received an initial upfront payment of $35 million and an additional $5 million payment in August 2011 that was recognized as revenue through June 30, 2012. KaloBios has the potential to receive additional contingent payments. Upon the achievement of certain clinical, regulatory and commercial events, along with tiered royalties based upon global net sales of licensed products, KaloBios could receive up to $250 million. Sanofi is responsible for the development and commercialization of KB001-A and initially focus on hospital indications, including the prevention of Pa ventilator-associated pneumonia (Pa VAP), which has received U.S. FDA Fast Track Designation. KaloBios retained responsibility for developing and promoting the product for Pa in patients with cystic fibrosis or bronchiectasis. Sanofi has the option to assume responsibility for these indications upon the completion of KaloBios Phase II clinical trial.
Market Potential
Cystic fibrosis is chronic disease that affects the lungs and digestive system. Approximately 30,000 people in the United States and about 70,000 worldwide have CF with almost 1,000 new cases of CF are diagnosed each year. According to research firm GlobalData, the global CF market was valued at $1.1 billion in 2010. Global Data forecasts that this market will reach $2.5 billion by 2018. KaloBios which possess Orphan Drug designation from both the U.S. FDA and the European Medicines Agency for KB001-A for the treatment of Pa lung infection in CF patients, initiated a Phase II clinical trial on January 10, 2013. A total of 180 CF subjects chronically infected with Pa, were randomized to either KB001-A or placebo.
The primary endpoint of the study is time to need for antibiotic intervention. Secondary endpoints include changes in inflammatory markers, changes in forced expiratory volume in one second (FEV1), and safety, tolerability, and immunogenicity. Top-line data from this KB001-A study is scheduled until the fourth quarter of 2014. Sanofi has an option to assume primary responsibility for developing and promoting KB001-A for Pa in CF or bronchiectasis patients after the completion of this Phase II clinical trial with estimated $25-40 million payment.
Sanofi is now conducting a Phase I clinical study in healthy volunteers to evaluate higher doses for ventilator associated pneumonia (VAP) caused by Pa ((Pa VAP)). After completion of manufacturing process development and scale-up, the Phase I study will be followed by a Phase IIb intravenous study in the first half of 2015 to determine the safety and efficacy of KB001-A in preventing Pa VAP.
KB004 - The Third Humaneered® Currently Tested Antibody
The KB004 is being developed for the treatment of hematologic malignancies. KB004 is a Humaneered® antibody targeting the receptor tyrosine kinase EphA3. EphA3 is expressed on hematologic and solid tumor cells, but not normal cells. EphA3 is also expressed on tumor stem cells and the stem cell niche, and thus KB004 has the potential to attack tumors at their source by killing tumor stem cells that are responsible for continued tumor growth. KB004 is in a Phase I clinical trial to evaluate the safety and maximum tolerated dose of the drug in patients with hematologic malignancies, including acute myelogenous leukemia, chronic myelogenous leukemia, myelodysplastic syndrome, myeloproliferative neoplasms, and multiple myeloma, for which standard care treatment is not suitable.
On Dec. 10, 2013, KaloBios announced preliminary results of the ongoing multi-center Phase I study of KB004. Forty-four patients with refractory disease or who were unfit for chemotherapy have been enrolled in the dose escalation portion of the study. The experimental patient-targeted therapeutic has been well-tolerated, with initial evidence of clinical activity. KaloBios continue to study higher doses of KB004 as part of this ongoing trial to determine an optimum high-end dose for the Phase II expansion portion of the study in patients with acute myeloid leukemia (AML) or myelodysplastic syndrome (MDS), which is expected to begin by this time of the year.
Company Financial Position
KaloBio completed its IPO on Jan. 31, 2013. The company sold 8.8 million shares for $8 resulting in gross proceeds of $70 million. Net loss for the three months ended Sept. 30, 2013, was $11.3 million, and cash, cash equivalents and investments, excluding restricted cash, totaling $54.9 million on Sept. 30, 2013. On Oct. 1, 2013, KaloBios completed a public offering of 8,625,000 shares of common stock, with the resulting net offering proceeds to KaloBios totaling approximately $32.0 million after deducting underwriting discounts and other fees. According to this financial data, KaloBios has approximately $87 million that should be enough to fund operations through 2015, even without any additional contributed amount from any collaboration that can be realized with strong Phase II data. Needless to say, having cash surplus is always a great advantage and a strong financial position for any developmental biotech company such as KaloBios.
Summary and Conclusion
The IPO of KaloBios has been quite a disappointment for the shareholders so far. Shares are currently trading 55% below these levels. While KaloBios promising pipeline continues to move up and develop according to plan, the shares price went the opposite direction. Carefully reviewing KaloBios Humaneered® novel technology with its current product pipeline including the three clinical programs and the different indications for serious respiratory diseases and cancer in addition to KaloBios' stable balance sheet and the strong collaboration with Sanofi, we believe that KaloBios is undervalued at its present market capitalization of around $135 million.
Within only few weeks (as early 2014) KaloBios will announce top-line results from Phase II KB003 clinical study in severe asthma. As we mentioned earlier a success with KB003 will be a game changer for KaloBios. With a current market capitalization of $135 million, with approximately $87 million in cash, the opportunity to at least double its share price is highly likely. We believe KaloBios could warrant a speculative run as until now it was under the investors' radar with price target of $6.5 per share until top line will be announced. We anticipate deal of hundreds of million dollars in up-front and milestone payment collaboration, given the huge potential market for the Humaneered® technology and its products and an announcement of successful results.
As our chart below shows, breaking the descending line will lead to our first target of $6.5 and positive results will lead to a high of $8.25 with a $10 price target by end of 2014. We will be watching KBIO very carefully over the next few weeks.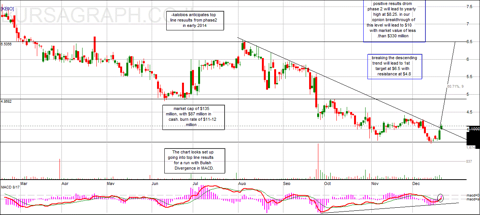 Click to enlarge
Disclosure: I have no positions in any stocks mentioned, but may initiate a long position in KBIO over the next 72 hours.
Business relationship disclosure: This article was written by Roy Vimer, BA, and Nir Etkovitz, PhD - BGT members. BioGroup Team is a self-organized panel of analysts and writers holding degrees from BAs to PhDs in economics, biology and psychology. Each article is a collaborative team effort. We have no business relationship with any company whose stock is mentioned in this article.