The Santa Claus Rally is underway now and investors are piling in to momentum names. Volume at the end of the year is usually pretty low, which it is now, and that leads to major price swings in the markets. One can tell that liquidity is not what it usually is as there are some big moves being made daily in pre-market trading as well as strong movements during the day as particular securities are discussed by the talking heads. After watching this price movement over the past few days we wanted to alert readers as to what we saw as momentum names to play into the new year, but to also be aware of with 2014 starting a few days away from now.
Chart of the Day:
One idea for 2014 might be a bounce in the Australian Dollar. It currently is trading right at the lows for the year, a level which has shown strong support, and with the improving world economy we could see a rise in demand for Australian Dollars.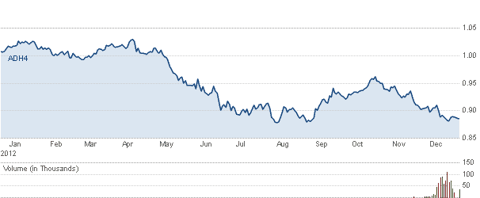 Click to enlarge
Source: CNBC
We have economic news today and it is as follows:
Nat Gas Inventories (10:30 a.m. EST): Est: N/A Actual: 177 bcf
Crude Inventories (11:00 a.m. EST): Est: N/A Actual: -4.7 million
Asian markets finished mostly higher today:
All Ordinaries -- down 0.06%
Shanghai Composite -- up 1.36%
Nikkei 225 -- up 0.03%
NZSE 50 -- down 0.01%
Seoul Composite -- up 0.15%
In Europe, markets are trading higher this morning:
CAC 40 -- up 1.08%
DAX -- up 0.77%
FTSE 100 -- up 0.74%
OSE -- up 1.06%
Commentary:
A number of the momentum stocks have been leading the way over the past week or two, especially Twitter (NYSE:TWTR) and Tesla (NASDAQ:TSLA) - two of the hottest stocks for the year. As it relates to Tesla, the shares are rallying after recently bottoming out over the battery fires and those issues now being cleared up. The stock found support at $120/share and as the good news has trickled out Tesla's shares have rallied sharply. Investors need to continue to be aware of the valuation with Tesla because it is quite rich and the comparisons to other more established automobile manufacturers will continue. The name should continue to rally into the close of the year, but we would look for a pullback in 2014 at some time as gains from this year begin to qualify for long-term capital gains.
Twitter has been a different story as the company held its IPO this year and has had varying opinions issued by analysts and hedge fund players. After the flopped Facebook (NASDAQ:FB) IPO many small investors felt burned, especially after the subsequent bounce occurred once the company figured out mobile. The retail investor is not allowing that to happen with Twitter and the large move higher in recent sessions is due to retail investors drawing parallels between Twitter and Facebook. Ultimately it appears that Twitter is going to figure out mobile advertising and develop interesting tie-ins with the data the company collects, but that will take some time. Investors need to remember that the company has yet to report a quarter yet, and the first one might very well be a disappointment with all of built up expectations. This is a name which can be played into the new year and through the Alibaba IPO, but after those two events we would be quite cautious and we even have reservations about owning shares when the company does report its first quarterly results.
Twitter has nearly tripled from its IPO price, without having ever reported quarterly results to Wall Street. Today's downgrade seems reasonable, and we have doubts about the stock in early 2014.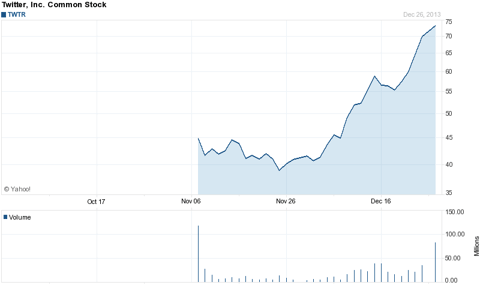 Click to enlarge
Source: Yahoo Finance
We continue to be in the camp which believes that one needs to be taking profits all the way up in the 3D printing stocks. We think that 3D Systems (NYSE:DDD) is one of the best names in the sector, but as the shares have crossed over $90/share we think profits need to be taken heading into the close of the year. One thing readers could look out for is if the shares can break through the $100/share level. If the stock can move through $100/share and hold it, soon to follow will be the $105 and $110/share levels. We were buyers at the lows of the 3D printing names, but 2014 should provide a bit of competition for investor capital as new tech IPOs come out and more and more analysts move towards a cautionary stance of 3D Systems and others in the industry such as Stratasys (NASDAQ:SSYS).
Disclosure: I have no positions in any stocks mentioned, and no plans to initiate any positions within the next 72 hours. I wrote this article myself, and it expresses my own opinions. I am not receiving compensation for it (other than from Seeking Alpha). I have no business relationship with any company whose stock is mentioned in this article.