While I consider myself a value investor and mostly invest in companies trading for low multiples of earnings, I have come across a promising opportunity to invest in a growth company. Lindsay Corporation (NYSE:LNN) offers a compelling blend of both value and growth characteristics with little to lose and much to gain. The dividend has been increased for the 11th time in a row in 2013 (a 13% increase compared to the previous year) and I believe that sales and earnings growth will lead to hefty dividend increases in the future.
Lindsay manufactures Zimmatic, a leading brand of irrigation equipment, and also has some infrastructure-related operations (movable road barriers etc.). The infrastructure business (less than 20% of revenues) is barely limping along, producing just a small operating loss in 2013, and it might be better to divest it and focus on the irrigation business. The main reason for the poor results of the infrastructure segment are significant cuts in government budgets in recent years. The products are actually quite interesting, for instance, the Road Zipper System is one of the few effective ways to manage traffic congestion without a huge investment in new roads. The demand for the products, however, does not depend much on their attractiveness, so business prospects are unfavourable. This analysis focuses on the irrigation business, and so the only important aspect of the infrastructure business is that it slightly masks the outstanding results of the irrigation division. I will rely on the Kerrisdale report as a source of certain data.
The irrigation equipment industry essentially works as an oligopoly, with Valmont (NYSE:VMI) and Lindsay dominating the industry with 43% and 30% market share, respectively. Local competitors rarely have over 5% market share in their respective markets.
Lindsay's 10-K contains a notably short risk section. I did not find any risks threatening the existence of the company; business results are not dependent on a small group of customers or a small region. About 60% of irrigation sales come from the US; the rest comes from countries spread all over the world. The company has no debt. The biggest risk is a high dependence of revenues on agricultural industry condition and on weather; corn prices are especially important. (The estimated low 2014 corn prices are perhaps the main reason for a low stock price.) Another significant risk is related to acquisitions and future expansion.
One of the metrics I use to judge companies is return on tangible assets defined as EBIT divided by tangible assets. It measures how much income is produced by the tangible assets (no matter whether the income goes to stockholders, bondholders or the government) and thus indicates the quality of the company's intangible assets. I have included 30% of the company's cash balance in the tangible assets as a proxy for the necessary working capital. For Lindsay, it has ranged between 22 and 34% in the last five years. Those nice returns show that the accounting intangibles also have an economic value. For a comparison, Valmont's return on tangible assets ranged between 12 and 20% in the last three years. The following table presents Lindsay's outstanding historical results.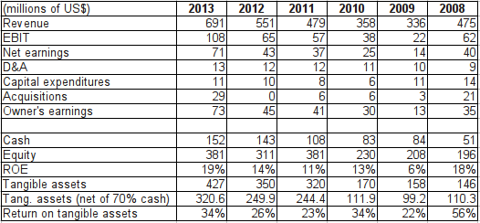 The next step in my analysis is to go through Phil Fisher's 15 points of growth stock analysis. Because of my limited time I have done very little of the real scuttlebutt approach suggested by Fisher: do your own research before investing.
1. Potential of increased sales for existing products. According to the company presentation, 91% of international irrigation is carried out using primitive gravity flow methods (only 39% in the US). Lindsay's equipment is more efficient (implying lower costs) and allows to save precious water in regions where it is scarce. In addition, irrigation is being used in more and more new regions because it can significantly improve harvest yields.
2. Determination of the management to develop new products. In their acquisition policy, the company focuses on related business lines (e.g. the filtration equipment brand Lakos acquired in 2013). They are also working on added value for their existing products with focus on automation and ease of monitoring and execution (smartphone apps etc.).
3. Effectiveness of research and development efforts. This is tough to judge for me. However, the company has been steadily increasing its market share in irrigation equipment in the last decade (from 35% to 41% of the combined Valmont and Lindsay revenues), so at least for the present, their R&D efforts are fruitful. One more reason why Lindsay is ahead of Valmont is the partnership with Syngenta (NYSE:SYT) which aims to integrate Lindsay's irrigation technology with Syngenta's purpose-designed seeds to reduce field's water needs. R&D expenses constituted about 10M a year in the last three years, which is within the range of 10% to 15% of operating profits and less than 3% of revenues. The irrigation industry is not exposed to huge technological changes and so technical innovation is only a partial driver of success.
4. Above-average sales organization. Farmers demand reliability of the dealer network: a delay of a few weeks could mean disaster for the crop, so broken equipment has to be serviced as soon as possible. Lindsay's increasing market share indicates satisfactory and/or improving quality of dealers' services; the management's focus on dealer performance promises that it will remain so in the future.
5.-6. Worthwhile profit margins and actions taken to protect them. In the last 5 years, gross margins ranged between 24 and 28% and net margins increased every year from 4.1% in 2009 to 10.2% in 2013 (it was above 8% in 2008). I expect further improvements in margins due to economies of scale and increasing vertical integration of the factories in international markets (the integration has already been achieved in the US). The management targets operating margins of 9 to 14%, in accordance with the results of recent years. Protecting the margins is another strategic objective.
7.-9. Outstanding labor and executive relations. Lindsay has only about a thousand employees, so it is almost impossible to find meaningful information on personnel relations by an Internet search (similarly for Claude Laval, a recent acquisition). From the few reviews I have found it seems that "the employees are all very friendly, hardworking, and very knowledgeable; they care about their jobs, and take pride in their work." On the other hand, "the CEO is steering it only to make money for shareholders." There was also a complaint about using old manufacturing equipment in a certain location, about engineering based on contracting third parties and about the reluctance of the management to respond to employee requests (although they listen to them). Overall, I would conclude that the employees enjoy working for Lindsay; even employees that have been laid off do not seem bitter towards the company.
An interesting point to note is that since 1995, Howard Buffett has been on the board of the company. I consider it to be an important factor in judging management qualities. Since H. Buffett is assumed to be the future chairman of Berkshire Hathaway (NYSE:BRK.A), I expect him to be very capable at the job, especially with his inclination to farming. Apart from Lindsay, he only serves on the board of Coca Cola (NYSE:KO), and owns about $2.5 million of Lindsay's stock. The management's combined stake is about 2.5% of the company.
10.-11. Quality of cost analysis and accounting controls; industry-specific clues regarding how outstanding the company will be in relation to its competition. As I have mentioned above, the company is decreasing costs and improving margins while simultaneously increasing its market share and working on its competitive advantages (brand name, local dealerships and resulting network effects, water and energy efficiency of their products etc.).
12. Long-range outlook in regard to profits. The company generates enough cash to be able to fund future growth even without borrowing. I found no indications of skimming on capex or product quality to obtain short-tem profits.
13. Future needs for equity financing; possible dilution. Even in the current period of sales growing by about 15% a year, the company was able to fund the growth from excess cash flows. It carries zero debt and has about 150M of cash (15% of market cap) on the balance sheet. I am confident that the growth is sustainable without any issuance of equity, maybe even without an issuance of debt.
14.-15. Is the management hiding troubles? Integrity of the management. As mentioned above, the presence of Howard Buffett on the board guarantees that no meaningful integrity corruption is known to him. (In 1995, he immediately resigned from the board of Archer Daniels Midland (NYSE:ADM) after some price-fixing was discovered.) The management candidly admits what lower corn prices can do to both revenues and profits (for instance, in 2009, revenues and net earnings declined by 30% and 65%, respectively).
Valuation
The company does not disclose enough information to exactly determine the portion of net income belonging to the irrigation segment (in particular, general, selling and administrative expenses are not separated), but the infrastructure segment produced a small operating loss in 2012 and 2013 and only 10 million of operating earnings in 2011, so we can assume that the results were even better for the irrigation segment alone.
I will compute owner earnings (OE) as net earnings plus depreciation and amortization minus capital expenditures. For the last three years, the average OE are 53M, while the average capex is about 10M. The management expects that capital expenditures would increase to 20 and eventually 25M. After deducting additional 15M of capex, we are left with approximately 40M of free cash flow. Divided by less than 13 million shares outstanding, this gives us 3.10 dollars per share. (While earnings increased by 27M in 2013, operating cash flows only increased by 5M. This discrepancy is mostly related to an increase of 37M, or almost 50%, in receivables---this deserves further investigation. We have left out the necessary increases in inventories and working capital because they are hard to compute and can be safely covered from the excess cash on the balance sheet for many years to come.)
The current market cap is less than 1.1B. After deducting 150M of cash, we see that the business trades for less than 25 times FCF. Since we have already accounted for the growth capex, we can use a discounted cash flow calculation. Owner earnings have grown at CAGR of 16% from 2008 to 2013 (including a trough year of 2009) while revenues of the irrigation segment have only grown at CAGR of about 11%; to determine a range of fair values, I will assume FCF growth ranging from 9% to 12% p.a. in the following 15 years and then leveling off to a terminal growth rate of 3%. The resulting fair value range is $85 to $115, thus the current price of $82 provides us with a narrow margin of safety. Actually, I believe that the margin of safety is bigger because of all the conservative assumptions we have made (for instance, we have not added the earnings resulting from the 29M acquisition of Claude Laval).
Conclusion
Lindsay offers significant growth opportunities for a value price. If you are a dividend growth investor, the current yield of 0.6% might discourage you, but the management disclosed that it is increasingly difficult to find suitable acquisitions and so they are looking for ways to improve returns of cash to shareholders, especially through dividends and stock repurchases during downs of agricultural cycles. I do not plan any withdrawal from my portfolio for decades and cannot use a tax-advantaged account; by investing in Lindsay I will mostly avoid the rather unfavourable tax treatment of dividends while enjoying all the benefits that come from the management's focus on increasing the dividend.
It is said that Warren Buffett avoids DCF calculations and buys only if attractive returns are obvious from rough estimates. I believe LNN belongs to this category at the current price: if earnings grew by 12% for a decade, the company would earn about 15 dollars per share, and with P/E of 15 the stock would almost triple. Imagine buying back 2-3% of the shares each year on top of that and the reinvestment of dividends and we are looking at a four-bagger.
Disclosure: I am long LNN. I wrote this article myself, and it expresses my own opinions. I am not receiving compensation for it (other than from Seeking Alpha). I have no business relationship with any company whose stock is mentioned in this article.