Broadcom (BRCM) is trading up from just over $26 per share to $29.18 per share for a gain of just over 10%. I continue to be bullish on the semiconductor provider. The company is one of the backbones of the Internet, which makes it appealing to me.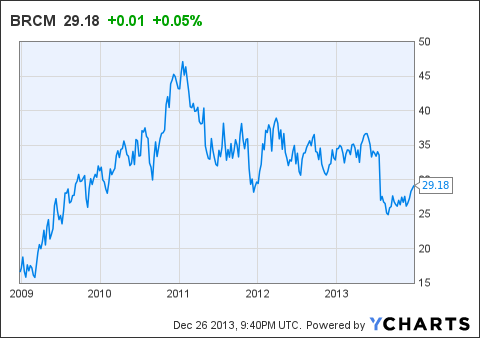 The share price is trading higher after the announcements of 4G design wins and increased revenues guidance. Fourth quarter EPS should be flat compared to the prior year. But I expect a tailwind in 2014 from 4G LTE, 802.11 ac, and Bluetooth.
Plus, at 2.1 times book value and 16.3 times adjusted earnings, there is room for upside.
Recent Developments
Broadcom announced that HTC has chosen Broadcom's quad-core baseband and connectivity platform for the new HTC Desire 6160 Android smartphone.
The company introduced a new Bluetooth Smart system-on-a-chip (SoC) into its Wireless Internet Connectivity for Embedded Devices (WICED) family to address the rapidly growing opportunities in different market segments for wearables and the Internet of Things. The SoC has a wireless charging feature.
Broadcom beat on Q3 revenues and earnings but guidance disappointed investors as revenues were lighter than forecasted. But the revenues guidance was subsequently increased.
Business Summary
Broadcom designs and markets a wide portfolio of digital semiconductors. The company is primarily focused on three end markets: networking, broadband and mobile devices. Broadcom is especially prominent in connectivity chips that integrate several communications standards, such as Bluetooth, GPS and Wi-Fi, into a single chip. Broadcom is a market leader.
The company is liquid and carries a manageable debt burden. The current ratio is 2.18 and the quick ratio is 1.81. On the solvency side, the financial leverage ratio is 1.43 and the debt-to-equity ratio is 0.18. There is plenty of room to decrease the cost of capital through debt offerings.
Broadcom is scoring 4G baseband wins. Samsung and HTC are including Broadcom's offerings in new models. This move likely comes at the expense of Qualcomm (NASDAQ:QCOM), which controls almost all of the 4G market. I expect Broadcom to continue to win designs and to earn a significant share of the 4G market as Qualcomm's offerings are better suited for the high end of the market and some of Broadcom's offerings better suited for the mid-to-low end of the market. But there is intense price competition in China. Expect Broadcom to gain share in 4G baseband.
In the quarter ending June 30 2013, Broadcom took a writedown on intangible assets associated with the acquisition of NetLogic. Subsequently, the share price declined substantially. I think the market overreacted to the writedown as $501M was a relatively small, 6%, portion of equity. Consequently, I think the sell off from the writedown was irrational, and Broadcom should get back to its 52-week high of $37.85.
S&P Capital IQ cites Broadcom's slowing revenues growth as a reason for being cautious on the company. But it thinks the back half of 2014 should be relatively strong. With that said, the calendar third quarter produced relatively flat y/y revenue growth, but the prior quarter was strong. Thus, I don't want to make a mountain out of a molehill. Additionally, the sell off was caused by the intangible assets writedown and was unrelated to slowing revenue growth.
There are worries about the mobile portion of the business. Mobile is fiercely competitive. So, there is uncertainty surrounding units and price points. Additionally, Qualcomm is a China play while Broadcom is a China, Hong Kong, Singapore, Taiwan, Thailand and Japan play. There are differences in the geographic breakdowns of sales.
For the fiscal fourth quarter, management is guiding to revenues of $2.0 to $2.05 billion, which is flat with the prior year. This comes with better expense management. Broadcom is nearing the $10B of annual revenue mark. This could be a fiscal 2015 or 2016 story.
Risks
The quarterly results may fluctuate significantly.
A few significant customers account for a substantial portion of revenue.
A significant portion of revenues in any period may depend on a single product design win with a large customer.
The failure to ramp LTE products could materially adversely affect the results of operations and the long-term view of the viability of the mobile and wireless segment.
There is goodwill at risk of impairment in future periods.
Valuation
Broadcom is trading at 2.1 times book value. This is as Qualcomm trades at 3.4 times book value. Qualcomm's ROE is higher, but Broadcom's growth rate is higher. With that said, 2.1 times book is inexpensive.
In terms of PE, Broadcom is trading at 16.3 (adjusted) and Qualcomm is trading at 18.7. Broadcom is trading at a discount to also the market and the industry.
In a recent report, S&P Capital IQ gave Broadcom a fair value of $37.70.
Disclosure: I am long BRCM. I wrote this article myself, and it expresses my own opinions. I am not receiving compensation for it (other than from Seeking Alpha). I have no business relationship with any company whose stock is mentioned in this article.