Shares of video game maker Take-Two Interactive (NASDAQ:TTWO) are surging in after hours trading following a much better than expected fiscal first quarter. Earnings per share came in at a loss of $.31 per share, which was twenty cents better than the consensus of analysts' estimates. Perhaps more impressive was revenue of $163.2 million which easily topped TTWO's guidance of $90-$140 million (although analysts thought it was overly conservative at the time). Also announced, the company will be cutting up to 15% of headcount to save $8 million this year and $15 million annually in what they termed as "targeted restructuring."
Take-Two has streamlined its focus in the quarter as the sale of Jack of All Games to SYNNEX (NYSE:SNX) was completed in the quarter, and netted the company up to $44 million. For the quarter ahead, Take-Two is looking for sales of $250-$300 million with profit of 20-30 cents per share. That guidance compares favorably to analysts' expectations for EPS of 7 cents on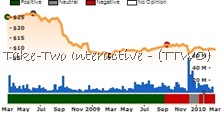 $267 million in revenue. For the full year, TTWO still sees losses of 40-60 cents per share, while the Street has estimated a loss of 56 cents.
The recent performance by Take-Two is a notable improvement from where they have been the past few quarters. The troubles of Take-Two attracted the attention of activist investor and hedge fund manager Carl Icahn, who has progressively increased his stake in the company. As of just a few weeks ago, Icahn owned more than 10.5 million shares or in the neighborhood of 13% of floated shares. He has flexed his muscle already by placing three handpicked directors on the board, and even the incumbent Executive Chairman of the Board Strauss Zelnick has worked closely with Icahn at Blockbuster (BBI). There is no doubt that Icahn is a voice of authority for the direction of the company, and thus far the results are mixed for shareholders. The stock has not performed well at all, but the last quarter was an operational improvement.
It is easy to see why shares are indicated higher after the earnings results, but we would urge investors remain cautious at this point. From our standpoint, TTWO is still Overvalued even after the improved revenue and earnings outlook. Remember, they still anticipate losses of $.40 to $.60 per share, and the more optimistic revenue forecast of around $825 million is still 46% lower than sales totals from fiscal 2008.
We can appreciate that things are finally starting to move in the right direction as refreshed management restructures the business, but the fundamentals have fallen so far that we need to see a more substantial recovery to find TTWO attractive again. We would not bet against the team of Zelnick and Icahn, but for us the stock still needs to prove it can become profitable in a challenging video game environment before we can get too excited about TTWO.