By Jeff Bailey
Years ago, as part of a movement to push more healthcare costs onto consumers -- and with the theory that if consumers had some financial skin in the game they'd make more cost-conscious decisions and help bring medical costs under control (ha!) -- health insurers began forcing individuals to pay so-called co-pays.
$25 for an office visit, say. $10 toward a monthly prescription.
And, as more and more of the cost of healthcare was pushed onto consumers, co-pays, you've undoubtedly noticed, have grown.
$50 for an office visit, now. $200 toward that pricey medicine you take every month.
The pharmaceutical industry watched all this and grew quite worried, of course. Medicines covered entirely by one's insurance are great; meds costing the patient a token sum are pretty good; but meds requiring a large and regular cash outlay (most drugs sales are to treat chronic illnesses) are, well, perhaps something one learns to do without.
Ever innovative, drug companies came up with the co-pay assistance program, in which the drug maker pays all or part of your co-pay so you can get their great drug. It negates, in part or entirely, the whole skin-in-the-game element of co-pays if someone's providing the skin for you, of course, but the things have spread.
Just Google "co-pay assistance" and the name of just about any pricey drug for a chronic illness. For instance, try Humira, the $10 billion-a-year rheumatoid arthritis drug sold by Abbvie (NYSE:ABBV). The Humira site informs us:
"The majority of commercially insured HUMIRA patients are eligible* to pay $5 or less for HUMIRA with this savings card."
Humira, by some measures the world's top-selling drug, brought in $7.6 billion during the first nine months of 2013, representing well over half of AbbVie's $13.7 billion in revenue.
Humira and its direct competitors - Amgen's (NASDAQ:AMGN) Enbrel and Johnson & Johnson's (NYSE:JNJ) Remicade, each with sales of just a bit less than Humira - cost on an out-of-pocket basis more than $10,000 a year. And if patients were actually the ones making $200 a month co-pays, say, sales of these drugs might decline substantially.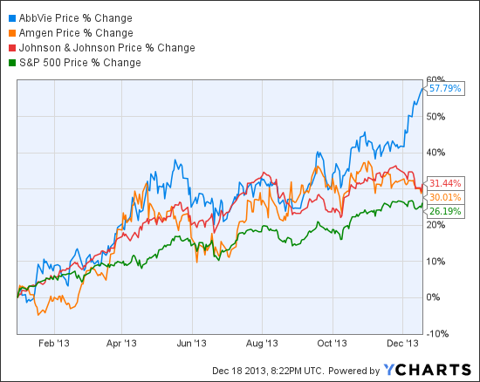 Pricey cancer drugs are supported by co-pay assistance, too.
So, co-pay assistance programs are a boon to drug makes and pharmacies (and to patients), and skirt the original intent of co-pay programs, it would seem.
The New York Times is reporting on a government investigation into Questcor Pharmaceuticals (QCOR). At issue is a charitable foundation, the Chronic Disease Fund, which gets contributions from drug makers like Questcor and then dispenses money to help patients with co-pays. The controversy over the practice (there are other similar charities and the sums involved are huge) was also covered comprehensively in Barron's, in an article written by Bill Alpert. Both articles are worth reading carefully.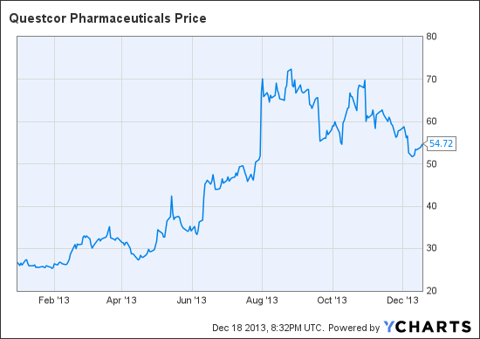 QCOR data by YCharts
From the Barron's article:
"CDF's Website shows that it works with numerous drug makers, from Roche's (OTCQX:RHHBY) Genentech to Novartis (NYSE:NVS), but few companies would seem to need its co-pay programs as much as Questcor. The Anaheim, Calif., company's only marketed product, Acthar, is a 60-year-old, naturally derived substance that it acquired in 2001, raised in price by 1,000% and now sells mostly for illnesses that can also be treated with synthetic steroids like prednisone at 1/100th the price of a $6,000 Acthar injection. A risk for Questcor is that doctors and patients would abandon Acthar for generic alternatives without the CDF programs that defray the thousand-dollar co-pays."
The co-pay charity is far different than co-pay assistance programs set up directly by drug makers, of course. Co-pay assistance has certainly helped blunt criticism of high drug prices (who cares if your drug is priced at $10,000 or more a year if you're not shelling out any of the cost?).
Since everyone except the health insurer benefits, and insurance companies (and the government insurance plans) are hardly sympathetic figures, it's hard to imagine the Questcor investigation morphing into a broader effort to curtail co-pay assistance.

Disclosure: None