Sometimes your thesis for an investment changes over time. About a year ago, I argued that Intel Corp (NASDAQ:INTC) was a solid choice for investors due to its sizable dividend yield, low valuation, and modest payout ratios. However, Intel has had a lackluster year. The company has disappointed in both earnings and dividend growth while also seeing its core businesses come under pressure. In addition, Intel's 2014 guidance points towards another investment focused year, with anticipated flat revenue growth.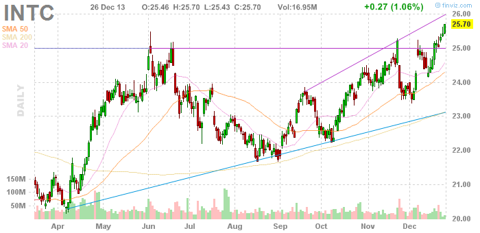 2013: the year of zero dividend growth
2013 will likely be remembered as the year Intel forgot to raise its quarterly dividend. The current dividend of $0.225 per share has now remained the same for six straight quarters including all of 2013. This marks a stark departure from Intel's previous trend of substantial yearly dividend increases over the past several years. Do note that during the financial crisis of 2008 to 2009, Intel temporally froze its dividend at $0.14 per share before raising it again in 2010.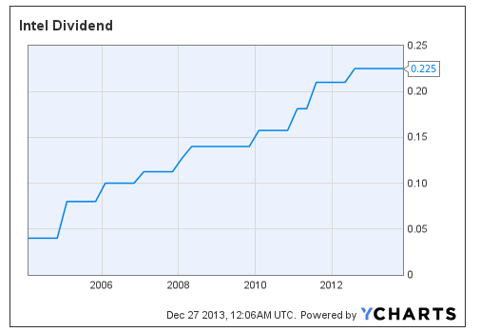 The cause for Intel's current dividend freeze are debatable. However, I think the reason clearly lies in weaker EPS growth for 2013. So far this year, Intel has actually posted negative EPS growth and has seen its payout ratio approach nearly 50%. This is quite the departure from 2012 where Intel's payout ratio hovered at about 35%.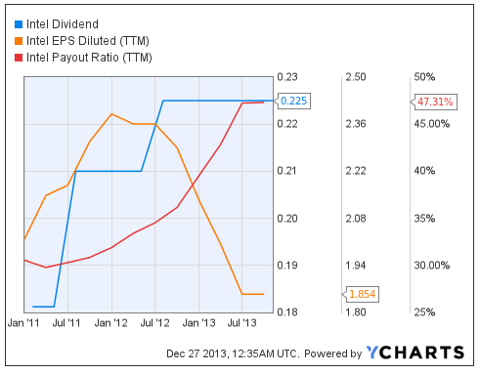 While the payout ratio has crept higher, Intel still should have given its shareholders at least a token dividend increase this year. While this may seem silly for total return focused investors, a company's track record of dividend growth is often just as important as EPS growth for dividend-growth investors. By not increasing the payout in 2013, Intel may have telegraphed that dividend increases are no longer its preferred method of returning capital to shareholders.
Stock buybacks have slowed down considerably
Another area of concern for Intel would be its much weaker share buyback program. YTD, Intel has bought back about $1.5B worth of stock and is on pace to spend roughly $2.0B on share buybacks for the year. This is well below 2012 levels where Intel was basically buying back $1.5B worth of stock every quarter.
As a result, Intel is no longer seeing the substantial reduction in shares outstanding it had seen in prior years. As an example, from 2011 to late 2012, Intel saw its share count decline by over 10%, greatly benefiting EPS figures during that time frame. However, the company has actually seen its share count increase in 2013 as share buybacks are now well below the level needed to offset employee stock option related dilution.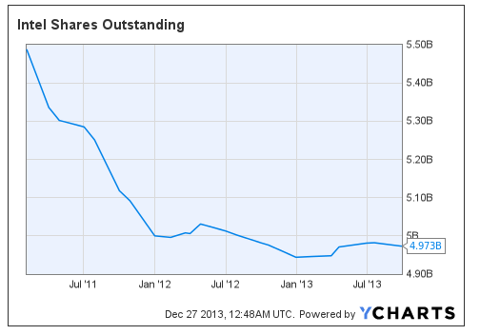 Intel's FCF trends look promising
While Intel has slowed down its capital return program, it is seeing improvements in its free cash flow, or FCF. The company's current TTM level of cash generation is near its all-time high at about $11B. However, Intel's FCF may start coming under pressure in 2014 due to increased capex demands. Nevertheless, FCF is one of the few areas Intel is actually seeing improvements from prior year levels.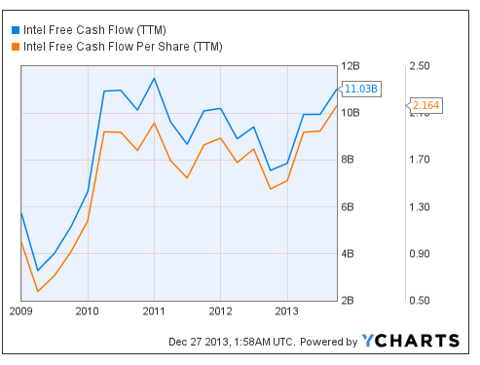 2014 outlook fails to impress
On November 21, Intel held its annual investor day and quite a bit of news was released. I highly recommend investors interested in the company look over the presentation in full. Below are a few of the key financial related points mentioned that day:
Intel anticipates flat revenue, operating income, and EPS growth for 2014
Intel estimates its gross margins to remain near the top end of its historical range
Intel is targeting a dividend payout ratio of 40% of FCF
As can be expected, the market reacted quite negatively to Intel's projections, sending shares lower by over 5% the next day. However, there is a glimmer of hope here for dividend-growth investors. Due to Intel's increased FCF generation this year, a dividend increase may be in the works for 2014. As can be seen above, Intel has generated about $2.16 per share in FCF over the past twelve months. The current dividend is roughly 42% of this figure. However, Intel's FCF has been trending higher in recent quarters, especially in Q3 2013. If this trend continues, Intel may have enough wiggle room to boost its quarterly dividend slightly while maintaining its 40% targeted payout ratio.
Final Thoughts and Conclusion
As I noted in the intro, 2014 will be an investment year for Intel. The company needs to focus on reinvesting its substantial cash flows back into its business via capital expenditures. Doing so allows Intel to have a chance in making inroads in the crucial tablet and smartphone markets, areas where its current market share makes it basically irrelevant. Intel needs to respark some form of revenue growth in high growth segments, especially since it is so tied to the declining PC industry.
Intel has clearly lost its luster as a dividend stock. The lack of dividend growth this year has turned off a large chunk of its shareholders. In addition, Intel's weak EPS trends and scaled down share buyback programs remain a major concern. As a result, I have been reducing my stake in the company and may sell my remaining shares if Q4 results disappoint.
Disclaimer: The opinions in this article are for informational purposes only and should not be construed as a recommendation to buy or sell the stocks mentioned. Please do your own due diligence before making any investment decision.
Disclosure: I am long INTC. I wrote this article myself, and it expresses my own opinions. I am not receiving compensation for it (other than from Seeking Alpha). I have no business relationship with any company whose stock is mentioned in this article.