It sure has been a bullish end to the year for Apple. After starting off slowly, Apple (NASDAQ:AAPL) has been up 16% over the three months to end 2013. Year to date, the company has only yielded about 6%, but has also paid dividends and set itself up for success in 2014.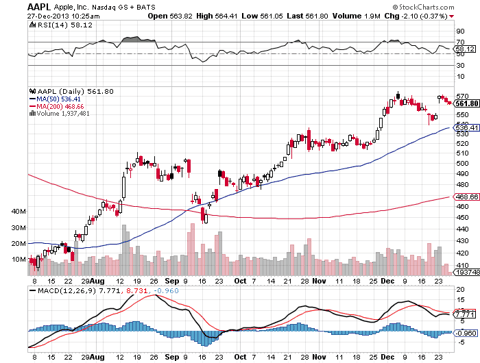 Click to enlarge
So, a lot of people are wondering whether or not to sell Apple before the coming year. I would argue that it is not time to sell and that the company remains a buying opportunity on its eventual way up towards its highs in the 700s. Between consistent earnings in 2013, coming new products, business growth in China, and fantastic fundamentals in place, Apple is poised to continue its growth through 2014.
If asked about some of the coming catalysts for the company, here are three of the items I would be looking for to happen in 2014:
1. No Buyback
While this isn't necessarily a positive catalyst per se, it's going to be a positive for people like myself who have been looking for Tim Cook and Peter Oppenheimer to maintain digging their heels in and make the statement that ultimately they're in charge of the company.
I had commented on this several quarters ago when Peter Oppenheimer went out of his way to realign analysts and let them know that the company's guidance was going to be the only guidance they should be going by, effectively eliminating the sandbagging problem that the company was starting to have between what it reported and what analysts were expecting. I wrote several articles explaining how this helped engineer several positive earnings reports, most notably the third-quarter results for 2013.
So, it should come as no surprise to people to read my articles that I'm against another buyback or an increase of the current buyback, which still remains the largest in stock market history. I've written several articles detailing that I think Carl Icahn is out only for himself and not interested in the long-term growth prospects of the company. It is in that vein that I have encouraged Tim Cook and Peter Oppenheimer to hold their ground, remind shareholders that the current buyback is substantial, and politely take note of but deny Carl Icahn's request.
Additionally, not only am I not expecting a buyback, I'm expecting positive sentiment from both analysts and shareholders should Tim Cook and Peter Oppenheimer stand their ground and offer a subtle reminder that the company will run how they deem fit. It is this type of confidence that can create the correct attitude for the company heading into the new year. Distributing to shareholders, but with an eye on the fundamentals.
2. Continued Growth Across the Board
I'm expecting continued growth across the board for Apple. I mean this in several regards.
First, I'm expecting the company to keep its stronghold on the consumer phone, tablet, and music aspects of its business. The company has shown enormous growth in all three of these facets over 2013 and there's no reason to believe that trend is going to change moving into the new year.
iTunes radio is likely to be a enormous success as it continues to grow internationally and continues to add listeners. The ecosystem effect of one device introducing the consumer to another device is in full swing, and the integration between Apple's devices has never been more efficient than it is right now.
Second, I'm expecting exponential growth in the Chinese markets in the year 2014, as a direct result of Apple's signed deal with China mobile. More on that, and the potential ensuing technical stock price runup, in my last article here.
Third, one of the most overlooked successes of 2013 was the fact that Mac continued to grow while the PC market as a whole was declining. This is a testament to Mac's increasing market share, and as PC growth rises once again it's going to become more prominent in the future. More people are going to notice as we move forward that Mac is continually gunning for the PC market. Mac is going to continue to find success in 2014.
Fourth, aside from iTunes Radio - Apple continues to monetize and dominate the music market. As 2014 approaches, the iTunes Store and Apple's foray into not only music, but TV shows and movies, is going to continue to be a large source of revenue for them. Relative to media, I simply expect Apple to continue its excellence, set new records, and flourish.
Fifth, I expect the company to report stellar holiday sales catalyzed by the hefty margins on the new iPad. I had written an article with regard to this earlier this year which you can read here.
3. New Products
Well, I think it's safe to say that we're all expecting new products in the coming year. Early in 2013, on a conference call, Tim Cook alluded to the fact that new products would begin to be rolled out during fall of 2013. This year, we got the iPad mini and the iPad air, which have both been successes.
One of the coming forays into new products will be the company moving into the TV realm one way or another. The company has two options: they can either upgrade and continue to run with the Apple TV product that they have, or the company can go the route of manufacturing their own TVs. There's pros and cons to both of these, and I'm not claiming to know which route they're going to go, but there is no doubt that the company is going to forge forward one way or another to continue getting the Apple ecosystem into living rooms via TV. In 2014, they're going to have stiff competition from Google (NASDAQ:GOOG) and even products like Microsoft's Xbox One (NASDAQ:MSFT).
As also stated during a presentation in 2013, I'm expecting the Apple ecosystem to continue to expand into vehicles in the coming year as well. Right now, iOS is not too prominent in vehicles. In the coming years, I'm not only expecting iOS to infiltrate the automobile market, but I expect it to compete head-to-head with Sirius Satellite Radio and eventually just simply crush Pandora (NYSE:P).
And of course, we have the iWatch, slated to be out towards the end of 2014. As I have commented in previous articles, being the first to make something doesn't necessarily make you the best. It is my guess that Apple reminds Samsung of this in 2014 when it releases its watch product. Apple is going to remind us in 2014 that it still knows how to innovate as a company, and this will be one factor that not only provides free headlines for the company but will simply breathe life into the company across the board.
When the iWatch comes out, it's once again going to be exciting to be an Apple investor, as opposed to simply investing for pedestrian monetary gains from "a technology company."
Conclusion
Either way, I'm predicting a great 2014 for Apple. As long as the macro markets can hold up, I think it's likely that we're going to see another 10 to 20% appreciation in Apple stock at the least in 2014.
In addition to this appreciation, Apple will continue to pay its dividends and continue to buy back its stock per the plan that it had put into place in 2013. With every year that goes by, Tim Cook continues to silence his critics and prove that he was not only the most prudent replacement at the Apple CEO position, but also a damn fine executive in his own right.
In terms of stock price, Apple is finishing 2013 similar to the way that it started. While that might not be convincing, it is worth it to realize that Apple is ending the year with significantly more momentum than it had at the beginning of the year.
It's this momentum that is going to carry Apple into 2014, where they will continue to execute as a company, and provide safe lucrative returns for their shareholders.
Disclosure: I have no positions in any stocks mentioned, and no plans to initiate any positions within the next 72 hours. I wrote this article myself, and it expresses my own opinions. I am not receiving compensation for it (other than from Seeking Alpha). I have no business relationship with any company whose stock is mentioned in this article.