While the books aren't yet closed on 2013, one thing is clear: it has been a very good year for independent oil and gas producer ConocoPhillips (NYSE:COP). While the stock price has slipped a bit recently (more on that later), the 12-month total return is a respectable 26%. The company reached an inflection point in its multi-year strategic makeover during 2013: COP has transitioned from the asset disposition phase of the plan to the production and margin growth phase. The catalyst of 3-5% growth in production and margins through 2017 will power the stock another 20% higher in 2014.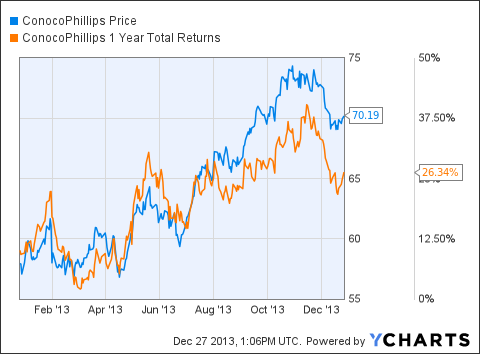 Recent Weakness Is Unwarranted
Recently, the stock has dropped from the $74.50 range to ~$70. It is a pause to refresh, and likely due to COP's association with domestic shale oil production. Some analysts predict WTI will sell at a widening discount to Brent in 2014. Yet I think these concerns are overblown and here's why: according to COP's most recent presentation at the BofA Merrill Lynch Global Energy Conference, the three major shale oil plays contribute the following to COP's production slate:
Eagle Ford: ~130,000 boe/day
Permian Basin: <60,000 boe/day
Bakken: <50,000 boe/day
To put things in perspective, in Q3 these three plays contributed only 214,000 boe/day to COP, or about ~14% of total production (1.514 million boe/day) for the quarter. So COP is much more than a domestic shale play, it is a global and very diversified company when it comes to production. Not only that, but the Eagle Ford accounts for well over half the total from these three plays, and the EF has the best economics of them all and has the geographic advantage of being close to the Gulf Coast refining and export hub. So COP will be just fine even if the Brent/WTI spread does widen a bit. On the other hand, investors seem to be ignoring the recent rise in domestic natural gas prices to 2 1/2 year highs. That's up 25% just since November 1. For the first 6 months of 2013, COP was the #7 producer of natural gas in the US. It also has significant shut-in capacity which can be brought online with the turn of a wrench.
2013 Asset Disposition Plan: Flawless Execution
COP's management should be congratulated for the execution of its asset disposition plan in 2013 which included:
Cedar Creek Anticline for a total of $1.05 billion.
Clyden oil sands leasehold to Imperial Oil and Exxon Mobil (NYSE:XOM) Canada for ~$720 million.
North Caspian Sea Production Sharing Agreement (Kashagan) for approximately $5.4 billion.
Algeria business unit for a total sales price of $1.75 billion, which resulted in proceeds of $1.65 billion.
Through November, the company's divestiture proceeds from 2012 through third-quarter 2013 have totaled approximately $12.4 billion.
Exploration And Production
On the exploration front, in March COP announced two significant discoveries in the Gulf of Mexico: Coronado (~400 net feet of pay) and the massive Shenendoah discovery which encountered over 1,000 net feet of high quality petroleum. COP has a 30% working interest in Shenandoah and a 35% interest in Coronado. Last week, Conoco announced a fourth (the other being Tiber) discovery by partner and operator BP (NYSE:BP) at the Gila prospect. COP holds a 20% interest in Gila. Further drilling is required to flesh out that play. These are important discoveries not just for future production growth but because COP has invested in over 2 million net acres in the Gulf of Mexico. These recent discoveries prove that its acreage is a solid long-term investment with excellent potential.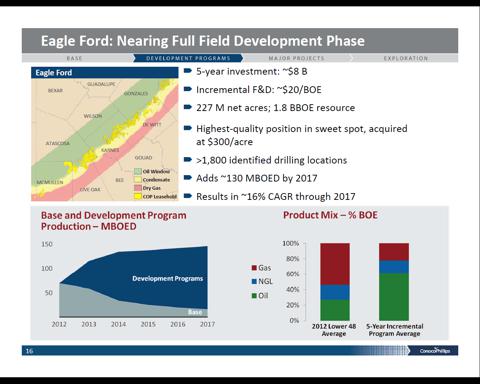 Production wise, COP continues to execute superbly in the Eagle Ford - one of the crown jewels of the corporation and a key piece of the strategic plan. While the company may have a way to go in matching EOG Resources (NYSE:EOG) in the EF, COP is the #2 producer in the EF and has doubled EURs in the play since 2010. The company has nearly reached its full development targets and production will level off at around 130,000 boe/day after rising rapidly since 2010.
Internationally, the Jasmine project in the UK North Sea started up in November. As I reported in this article, Conoco revealed that the 4 Jasmine wells are the most prolific in the corporation and are capable of out-producing the current infrastructure's capacity of 140,000 boe/day. ConocoPhillips is the operator of Jasmine and has a 36.5% stake. The company expects net production to be ~40,000 boe/day in 2014.
The news from Jasmine came close on the heels of COP's announcement that Ekofisk South in Norway had achieved first oil production. ConocoPhillips operates the Greater Ekofisk Area and has a 35.1% stake. Ekofisk South, along with Eldfisk II and other development projects offshore Norway, will add ~60,000 boe/day of net high-margin production to COP's production volumes by 2017.
Meantime, the company continues to operate wells in Canada (274,000 boe/day in Q3) where it has a top-tier position in the oil sands and continues to believe it can reduce operating costs there by $20/barrel by applying new technological advances.
Alaska: Back In Play
Many don't realize that ConocoPhillips is the #1 oil producer in Alaska and in 2012 had 1.75 billion barrels of proven reserves in the state. It is the operator at three fields: Greater Kuparuk, the Western North Slope and at Cook Inlet. In Q3, Alaskan production was 178,000 boe/day - 91% of it oil and only 3% dry gas.
After the Alaska Legislature voted to slash taxes on Alaska's oil producers, ConocoPhillips brought a new drilling rig up to the North Slope. The rig is already pumping 1,600 bpd.
In addition, COP is operator and 100% owner of the Kenai LNG Plant in Cook Inlet. Kenai historically manufactured LNG for sale to utility companies in Japan. ConocoPhillips idled the plant in October 2012, but the company recently applied for a new 2-year license to export 40 billion cubic feet of LNG. It was decided to reopen the plant after several recent discoveries were made in the Cook Inlet area by small independent oil and gas companies.
Conoco was an early pioneer in LNG. The Kenai facility began operation in 1969 and for more than 40 years was the United States' only LNG export facility.
And of course COP is a co-venturer (29.1%), along with Exxon, BP and Chevron (NYSE:CVX) of the Trans Alaska Pipeline System ("TAPS"). The TAPS consists of an 800-mile crude oil pipeline from Alaska's North Slope to the ice-free port of Valdez, Alaska, as well as a marine terminal in Valdez. The pipeline currently carries approximately 575,000 bpd of crude oil and NGLs.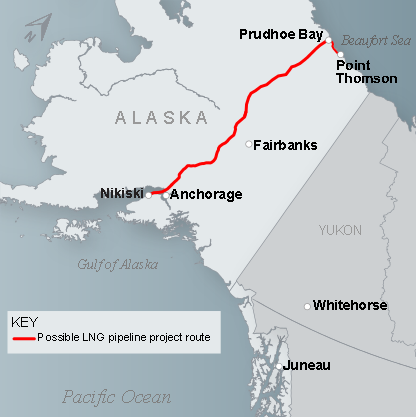 Since recent changes to Alaska's oil tax law, COP has announced its intention to pursue several new developments and is evaluating additional North Slope investments. Conoco, in conjunction with Exxon, BP and TransCanada (NYSE:TRP), is evaluating potential Alaska LNG exports from the North Slope's vast gas resources. The "Alaska LNG" export plant would have the capacity to make 15-18 million metric tons of LNG annually, the equivalent of 2-2.4 bcf/day of gas. The pipeline would carry 3 to 3.5 bcf/day from the North Slope fields. Alaskans would consume some gas along the way and other gas would be consumed to run the pipeline and liquefaction plant.
Clearly Alaska has plenty of upside for ConocoPhillips. Indeed, the 2014 budget reflected that:
Higher allocation of capital to Alaska compared to 2013, reflecting increased spending on the CD-5 development and higher activity resulting from improved fiscal terms from the passage of the More Alaska Production Act (SB21).
Dividend Boost
Half way through 2013 COP's management felt confident enough to announce an unexpected 4.5% boost in the quarterly dividend to $0.69/share per quarter. That works out to a yearly payout of $2.76/share for a current yield of 3.9%.
Balance Sheet
But what about those balance sheet worries that some analysts expressed concern about when the strategic plan was released: "How are you going to pay out such a hefty dividend without taking on more debt?" they cried. Well, in Q3 COP generated $3.8 billion in cash flow and ended the quarter with $3.9 billion in cash and $21.7 billion in debt, for a debt-to-capital ratio of 30%. That met management's expectations and guidance. Considering the prospects the company has going forward, a 30% debt-to-cap, while higher than I would like to see, doesn't bother me so much considering my trust in COP's management ability to execute as they have been. In fact, I would say the only hiccups in the entire strategic plan has been loss of production out of Libya, and some (excessive... ) downtime in Bohai Bay, China, due to a small spill - both of which were largely out of management's hands.
Production And Margin Growth Going Forward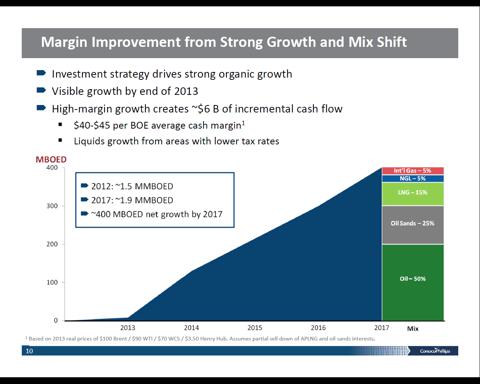 The midpoint of COP's Q4 2013 production guidance is 1.535 million boe/day. If the company grows production by 4% in 2014, it would come in at around 1.6 million boe/day. The company plans to grow production to 1.9 million boe/day by 2017 and is targeting cash margins of $40-$45/boe.
2014 Outlook
Q4 earnings should surprise on the upside due to strong oil prices, excellent exploitation of the Eagle Ford play, and the recent rise in domestic natural gas prices.
The increase in domestic natural gas prices bode well for the nation's No. 7 producer of dry gas. the year of low natural gas prices have resulted in a decrease in dry gas drilling. According to the EIA, after growing 8% and 4% in 2011 and 2012, respectively, natural gas production is expected to rise only 1% per year in 2013 and 2014. The onset of a colder than expected start to winter has caused a quick and substantial spike up in natural gas prices: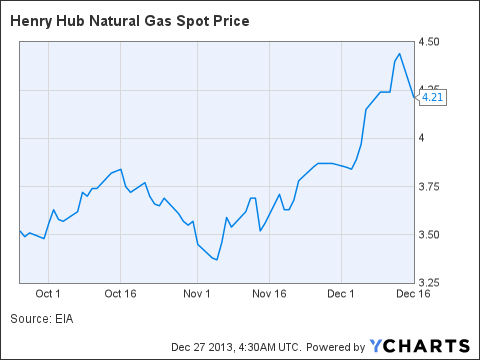 Henry Hub Natural Gas Spot Price data by YCharts
In the BofA presentation, COP said its annualized net income sensitivity to Henry Hub spot prices was a $115‐125 million change for $0.25/Mcf change. One month does not a trend make, but all things being equal you can see that the ~$0.70 increase in the HH spot price since Nov. 1 could add ~$30 million in net income in the month of December alone. This would be very bullish for COP if sustained into 2014. On an annualized basis, a $0.70 increase in the HH spot price equates to a ~$336 million increase in net income ($0.27/share).
In the big picture, world economic growth appears to be picking up. The Fed's decision to begin tapering signals better prospects ahead. Last months petroleum report by the American Petroleum Institute showed November demand rose 4.9%. Gasoline demand was up 5.4% year-over-year. Worldwide, 2014 should see the first year of positive growth by all of the world's four leading economic blocks (the US, the EU, China and Japan) since the economic crisis of 2008. So the worldwide economic outlook is brightening. Exxon topped the $100 mark yesterday and appears to be ramping up advertising: how long can a gallon of gasoline power your cell-phone? Also, note that Exxon is sponsoring the stock ticker on CNBC. These might be anecdotal observations, but you can feel the optimism growing at Exxon. I think this bodes well for other oil and gas producers too.
For ConocoPhillips in 2014, earnings estimates range from a low of $5.03 to a high of $7.48, with the average of 23 analysts coming in at $6.34. As of its December 21 stock report, S&P see 2014 EPS of $6.19, has a 4-star rating on the stock (BUY) and sets a 12-month target of $82/share. That is 17% higher than yesterday's close. Tack on a 3.9% dividend and you have another potential 20% gain for full-year 2014.
Summary And Conclusion
For all intents and purposes, COP's multi-year strategic plan has transitioned from the large asset dispositions phase to the execution phase of meeting its targeted 3-5% growth in production and margins through 2017. So far, the E&P teams appear on track to deliver. Meantime, Conoco is paying one of the top dividend yields in the industry. Recent weakness in the stock due to concerns about low realized prices in 2014 for domestic shale production seem unwarranted for reasons stated earlier in this article and present a buying opportunity. Alaska is back in play and I expect good news from increased spending in that state. The recent jump in domestic natural gas prices is a positive catalyst going forward.
2013 was a very good year for COP. While I doubt the company will match those gains in 2014, the stock should see total returns approaching 20%. COP is a buy.
Disclosure: I am long COP, CVX, XOM. I wrote this article myself, and it expresses my own opinions. I am not receiving compensation for it (other than from Seeking Alpha). I have no business relationship with any company whose stock is mentioned in this article.
Additional disclosure: I am an engineer, not a CFA. The information and data presented in this article was obtained from company documents and/or sources believed to be reliable, but has not been independently verified. Therefore, the author cannot guarantee its accuracy. Please do your own research and contact a qualified investment advisor. I am not responsible for investment decisions you make. Thanks for reading and good luck!