By Tracey Ryniec
There's no turnaround in sight for Central Garden & Pet Company (NASDAQ:CENT). On Dec 10, this Zacks Rank #5 (Strong Sell) missed the Zacks Consensus for the 5th straight quarter.
Central Garden makes lawn and garden and pet products under several brand names.
For lawn and garden, it makes grass seed, wild bird food and insect control products. Its pet products include aquarium products, flea, tick, mosquito and other pest control products, edible bones, cages and carriers.
Sales Sink in the Fiscal Fourth Quarter
On Dec 10, Central Garden reported its fiscal fourth quarter result and missed on the Zacks Consensus by 35%. Earnings were a loss of $0.31 compared to the Zacks Consensus of a loss of $0.23.
Its track record on beating the estimate has been dismal for the last five years. The last beat was recorded all the way back in 2011.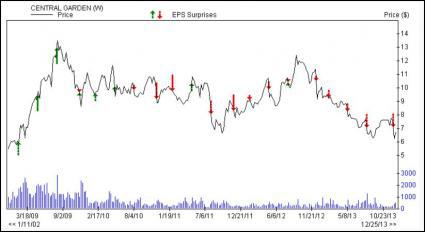 Sales fell 7% to $368.8 million. Sales in the Garden segment fell 7% to $148.4 million, but there was an extra week in the prior year's quarter. Sales of the branded products fell 9%.
In the Pet segment, sales also fell 7% to $220.4 million while its branded products slid 8%.
"Unacceptable" Results
A near-term turnaround doesn't appear to be on the horizon.
"Our financial results are simply unacceptable," said John Ranelli, President and CEO.
"While we will see some improvements along the way, it is going to take another year or two to get our performance consistently where we want it to be," he added.
The analysts don't think there will be a turnaround in the near term either. Full year fiscal 2014 estimates have been slashed since the fourth quarter earnings report. The Zacks Consensus has fallen to $0.38 from $0.57 just 30 days ago.
If you're looking for a consumer products company with well known brands, consider Jarden Corporation (NYSE:JAH). The maker of Crockpot and First Alert is a Zacks Rank #3 (Hold) but is expected to grow earnings another 10% next year.
Disclosure: The author of this article owns shares of JAH.