As an income-driven investor there are a number of minimum criteria I like to establish before deciding whether I should be bullish or bearish on a particular dividend paying stock.
For example these criteria include but are not limited to a dividend yield over 2%, a forward P/E ratio of 12.5 or lower, and strong dividend behavior over the last several years. In today's article I wanted to venture into the Oil & Gas Equipment & Services sector and highlight several reasons why I'm staying bullish on shares of GulfMark Offshore, Inc. (NYSE:GLF).
#1: Recent Performance & Trend Behavior Signals a Longer-Term Buying Mode
On Thursday, shares of GLF, which currently possess a market cap of $1.23 billion, a forward P/E ratio of 10.62, and a dividend yield of 2.13% ($1.00), settled at a price of $46.92/share. Based on their closing price of $46.92/share, shares of GLF are trading 1.05% below their 20-day simple moving average, 4.62% below their 50-day simple moving average, and 1.73% above their 200-day simple moving average.
These numbers indicate a short-term and mid-term downtrend for the stock which generally translates into a near-term selling mode and a long-term uptrend for the stock which signals a moderate buying mode for longer-term investors.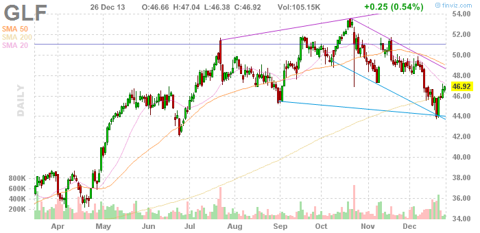 Click to enlarge
#2: Recent Dividend Behavior
When it comes to the dividend behavior of GulfMark Offshore, investors should note a few things. For example, GulfMark initiated its dividend back 2012, when it paid its shareholders $1.00/share on December 19, 2012. Following the initiation of its dividend, the company then decided to break the payout down into four quarterly payments of $0.25/share.
Although a company's ability to maintain its annualized dividend isn't much to write about, the key thing is there were a number of other plays that have actually slashed their dividend in recent months. For example, sector-based peer Penn West Petroleum (NYSE:PWE) cut its respected dividend by just over 48% earlier this year.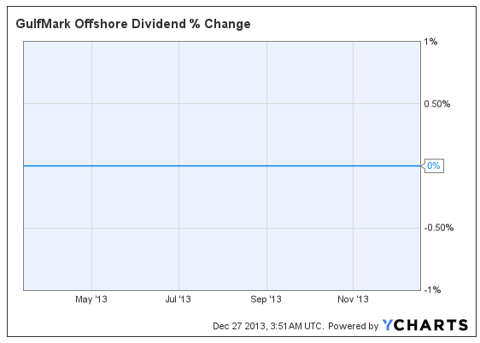 Click to enlarge
#3: Looking Ahead To Q4 EPS
If we begin to look ahead to the company's Q4 EPS, in which analysts are calling for GLF to earn $0.95/share in terms of EPS (which is $0.05/share lower than the company had reported during Q3 2013 and not really comparable to the -$0.19/share that the company had reported during Q4 2012) and $123.11 million in terms of revenue (which is $1.31 million higher than the company had reported during Q3 2013 and $28.11 million higher than the company had reported during Q4 2012), I suspect most investors would like to see GulfMark continue to demonstrate the strong quarterly performance that has occurred in each of the last four quarters.
In my opinion the company's streak could very well continue, however a few key improvements in certain areas may need to occur in order for estimates to be met or even slightly surpassed.
How can GulfMark Offshore surpass estimates?
If the company can demonstrate an increase of at least 3.0% to 4.0% in terms of North Sea region revenue, an increase of at least 4.5% to 6.0% in terms of Southeast Asian regional revenue, and an increase of 1.25% to 1.75% in terms of the revenue generated by its Americas segment, I see no reason why the company's EPS and Revenue estimates can't be met or even slightly exceeded when the company announces its Q4 results sometime in early 2014.
Risk Factors (Most Recent 10-K)
According to GulfMark Offshore's most recent 10-K there are a number of risk factors investors should consider before establishing a position Dunkin Brands. These risk factors include but are not limited to:
#1 - The company's relies heavily on the oil and natural gas industry, and volatile oil and natural gas prices impact the demand for GulfMark's services.
#2 - Any increase in the supply of offshore supply vessels would likely have a negative effect on charter rates for our vessels, which could reduce our earnings.
#3 - The company has a substantial amount of indebtedness. It may not be able to generate sufficient cash to service all of its indebtedness, including the notes, and may be forced to take other actions to satisfy such obligations under its indebtedness, which may not be successful.
Conclusion
For those of you may be considering a position in GulfMark Offshore, I strongly recommend keeping a close eye on the company's earnings growth, its dividend behavior, and its ability to deliver on its previous established vessel commitments over the next 12-24 as each of these factors could play a role in the company's long-term performance.
Disclosure: I have no positions in any stocks mentioned, but may initiate a long position in GLF over the next 72 hours. I wrote this article myself, and it expresses my own opinions. I am not receiving compensation for it (other than from Seeking Alpha). I have no business relationship with any company whose stock is mentioned in this article.