As we move into 2014, people are going to be looking for both long and short positions to hold for the new year. Investors will be looking to hold long the stocks that are likely to produce gains as well as potentially dividends.
So, when looking at options for repositioning yourself for the new year, I would argue that a portion of the portfolio should encompass short positions made up of companies that are both overvalued, as well as companies that are fundamentally flawed or subject to major market pullbacks. Look at us, we're starting our own little hedge fund inside of our portfolio!
Twitter (NYSE:TWTR) has had a great year, no doubt. This makes it a great headline, a great momentum stock, and a great story for 2013. However, I would argue that it also makes Twitter a prime candidate to be held short as a hedge to your long positions moving into 2014. I would add it to the list of the 4 other stocks I would be holding short into 2014 as well.
The company has been up to the tune of nearly 40% in the last month - for no apparent reason at all. It could just be buyer's panic and hysteria, but it doesn't change the fact that the stock has rocketed since its IPO, providing investors with over 50% returns.
Technicals and Valuation Now Bordering on Bizzaro
While it's tough to look at the technicals of a stock that has only traded for two months, this chart shows that Twitter is likely to be significantly overbought heading into 2014.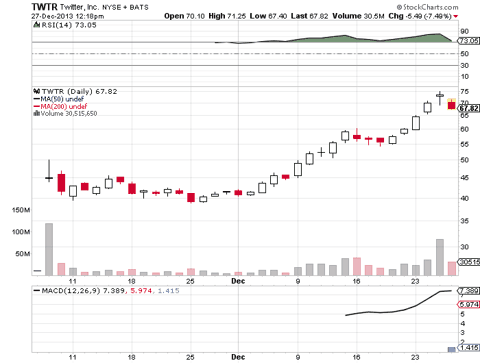 Currently, the company supports a market cap of $37 billion. Those who underwrote and participated in the IPO are likely to be taking profits, if not now then in early 2014.
Additionally, the company is trading very volatile, as exhibited through its recent 40% run-up, and Friday's subsequent 7% correction on no known news other than an analyst downgrade.
Analysts Piling On
Those who read my articles understand that I try to pay no mind to analysts. The reasoning behind this is the fact that most analysts either have a direct stake in the game or are related to someone one way or another that has stake in the game. For this reason, I've pointed out in a past article exactly what I think about analysts:
As much as I hate (read: love) to bash Jim Cramer in two successive articles, he's the pinnacle example of this rule. Much of the public was absolutely flattened when they watched his interview a couple of years back on the Daily Show. In this interview, Jon Stewart played back for Cramer a YouTube video of himself openly admitting to making up and disseminating rumors about companies when his hedge fund was short them. This was the public's first glance into the dirty work that goes on behind the scenes at hedge funds; if they knew the down and dirty details, jaws would drop all the way to the ground.

The lesson I hoped the public learned from this is that 95% of the people feeding you advice, whether it's here on Seeking Alpha, on CNBC, or in the Wall Street Journal, all have agendas and positions that they're trying to make money on. Believing these people disclose these positions all the time is laughable. Take everything, including what I write, as a sales pitch. Go in as a skeptic and question motives. Again, finance is a lesson in cutthroat 101.
Having said that, we can see that analysts are currently starting to turn a bit bearish on Twitter.
Fox Business reported on Friday:
Shares of Twitter slumped around 3% on Friday as investors reacted to a downgrade to "underperform" from Macquarie.

The brokerage maintained its sunny outlook on Twitter's long-term potential but said the site needs to hire significantly more people before it can be as competitive as its larger Silicon Valley rivals.

Shares of Twitter have been on a tear since their Nov. 7 market debut, climbing more than 60% - 40% in the last 15 days - on what Macquarie says was "virtually no new news."

"We believe nothing has changed in the fundamentals to justify the sharp rise in shares over the past few weeks," the brokerage said in a note to clients.

On Friday, they were down about 3.3% to $70.90 in choppy trade. Macquarie maintained its $46 price target.

Macquarie, which originally had a "neutral" rating on Twitter, continues to believe the microblogging site has a bright future but warned opportunities will take time.
This report is just one of several that have started to take a bearish or neutral lean on the company. Reasoning behind this could be legitimate, or it could be analysts trying to create an opportunity for entry into the stock for themselves before it moves higher. I'm not going to speculate as to why the analysts are pretty bearish right now, but if that sentiment continues into 2014, it's likely that Twitter is going to continue to head into the new year with bearish momentum and correct.
Slowing Traffic
At the very core, companies that support valuations like Twitter's right now need to, at the very least, have fundamentals that are screaming under the surface. Tesla (NASDAQ:TSLA) is a perfect example of this. Tesla has an extremely lofty valuation, but the company has a track record of success since its inception that it will likely continue into the future.
Twitter, on the other hand, has yet to even report its first couple of quarters. Additionally, some of the preliminary data being presented on Twitter isn't necessarily looking promising.
As first pointed out by Pim Keulen, Twitter's traffic volumes also seem to be in question. He cites a report showing a decline in the Netherlands:
This report shows that Twitter's traffic volumes declined -41% this year compared to last year in the Netherlands. The research was conducted by GSK, an international and independent research organisation. GSK specializes in assembling data regarding consumer choices and their behavior. Every year, GSK reports the trends in smartphone and social media use.
Whether or not this trend is going to continue remains to be seen. However, going long in a stock with such a lofty valuation without some type of promising fundamentals is likely to not be a good idea.
Also, as Twitter is forced to report on a quarterly basis, people are going to start to look past the numbers and begin to question not only the growth of the company, but the depth of the growth of the company. While I'm not making any predictions, the chart posted below starts to take a look at some of the metrics that I'm referring to. These numbers do anything but instill massive conference that would warrant an enormous valuation.
(click to enlarge - chart source)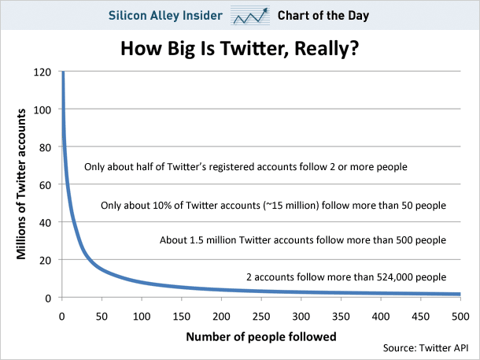 High Valuation = Great Hedge
Thus, Twitter could make for a great hedge heading into the new year. Again, when you position yourself for 2014, what you want is to short companies that are not only potentially fundamentally flawed, but are subject to macro market pullbacks.
You want to protect against a bearish market as well as potentially make money on companies that'll either correct or fail outright. It is my contention that if the markets pull back during 2014, the stocks that are likely to be hit hardest are stocks with lofty valuations like Tesla and especially social media stocks with lofty valuations like Pandora (NYSE:P), Angie's List (NASDAQ:ANGI), LinkedIn (NYSE:LNKD) and Twitter.
It is my contention that if you are going to consider Twitter for your portfolio in 2014, that it would be best served as a company held short, based both on fundamental prospects and as protection for a potential bearish market.
Best of luck to all investors.
Disclosure: I have no positions in any stocks mentioned, and no plans to initiate any positions within the next 72 hours. I wrote this article myself, and it expresses my own opinions. I am not receiving compensation for it (other than from Seeking Alpha). I have no business relationship with any company whose stock is mentioned in this article.