Starting with a sub-$4 billion market cap at the beginning of 2013, energy midstream MLP Regency Energy Partners LP (NYSE:RGP) has engineered a flurry of mergers and acquisitions that will put the company at close to the $12 billion market value by the middle of 2014. The question for investors is whether all of these acquisitions will turn Regency Energy Partners from a slow distribution growth MLP to one that competes with the larger midstream MLPs that have provided substantial distribution increases to unit holders.
Note: MLP companies such as Regency Energy Partners LP have units and pay distributions. The words stock, shares and dividends may be used here with the understanding that the rules of MLP units apply including the tax consequences of investing in MLP units.
The Acquisitions Scorecard
February 2013: Regency Energy Partners announced an agreement to buy Southern Union Gathering Company LLC from Southern Union Company, a jointly owned affiliate of Energy Transfer Equity, L.P. (NYSE:ETE) and Energy Transfer Partners, L.P. (NYSE:ETP), for $1.5 billion. Assets purchased included a 5,600-mile gathering system and processing and treating facilities in west Texas and New Mexico for natural gas and natural gas liquids. The deal closed in April and was financed with 60% issue of new common RGP units and 40% long-term debt. Note: Energy Transfer Equity owns the general partner and incentive distribution rights of Regency Energy Partners.
October 2013: Regency announced a merger agreement to purchase midstream MLP company PVR Partners, L.P. (NYSE:PVR). The deal is valued at $5.6 billion and will be funded with the issue of RGP units to replace PVR units and an assumption of debt. At the time of the announcement, RGP sported a $6.6 billion market cap and PVR was worth $3.9 billion, giving a $10.5 billion market value to the combined company. Adding in long-term debt produces an enterprise value of $15.5 billion, moving Regency Energy Partners into the elite large-cap midstream MLP fraternity.
The merger requires regulatory and PVR unit holder approval and is expected to close in the first half of 2014.
December 2013: On December 23 Regency Energy Partners announced two acquisition agreements. The smaller of the two is a $290 million purchase of midstream assets from Hoover Energy funded one-third with the issue of RGP units to Hoover and the balance drawn from Regency's revolving credit line. The deal should close in the 2014 first quarter. The other deal is the $1.3 billion acquisition of all of the midstream assets owned by Eagle Rock Energy Partners LP (NASDAQ:EROC). The purchase - which is expected to close in Q2 of 2014 - will be funded by issuing $200 million of RGP units to EROC, assuming up to $550 million of long-term debt and paying the balance in cash, which will be raised by selling about $400 million of new issue RGP units to Energy Transfer Equity.
I cover the sale from the Eagle Rock Energy Partner side in this article.
Will Investors Benefit From the Growth?
The $0.47 dividend Regency Energy paid for the 2013 3rd quarter was just 5.6% higher than the distribution paid five years earlier. Over the last seven quarters, the quarterly payout has only been increased by a single penny. The result has been a relatively high yield to investors - historically in the 7% to 8% range - coupled with little or no dividend and unit price growth. To show the lack of emphasis on dividend growth, of the deals listed above only the two announced in December are expected to be immediately accretive to distributable cash flow per unit.
However, the discussion by Regency management during the conference calls covering the September and December announcements indicate that the company has started to focus on shifting to a higher level of growth of distributions to investors. In the December presentation management stated that it plans to recommend that the Board of Directors increase the distribution rate by 6% to 8% for the 2014 full year.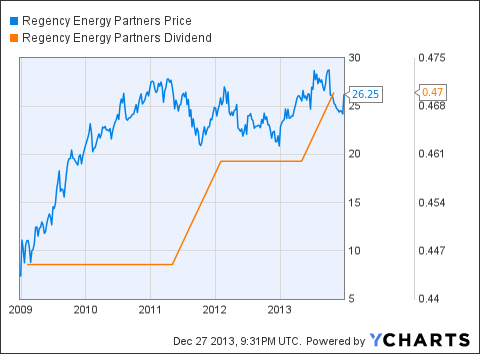 The histories of Regency Energy Partners along with closely affiliated MLPs Energy Transfer Partners and Energy Transfer Equity consist of aggressive growth of assets and market capitalization through the issuing of additional units, without much in the way of associated growth of distributions to investors. Growth of market value may be good for insiders and holders of IDRs, but investors need to see actual distribution rate growth.
It will be a good start to a new era for investors if Regency Energy can grow the distribution rate by 7% in 2014, combine this rate of growth with a 7% yield and RGP would be competitive with other large, midstream MLP investments. One benefit for Regency is that the company is still in the 25% IDR split, and will not hit the top 50% split until the quarterly dividend exceeds $0.525.
Disclosure: I have no positions in any stocks mentioned, and no plans to initiate any positions within the next 72 hours. I wrote this article myself, and it expresses my own opinions. I am not receiving compensation for it (other than from Seeking Alpha). I have no business relationship with any company whose stock is mentioned in this article.