I know that some will not like to hear this, but it is what it is. Sales of Arena's (NASDAQ:ARNA) Belviq, as expected, are putting up modest numbers as 2013 closes out. The biggest factor involved here is simply the Holidays. With Thanksgiving coming so late this year, the amount of time between feasting on turkey and opening presents was a mere four weeks. Simply stated, that leaves people with little time to tackle the issues of shopping, traveling and coordinating celebrations. Putting a doctor's appointment in the middle of all that is likely not a big priority.
Opportunities
Investors who follow an equity closely typically have their finger on the pulse of what moves the stock price. These investors are smart enough to understand the dynamics of short-term events that can impact the stock price one way or another. That being said, many investors are very casual about their portfolio and can react to news without the real knowledge of what that news means. We see it quite often. Low sales that are expected for a good reason (holiday) do not really change the potential of the overall story. Thus, if an equity like Arena Pharmaceuticals (ARNA) shows weakness on a sales dip, look at it as an opportunity rather than something to cry foul about.
This Week's Sales
The numbers reported today for Belviq sales represent a closing date of December 20th. Though the data for this week did not include an actual holiday, it does include a very busy time of the year where consumers are not likely going to a doctor to get prescriptions. The fact that Belviq sales are able to hold a line above 4,000 (using IMS Health numbers) is actually good. This week IMS Health sales have been late in coming out due to the holiday. However, Symphony Health has released its numbers and they show a modest gain of about 3%. Applying that same gain to IMS Health would bring the number in just below 4,700 for the week (Symphony was just below 5,600).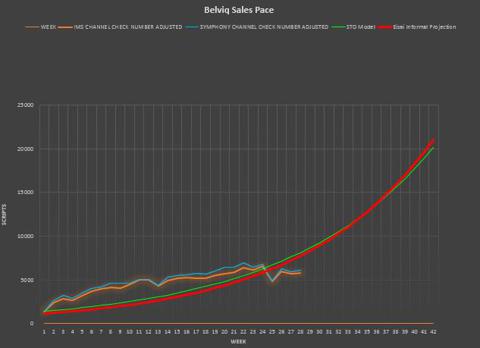 As you can see in the chart above, there was an expected dip for Thanksgiving. In addition, you can see that the sales have not yet fully recovered from that dip. The numbers reported next week will show a dip again because those will include Christmas. Taking it a step further, the numbers two weeks from now will include New Year's. Essentially, the script sales should be anticipated to be modest until at least mid January, when the holidays will no longer carry an impact on the weekly schedule of patients and doctors.
I have the gross sales to consumers at $26,265,000 since launch. The sales pace has indeed been more modest than pre-launch expectations, but the good news is that these more modest expectations are now built into the price of the equity. In fact, Arena has seen a small surge over the last two trading sessions.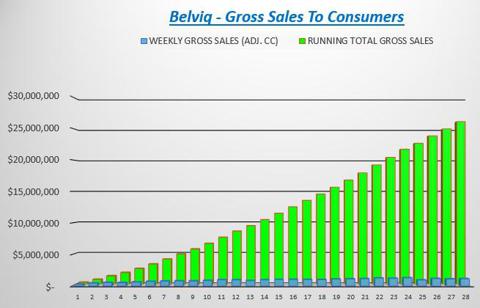 I have outlined Arena as a company with some real potential and catalysts in 2014. With the possible launch of television ads as early as January, a bigger sales force, a partner that has more at stake with what is essentially a global deal, and the fact that weightloss products have a better January through June than July through December, there are many potential positives on the horizon. Savvy investors may use perceived sales weakness over the next couple of weeks as an entry point.
While the sales we are seeing have been expected, it is still important to track them. Being up 3% this past week demonstrates that even in challenging times (the holidays) the drug is showing some traction. Better times (post holidays) should bring even better traction. Beginning January 17th, and running through March 31st, week over week gains in the neighborhood of 5% should be neutral to positive for the equity. Week over week gains of greater than 10% should be a pure positive.
In the competitive landscape, we are seeing Belviq carry on with traction vs. Vivus' (VVUS) Qsymia. In the past 10 weeks the story has been quite interesting (using Symphony data):
10 weeks ago Belviq was at about 5,000 scripts. This week Belviq is at about 5,600.
10 weeks ago Qsymia was at about 10,800. This week Qsymia is at a bit under 9,400.
The flatness of the sales curve is nothing to get excited about, but the seasonality is a big factor. What is compelling is that Qsymia sales have declined while Belviq sales are still showing positive momentum. Watch this closely, because the 40% haircut Arena took in 2013 could be fully recovered from in the first half of 2014. Stay tuned.
Disclosure: I am long ARNA. I wrote this article myself, and it expresses my own opinions. I am not receiving compensation for it (other than from Seeking Alpha). I have no business relationship with any company whose stock is mentioned in this article.
Additional disclosure: I have no position in Vivus