DryShips Inc. (NASDAQ:DRYS), topped the list of the most active stocks on the Nasdaq. Yesterday the company soared 12.7% on huge volume, continuing its breakout. 39.25M shares traded, and it is now up over 59% since my first article on November 8th. In that piece, I explained why I thought the stock would break the $4 level and go to my target of $5.73 on break out volume. You can view that here.
Below is a very important chart. Volume and timing is the key here, though this stock is up substantially, I believe it has a way to run. Here are three reasons why.
1. The chart is showing you a two year saucer type cup and handle formation and a double top breakout on huge volume. I have repeatedly pointed this out to naysayers, but as you can see it is in the process of happening right now. These types of breakouts have a much better chance of success, the volume tells the story. The lines converging around the $6 mark is my next price target.
This morning the stock opened at $4.99 and traded down to $4.81 within the first 10 minutes of the session. A close over $4.73 will be a bullish sign for the near future.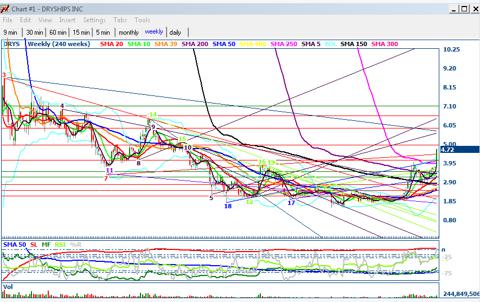 2. Tanker rates are going parabolic - Suezmax rates are now over $60k per day. Rates are spiking as there is heavy fog causing delays in the ports. Nordic American Tanker (NYSE:NAT), one of my top choices, has 20 Suezmax tankers all on spot, and an excellent balance sheet.
The BDIY is moving in sync with the economy, growing stronger.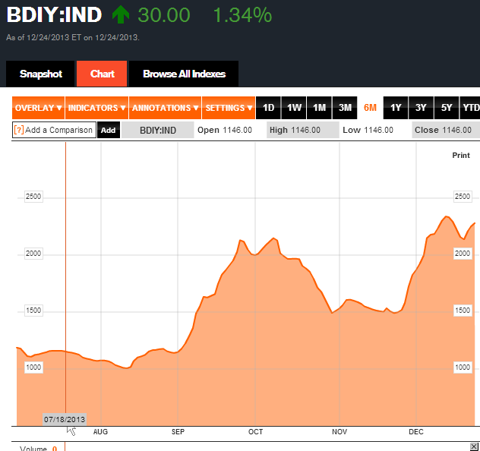 DryShips owns 10 tankers, 4 Suezmax and 6 Aframax. They all trade on spot, and this makes them well positioned to benefit from rising rates. Higher rates mean substantially higher earnings going forward in Q4 2013 and Q1 2014. 10 tankers x $60K per day equals $600K per day. A huge improvement from $130K per day in September.
Here is a monthly chart showing a cup with handle, this graph is in sync with the weekly chart.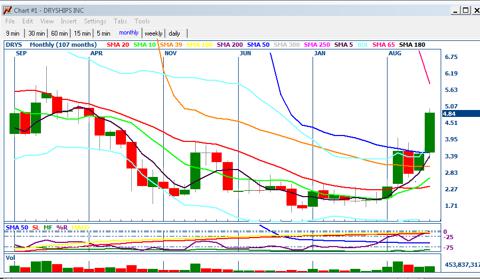 3. DryShips owns 59.4% of Ocean Rig UDW (NASDAQ:ORIG). Recently Ocean Rig UDW took delivery of its newest ultra-deep water drillship Skyros, currently on deployment to Angola. The company stands with a backlog of 6B in contracts. This gives some visibility to earnings going forward.
I have received comments about DryShips debt. It is important to note that Ocean Rig UDW debt is showing on DryShip's balance sheet. Here is a little simple math: 10 ultra-deep water drill ships X 650M equals 6.5B. With combined revenue of $1.6B in FY 2014, I believe it is manageable. A dividend of $25M is expected in the 2nd quarter and 59.4% of that goes to DryShips. Ocean RIG UDW is a valuable asset to DryShips and the reason I want to own this shipping company.
Under the radar pick for 2014
Quicksilver Resources Inc. (NYSE:KWK) is a company I think is about ready to break out, though not a shipper, I believe it's trading substantially below its intrinsic value. An independent oil and gas company, engaging in the acquisition, exploration, development, production and sale of natural gas, natural gas liquids and oil in North America. The Horn River Basin alone holds a potential 14Tcf of natural gas, according to a third party source.
The company is in final negotiations with a partner to share the cost of extraction. They have multiple operations in various parts of the US and Canada. You can read my report on Quicksilver Resources Inc. here. I will be writing future articles about this exciting company, which is one of my picks to explode in 2014.
As always, I urge you to do your own research, and make sound unemotional decisions with an exit strategy in place.
Disclosure: I am long DRYS, NAT, KWK. I wrote this article myself, and it expresses my own opinions. I am not receiving compensation for it (other than from Seeking Alpha). I have no business relationship with any company whose stock is mentioned in this article.