Johnson & Johnson (NYSE:JNJ) investors are already booking a gain of 33% over the last year partly driven by a raised FY 2013 EPS guidance and optimistic expectations with respect to new drugs coming from its pharmaceutical division.
Johnson & Johnson has a market-leading position in consumer care and prescription products. Brands like Tylenol, Listerine as well as its renowned baby care product line can be found on retailer shelves around the world. JNJ's attractive consumer product portfolio of high-margin brands is the core asset of the drug manufacturer. In addition to consumer products, JNJ also operates a pharmaceutical segment that aims to address global public health challenges by developing medicines for infectious, cardiovascular and metabolic diseases as well as cancer and other diseases. JNJ's Medical Devices and Diagnostics delivers high-quality and innovative products for health care professionals around the world.
Johnson & Johnson shares had the best one-year performance of all drug companies in the peer group (see below) with a return of 32.92%.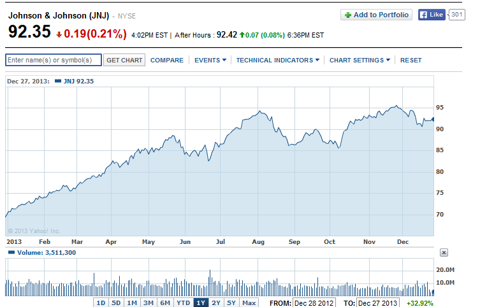 Over a five-year measurement period, Johnson & Johnson is losing its sector-leading performance spot to Pfizer (NYSE:PFE). Pfizer gained 68% over the last five years while Sanofi (NYSE:SNY) and Novartis (NYSE:NVS) returned 62% each. GlaxoSmithKline (NYSE:GSK) returned 43% and AstraZeneca (NYSE:AZN) 46%.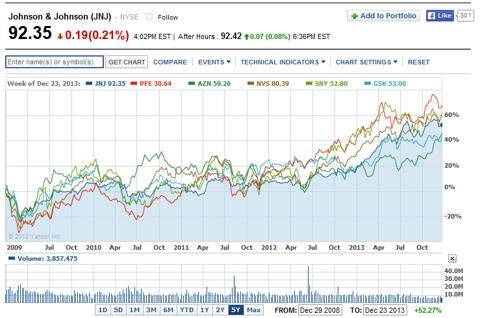 Intrinsic value estimate based on free cash flow
Johnson & Johnson's cash flow history is reproduced in the chart below. I have also added columns for my 2013 and 2014 cash flow estimates which are mostly in line with prior years with no significant volatility in any line item.
I conservatively estimate that Johnson & Johnson can earn about $18.1 billion in operating cash flow in fiscal year 2014. Investing cash outflows as well as changes in debt lead to an estimated free cash flow to equity of $10.3 billion or around $3.59 per share. With a current share price of $92.35 this translates into a multiple of nearly 26x forward free cash flow to equity or a free cash flow yield of 3.89%.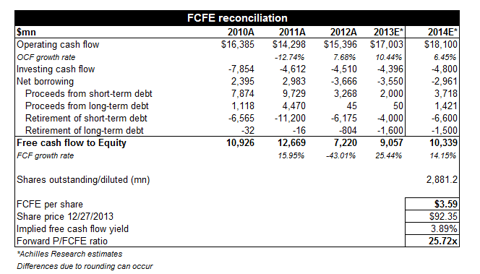 Market valuation
Due to the increase in Johnson & Johnson's share price, the company is the highest valued (on an earnings basis) large-cap drug manufacturer in a peer group of US and European companies. Johnson & Johnson trades at 15.79x forward earnings and I have stated repeatedly that I consider the valuation range above a P/E of 15 to be expensive. The stock market presently offers investors a variety of segments where valuations are still lagging economic prospects with P/E ratios of around ten (for instance, the financial sector and the basic materials sector are largely undervalued in my opinion, even though the cyclical nature of such investments points toward outsized gains over the next couple of years).
An overview of current forward P/E and P/S multiples for drug manufacturers is provided below.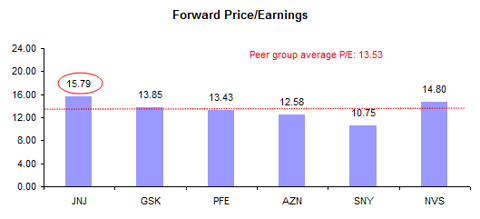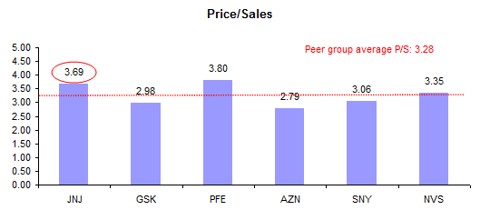 Johnson & Johnson presently fetches about a 3% dividend yield which is the lowest yield in the peer group. GlaxoSmithKline has the highest dividend yield with 4.64% while the drug manufacturer average stands at 3.41%. Historically, drug companies have both delivered value for shareholders in form of dividends and capital appreciation.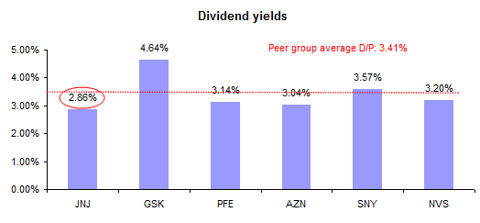 The valuation comparison table below shows that Johnson & Johnson is trading at about a 17% mark-up to the average drug company P/E of 13.53. In addition, Johnson & Johnson quotes 12.50% above the peer group average P/S ratio.

Conclusion
Johnson & Johnson has an outstanding and renowned product portfolio especially in consumer care products. Its pharmaceutical business could land a blockbuster medicine for arthritis, cancer or an infectious disease at any time which would likely provide a significant catalyst for JNJ's stock price.
Johnson & Johnson currently trades a P/E ratio of nearly 16 which seems a bit on the expensive side. The free cash flow projections from above indicate that JNJ commands a forward P/FCFE ratio of 25.72 which is a fairly rich multiple. Its dividend yield, unfortunately, has been lowered due to the steady rise in share price throughout much of 2013.
I generally like JNJ's core business of consumer and prescription products and segments like Medical Devices and Diagnostics add to JNJ's revenue diversification and de-risk company cash flows. At current multiples, however, I prefer to stay on the sidelines and wait for a pullback in order to snatch up shares of this large-cap drug manufacturer at lower prices. The market has already edged higher for a couple of months without any sight of a correction. If markets correct, I think JNJ has potential to consolidate back to the $85 range which would make this top-tier drug manufacturer a decent long-term BUY.
Disclosure: I am long PFE. I wrote this article myself, and it expresses my own opinions. I am not receiving compensation for it (other than from Seeking Alpha). I have no business relationship with any company whose stock is mentioned in this article.