As we get ready to put 2013 behind us, and most gold and precious metals investors are happily wishing good riddance to 2013, we want to look forward to what we expect to happen to gold in the New Year. Obviously, nobody knows the future to predict with certainty, but we believe that our predictions have a good amount of sound logic behind them and so hopefully we can do better than the monkeys.
So now let's take a look at what we think 2014 has in store for gold - and how that can help investor portfolios.
Gold's Annual Low Will Be in January of 2014
We don't believe that the gold market will have a long drawn-out bottom, but instead, we think that the lows will be hit at the beginning of the year and it will be upward from there - no long consolidation in H1FY14 as most bullish analysts are predicting. Why is that? Well first of all taxes.
Most people are quite familiar with tax-loss selling as investors sell their losers at the end of the year to claim those losses on their taxes or to minimize taxable gains. But people shouldn't forget that in bull markets oftentimes investors with large gains will wait until the new year to sell their positions to avoid paying taxes for an extra year.
We expect that this will be exacerbated in 2014 because we believe that many investors know that by almost all measures the stock market is significantly overvalued. There are many different measures that show that we're really at nosebleed levels with current valuations, as we discussed briefly in a previous article, one of our favorite valuation metrics (Price-to-Sales) shows the S&P 500 at all-time highs and at levels even higher than those seen during the Internet bubble. It's an open secret that investors are not buying equities because they are cheap, but rather because of the market's momentum.
Additionally, investors have never been more leveraged as NYSE margin debt closes in on new all-time highs, which in the past has been a strong indicator of market tops.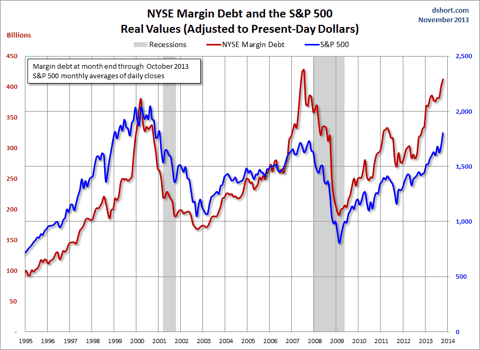 Source: Advisor Perspectives
This means that there isn't too much more fuel in terms of margin debt for the market to ride higher upon, and additionally it adds a great deal of instability to the market as many investors hold large positions that may need to be liquidated quickly to meet margin calls in any market downturn - all the market needs is a push and it could see quite a drop.
We think that tax-gain selling may be the push that causes the market to drop and spooks investors that have been enjoying a low-volume grind higher with little worry about losses ("BTFD" as the folks of ZeroHedge would say).
The market's newfound risk will be gold's gain as we believe gold's negative correlation with the market will again reassert itself. Many gold shorts and bearish investors with long-market-short-gold pair trades will be forced to close them, and many other fund managers (who sold market gains) will look to jump to gold investments with their idle money.
Thus we believe gold's low will occur in January and will coincide with the 2014 market highs and after that gold will move on higher throughout 2014. Of course investors looking to play this theme would want to accumulate gold in the last few trading days of 2013 or early January by purchasing physical gold and the gold ETF's (SPDR Gold Shares (NYSEARCA:GLD), PHYS, CEF).
Gold will Outperform Platinum in 2014
Many precious metals investors are looking to add platinum to their portfolios (Sprott Inc. gives a good outline of why), but we believe that gold will outperform platinum in 2014. The arguments for platinum investments are strong, but the fact of the matter is that platinum is primarily used in industry and without an economic recovery (especially in autos) much of the platinum supply will be lacking demand.
We've just heard anything but a robust report from Ford (NYSE:F) as the company predicts a weak 2014, and we believe we'll see more of the same from the other automakers. A weak 2014 for auto sales means that platinum demand from industry will also be lacking, and that is obviously not good for the platinum price.
Finally, when it comes to investment demand, platinum is simply not gold. The investment market in platinum (though it has come a long way with platinum ETFs), is nowhere as deep, liquid, or global as the gold market. The platinum bar and coin market is tiny compared to the gold and silver bullion markets, and without industrial demand to soak up platinum supply, investment demand seeking the protective properties of precious metals will make platinum a third choice behind gold and silver. Thus we believe that platinum will underperform gold and silver in 2014.
The Gold Miners Will Significantly Outperform Gold
As investors can see in the chart below, the gold miners as represented by the Market Vectors Gold Miners ETF (NYSEARCA:GDX), have significantly underperformed gold (as represented by the SPDR Gold Shares (GLD)).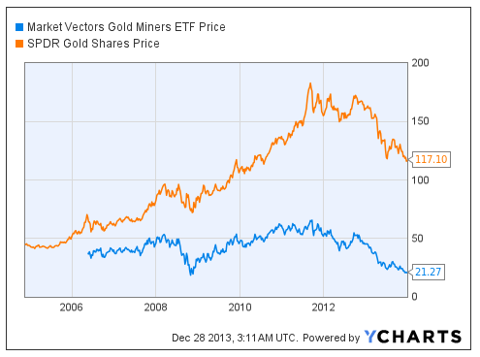 The miners simply have been a bad investment for investors even with a rising gold price. We believe this was primarily due to tighter profit margins that have grown smaller as costs have outpaced the increase in the gold price.
We think that we will begin to now see the more traditional relationship between miners and gold - one where the miners significantly outperform the gold price. As we've recently covered, miner costs have been dropping and companies have been streamlining operations to survive in this low-price gold environment. Many of the miners have cut away the fat (and much of the muscle too as exploration budgets have been decimated), and though we think the sustainability of these cuts in the long-term is questionable - they sure will create nice margins when the gold price rises as we believe it will in 2014.
Many of these companies are trading at exceptionally low multiples of sales, and should experience exceptional gains if the gold price rises as they simply are not pricing in a rising gold price environment. Investors looking to take advantage of this trend may want to take a look at miners such as Goldcorp (NYSE:GG), Yamana Gold (NYSE:AUY), Newmont (NYSE:NEM), or even some of the explorers and silver miners such as First Majestic (NYSE:AG) or Pretium Resources (NYSE:PVG).
Mergers and Acquisitions in the Gold Sector Will Remain Subdued
So far we've painted a very bullish environment for gold in 2014, one portion of the sector which we feel will be very slow to pickup will be mergers and acquisition activity. The small-cap and micro-cap sector of the gold and silver exploration companies has been ravaged in 2013, and though investors may once again start picking through this sector, we don't expect many majors to start buying up exploration companies in 2014.
The issue is that many of the majors are still scarred by the vicious price action in their shares over the last two years, and will be reluctant to pull the trigger on any acquisitions let alone larger ($500+ million dollars) type acquisitions even as their reserves decline - risk is simply not going to come easily for most of their management teams. Additionally, the balance sheets of some of the larger miners are not that clean and the capital needed for the larger acquisitions will still be hard to come by.
We're not saying that there will be no acquisitions in the sector in 2014, but we think it will only be a handful of buy-outs and most of those will be of a much smaller variety (under $100 to $150 million dollars). For investors in exploration companies, this means that they shouldn't expect majors to bail them out - they need to make sure their companies can survive for at least another one or two years without a buyout or significant dilution. This will not be a repeat of 2010 and 2011 when any explorer with "gold" in their name readily found investor capital and had hopes of a buyout.
Conclusion for Investors
We believe that 2014 will be much brighter for precious metals investors than the previous year, and gold will take-off starting in January as stock markets stumble. Additionally, we think that the miners will finally offer the leverage to the gold price that investors have been fruitlessly seeking over the last decade. Investors should avoid getting too cute and getting caught up in the recent popularity of platinum amongst precious metals investors, as we believe it will underperform gold in 2014 as it will be sorely missing industrial demand. Finally, investors should not expect a rising gold price and increases in miner shares to mean that buyouts are imminent - there is still a way to go before we see much in the way of acquisition activity, so they should make sure that the explorers they own can survive in the current environment without being acquired.
We've covered some of the larger trends in the gold industry for the New Year, we'll soon release some of the specific companies we like and we think investors should also take a look at in 2014 - so investors that are interested feel free to follow us. Additionally, we'd love to hear some of your predictions for the precious metals sector in 2014, so please leave them in the comments below.
Disclosure: I am long SGOL, GG, AG, PVG. I wrote this article myself, and it expresses my own opinions. I am not receiving compensation for it (other than from Seeking Alpha). I have no business relationship with any company whose stock is mentioned in this article.