Although the exact impact of the Affordable Care Act on the Healthcare industry may be somewhat ambiguous, two things that are certain is that there will be an acceleration of demand for healthcare products and services, due to a much larger and insured population, and that this demand would largely be directed towards cost-effective products and solutions. In such circumstances it is always prudent to invest in opportunities in which you are certain to gain from the changing environment. Looking at these two expected and almost certain changes, I believe that investing in drugstores will be a highly profitable venture.
The increased insured population will help drugstore companies grow their top line and the better margins of generic drugs will help grow the bottom line. These trends are expected to be seen across the board, and identifying firms that will outperform their peers will help investors in generating superior returns than the industry. With three drugstore companies announcing results in the past week, I will try to identify the best of the lot as a possible future investment opportunity.
The Three Peers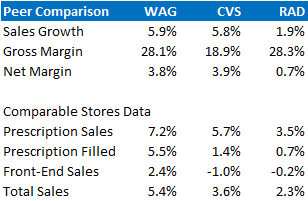 Source: Walgreen (Q1 2014), CVS Caremark (Q3 2013) and Rite Aid(Q3 2014) Earnings Release
As per the most recent results of Walgreen (WAG), CVS Caremark (NYSE:CVS) and Rite Aid (NYSE:RAD), each reported slightly poorer results compared to last year due in large part to the decline in the generic introduction rate. Walgreen reported better results than a year ago despite a decline in new generic introduction as last year's results were negatively impacted by the difficulty in bringing back customers lost due to the dispute with Express Scripts (NASDAQ:ESRX).
As can be seen from the figure above, WAG was able to perform better than its peers in terms of sales growth and margins. WAG was able to enhance its market share by 50 bps in the prescription market and was also able to grow front end sales by 2.4 percent compared to the decline experienced by its peers. The two largest peers, WAG and CVS, each filled 213 million and 180.5 million prescriptions respectively in the most recent quarter while such data for RAD was not available. The prescriptions filled by WAG and CVS increased 5.8 percent and 2.3 percent respectively. As Rite Aid did not open any new stores, compared to last year, its filled prescription growth was 0.7 percent in the most recent quarter.
Based on the comparison above I believe that WAG has outperformed its peers during the slow quarter for the industry and with its strategic collaboration with AmerisourceBergen (NYSE:ABC) and Alliance Boots the company has the potential to continue on its path of outperforming its peers over the next few years.
Recent Results and Future Prospects
Walgreen missed analysts' estimates on both its top and bottom lines reporting net of $18.33 billion compared to consensus estimates of $18.35 billion and reported earnings per share of $0.65 compared to analysts' estimates of $0.72 per share. Despite missing these estimates the company's share price jumped 6.5 percent with unusual volumes of 15 million compared to the three month average volumes of 5.9 million.
During the first quarter of 2014 the company achieved a YoY sales growth of 5.9 percent and reported an earnings growth of 66.5 percent. The company's gross margin was reduced by 134 bps due in large part to the lower rate of generic introduction and higher promotional expenses. In its earnings call management stated that it had to spend more than expected in promotions in order to capture the market share. However, the company's investment in promotions can be deemed fruitful as it was able to grow traffic by 210 bps and achieved a better growth in front end sales and prescriptions filled compared to its peers and the industry.
WAG's total pre-tax earnings grew by approximately 65.9 percent in the first quarter of 2014 compared to last year. The company generated approximately $376 million of pre-tax earnings from its investment in Alliance Boots and ABC. Excluding earnings from these two investments, the company generated pre-tax earnings of $732 million reflecting a growth of 9.6 percent on a YoY basis and an EBT margin of 4 percent which is an improvement of 10 bps from last year.
During the first quarter of 2014 the company operated 8,681 locations reflecting a growth of 1.9 percent from last year which includes 8,200 drugstores and a net increase of 1.8 percent or 142 net new stores. WAG achieved net sales per store of $2.11 million reflecting a growth of 3.8 percent from sales per store of $2.03 million last year. The total square footage of the company increased to 89.2 million reflecting an increase of 1.9 percent from Q1 2013. Sales per square foot increased to $20,550 reflecting an increase of 3.9 percent from $19,785 per square foot. All in all the company was able to report respectable performance in the quarter missing estimates but still beating the industry on traffic, prescriptions filled and front end sales growth.
Going forward, the company is aiming to achieve annual net sales of more than $130 billion and an operating income on a GAAP basis of $8.5 billion to $9 billion. This equates to a CAGR in net sales of 21.6 percent and a CAGR in operating income of 29.2 percent. Based on the most recent quarter's results the company's operating income growth was in line with the required growth needed to achieve the FY2016 targets while net sales growth fell short. However, assuming the company will complete the acquisition of Alliance Boots after the expiration of the initial period the company is well on track to achieve the growth target. Including the annual results of Alliance Boots the combined entities will only need a CAGR in revenues of 6.7 percent and a CAGR in operating income of 15.6 percent. Along with the company's investment in ABC and the right to increase its stake in ABC I believe the company will easily be able to achieve and surpass its growth targets for FY2016. With the company's new strategic alliance with ABC and Alliance Boots, the continued cooperation with ESRX and the expected increase in generic drug introduction rate, after hitting a trough in the recent quarter, I believe the company stands has the potential for high growth.
With the expectation that the company will achieve its 2016 goals of revenue and profit growth and the expected net debt reduction, the company will be able to achieve earnings per share ranging between $4.26 and $.61 per share. Based on the company's current forward multiple of 16.8, I expect the company to trade between $71.45 and $77.41 with an annualized return of 7.5 percent to 10.4 percent (assuming this target is achieved by the fiscal year end 2016). However, the major boost in price will be seen once the company announces its intent to completely buy Alliance Boots which I fully expect it to do once the initial time period expires. In my opinion, given the global reach, the integrated and growing platform along with its market leading position gaining exposure to the certain impacts of ACA cannot come in a more profitable manner than an investment in WAG.
Disclosure: I have no positions in any stocks mentioned, and no plans to initiate any positions within the next 72 hours. I wrote this article myself, and it expresses my own opinions. I am not receiving compensation for it (other than from Seeking Alpha). I have no business relationship with any company whose stock is mentioned in this article.