CVS Caremark (NYSE:CVS) is the leading drug store chain in the U.S. The company has had a solid run in recent times; the stock is up 48% year-to-date in contrast to the S&P 500's return of 30%. The company has been undertaking acquisitions to expand its business and repurchasing shares to fuel its bottom line growth. Also, the company recently provided robust guidance for 2014 and outlined strong next five years growth forecasts. The company's combined PBM and retail business model provide it with diversification in the evolving industry and offer value to investors. I believe the company is on track on delivering solid financial performance in the long term, and the growth outlook provided at annual investors day, last week, provides more future earnings visibility. Therefore, I am bullish on the stock.
The company has delivered solid financial performance in the recent past, and I believe the company remains on course to experience healthy top and bottom line growth in the future. Last week, at the annual analyst day, the company provided an adjusted EPS guidance of $4.36-$4.50, representing an increase of 10.25%-13.75% year-on-year. The 2014 guidance includes a CAH JV benefit of $0.02, which equals $50 million in payments to be received in 2H2014.
Also, the company disclosed a long-term EPS growth guidance of 10%-14%, including operating profit growth of 7%-9%. Additionally, the company introduced a share repurchase program of up to $6 billion, which is expected to have a positive impact of 4%-6% on the bottom line growth. Moreover, the company's long-term earnings are likely to be positively affected from the improving generic pipeline in 2015 and beyond, and will benefit from the recent acquisitions and coverage expansion. Below I will discuss some of the important stock price drivers.
Stock Price Drivers
CVS expects that more than 30 million Americans will gain insurance coverage in the next five years. The company is positioned well to benefit from coverage expansion as it has the highest market share in the managed Medicaid market and PDP. The company anticipates that approximately 301 million lives will be covered by 2018 in the U.S., up 14% as compared to 2013. Medicare, individual exchanges and Medicaid expansion will comprise 3.5%, 4% and 6% of total growth, respectively, benefiting the company as it has a leading market share. The following chart shows coverage expansion from 2013 to 2018.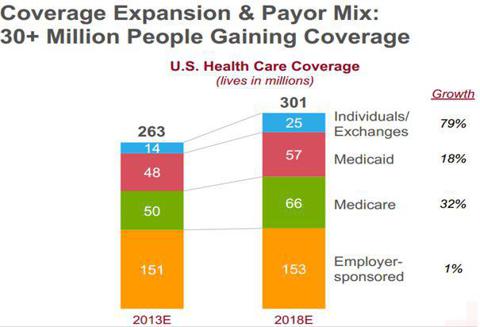 Source: Presentation Slides

Another important stock price driver for the company remains robust growth in specialty drug spending. Specialty drug spending is expected to increase by $143 billion over the next five years to $235 billion in 2018 in the U.S., representing an approximately 50% of total drug spending by 2018, up from 30% in 2013. The company expects to experience a growth rate of 18% per annum for its specialty revenues, in contrast to the industry's average growth rate of 17% over the next five years.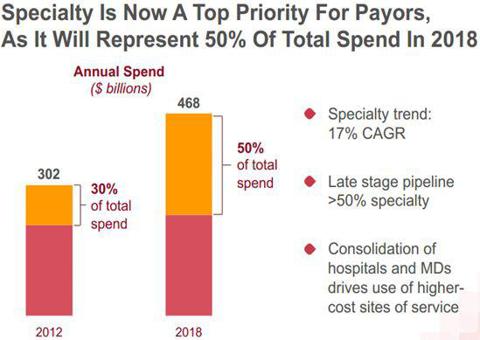 Source: Presentation Slides
The company's gross margin is expected to remain pressurized in 2014 due to a trough in multi-source generic. The company expects that the volume of generics in 2014 will be $9.3 billion, down from $22.7 billion in 2013. However, as we move beyond 2014, the generic volumes are expected to increase, which will portend well for the gross margin and the stock price. The table below shows the generic trend for CVS.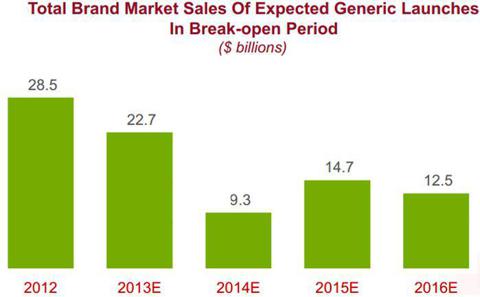 Source: Presentation Slides
Moreover, CVS has plans to expand its MinuteClinic franchise in the future, which will increase traffic to its front-end and pharmacy. CVS aims to increase the franchise to 1,500 locations, up from the existing 800 locations. Also, along with growing its franchise locations, CVS is testing to treat patients remotely under it 'Telehealth' capability program. Expanding franchise locations and the success of the 'Telehealth' capability will generate more traffic and fuel top and bottom line growths for the company in the coming years.
In addition to the robust future growth opportunities, CVS' management has rich shareholder-friendly policies, as it signaled it could return $40 billion in cash to shareholders in the next four years. Earlier this month, the company announced a dividend increase of 22%, with a target payout ratio of 24%. Also, the company approved a share repurchase plan of $6 billion, out of which $4 billion worth of share repurchases are expected to be undertaken in 2014. Share repurchase initiatives will fuel bottom line growth, as repurchases will have a positive impact of 4%-6% on the EPS over the next five years.
Conclusion
I am bullish on the company, as I believe it is well positioned to benefit from overall insurance expansion over the next 2-4 years and from Medicaid expansion in 2014. Also, overall prescription utilization is expected to increase due to coverage expansion, which will portend well for the stock price. Moreover, CVS' strong balance sheet and rich shareholder-return policies reflect the management's confidence and fuel bottom line growth for the company. Therefore, I believe the company is on track to deliver solid financial performance in the long term. However, in the short term, we might observe gross margin contraction due to front-end competition and a trough in generics.
Disclosure: I have no positions in any stocks mentioned, and no plans to initiate any positions within the next 72 hours. I wrote this article myself, and it expresses my own opinions. I am not receiving compensation for it (other than from Seeking Alpha). I have no business relationship with any company whose stock is mentioned in this article.