The Index Universe blog notes this about February ETF flows:
BlackRock, sponsor of the iShares family of ETFs and the largest ETF provider in the world, experienced $1.2 billion in net outflows. The company appeared to suffer in part from investors leaving the iShares MSCI Emerging Markets ETF (NYSEArca: EEM) and moving money into its direct competitor, the Vanguard Emerging Markets ETF (NYSEArca: VWO). EEM saw $2.4 billion in net outflows in February, the most of any ETF, while VWO pulled in $1.1 billion in net inflows, making it the second most popular ETF of the month.
I think they miss the significant number here, that investors dumped $1.3 billion in net monies out of broad-based Emerging Market ETFs (outflows from EEM - inflows to VWO = $1.3 billion). And I would assume that the bulk of the move out of EEM and into VWO came from professional investors like me, I would doubt too many individuals watch management fees closely enough to make the switch.
Add in others in the top 10 in outflows (list is at bottom) and you get another chunk of outflows close to $1billion. A big surprise (not) was that China was #2 in outflows. Add in BRIC ETFs, individual country funds other than FXI and assorted others and I would guess that total outflows from Emerging Market ETFs totaled at least $3 billion.
There was little surprise that individual investor money poured into Emerging Market ETFs throughout the rally last year. Volume spiked in EEM during the declines of late January and early February (see chart) doubtless on large scale selling judging by the volume during those market drops and the outflow numbers for the month. And as is usually the case, the weak hands panicked and the strong hands did better, EEM fell from its 2010 high of 42.71 on Jan 4 to a low of 36.83 on Feb 8 a fall of 9.4%. Since then it has rallied back to 40.07 a move of 8.8%.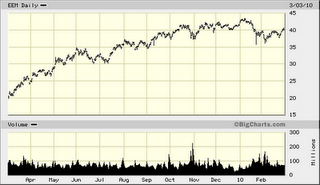 Top Ten ETFs By Outflows: February 2010
Fund

Ticker

Assets

($USm)

Net Flows

($USm)

iShares MSCI-Emerging Mkts

$33,186

iShares FTSE/XINHUA China 25

$7,691

US Natural Gas

$3,578

US Oil Fund

$1,855

iShares iBoxx Inv Grade Corp Bond

$12,185

iShares S&P Latin America 40

$2,571

ProShares UltraShort Lehman 20+ Year

$4,257

SPDR BarCap Int'l Treasury

$1,249

Market Vectors Gold Miners

$5,223

iShares MSCI-Pacific ex-Japan

$3,756

Source: National Stock Exchange. Data as of 2/28/10.