By Bryan McCormick
US stock index futures are virtually flat this morning, following a negative session in Asia that ended a nearly weeklong rally there.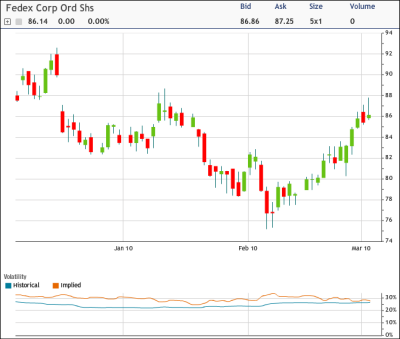 The eurozone and UK markets are just about flat as well, as Greece launches its debt sale. The euro has given back some of its gains as that sale gets underway.
In the relative absence of company-specific news so far today, traders are awaiting economic news releases, particularly Jobless Claims. We are entering the doldrums between earnings seasons.
We should be aware of the potential for pre-announcements in the coming weeks before the next season begins. Until then, economic data, M&A activity, and rumors are likely to be the trading catalysts.
Sell-side research analysts are relatively quiet at this hour. UBS upgraded Boeing (NYSE:BA) to "neutral." Morgan Keegan upgraded FedEx (NYSE:FDX) to "outperform." JMP Securities downgraded Celera Genomics (NASDAQ:CRA) to "market perform." Goldman Sachs downgraded the US gaming technology sector to "neutral."
In earnings news, only one S&P 500 (NYSEARCA:SPY) name is reporting today, which is Urban Outfitters (NASDAQ:URBN). The company announced better-than-expected results, pushing shares higher in the early pre-market.
Next week there are just five S&P names left to report: H&R Block (NYSE:HRB), Kroger (NYSE:KR), Brown-Forman (NYSE:BF.B), Pall (NYSE:PLL), and National Semiconductor (NSM).

Disclosure: No positions