Looking forward into 2014, there are many reasons to be bullish on Bank of America (NYSE:BAC). Make no mistake about it, I have been bullish on Bank of America for the better part of the last year. The bank is coming off of a great 2013, where it is up 37% for the year.
From a larger level, what we are witnessing, is a slow, sustained, and steady recovery of the banking giant that will continue well through 2014.
The next catalyst for the bank is going to be its upcoming earnings. Throughout 2013 the bank met or exceeded its bottom line analyst predictions for earnings, continually driving the stock higher throughout the year. Under Brian Moynihan's leadership, this should continue through 2014.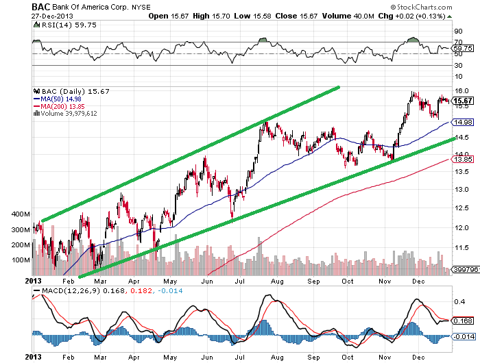 By looking at the chart above, we can see the technical momentum that Bank of America has moving into 2014. Bank of America has enormous strength and momentum behind it right now. The bank is going to carry that strength from 2013 and 2014. Bank of America is set to report earnings on January 15 and I'm bullish heading into these earnings.
The company continues to hammer out its legal issues, widely regarded as the biggest caveat plaguing the bank moving forward. While there is still uncertainty as to how much money legal issues are going to cost the bank moving forward, the bank has done well to expeditiously address and deal with these suits in a manner that hasn't had a substantially material effect on business. To speak to the kind of man that Moynihan is, he's been upfront and realistic about the potential negative effect these costs could have on the company.
Most notably, the bank was in the news for a legal issue not related to the 2008 subprime crisis, but for settling an outstanding gender bias suit:
A federal judge on Friday approved Bank of America's $39 million settlement of a gender discrimination lawsuit by female brokers over objections that the accord would enshrine bias on Wall Street.

U.S. District Judge Pamela Chen in Brooklyn, N.Y., called the settlement "in all respects, fair, reasonable, and adequate.''

The settlement, announced on Sept. 6, resolved claims on behalf of about 4,800 current and former female financial advisers that women were paid less than men, deprived of handling their fair share of lucrative accounts and faced retaliation if they complained.
Needless to say, Bank of America's legal department is on overdrive.
Despite revenues decreasing the past few years, the company's net profit for 2013 has rose consistently due to effective and efficient cost-reduction under the direction of CEO Brian Moynihan. This cost reduction - which has included automation, closing branches, and curbing mortgage staff - is supposed to continue through 2014.
Also, as I've stated in previous articles, Moynihan seems to have a good working relationship with Warren Buffett, one of the bank's largest shareholders. Mr. Buffett has been so impressed that he has held his $5 billion stake in the company through 2013. This shows us that there's something about the business and the management that Warren Buffett likes, and that says a lot to me.
Additionally, Bank of America options continue to show a ton of confidence behind the company, as they have done pre-earnings for the last few quarters. Options interest has done well to telegraph BAC's coming earnings over the previous few quarters. Schaeffer's reported earlier this month:
Call activity is running hotter than usual on Bank of America Corp today, with approximately 105,000 contracts crossing the tape thus far -- a 15% increase over the intraday norm. By contrast, around 26,000 puts have changed hands. Digging deeper into the data, it appears that one group of call traders may be counting on a post-earnings surge for the banking giant next month.

Most active by a mile is the January 2014 16 strike, where more than 19,300 calls have been exchanged. Since a large portion of these contracts traded at the ask price -- and implied volatility ticked higher with some of the transactions -- it's possible that new bullish bets have been initiated here.

In this case, the traders are expecting BAC to ascend past $16 -- a feat not accomplished since June 2010 -- by January options expiration. The delta for this call stands at 0.40, suggesting the option has a 40% chance of being in the money at the close on Jan. 17. Failure to move higher will result in a loss of the premium paid by the call buyers.
Heading into earnings, and more importantly heading into 2014, the bank remains poised as an opportunity, not only amongst the rest of the market, but also specific to its sector. I've also argued in previous articles that I'm expecting Bank of America to eventually raise their dividends in the coming year.
Heading into its short-term catalyst, earnings on January 15th, there's much to like about staking a long position in Bank of America and holding through 2014. Best of luck to all investors.
Disclosure: I have no positions in any stocks mentioned, and no plans to initiate any positions within the next 72 hours. I wrote this article myself, and it expresses my own opinions. I am not receiving compensation for it (other than from Seeking Alpha). I have no business relationship with any company whose stock is mentioned in this article.