Rumors are swirling among the financial media, citing unnamed sources with knowledge of the matter, that Google (NASDAQ:GOOG) is poised to unveil a TV set-top box in the first half of 2014. The Nexus-branded device would do double duty, allowing subscribers to stream videos and play games.
The arrival of Nexus TV would allow the innovative tech giant to challenge Roku and Apple TV, who control 37% and 24% of the streaming TV market, respectively, according to a Parks Associates survey (Amazon and Intel are building their own TV devices to tap the ever-growing market, joining the likes of Microsoft's (NASDAQ:MSFT) Xbox and Sony's (NYSE:SNE) PS4.)
Google had initially planned to make its presence felt in the American living rooms with last summer's release of Chromecast, a $35 HDMI plug-in adapter resembling a memory stick that streams content to televisions via mobile devices or computers with Google Chrome browsers. The reportedly Android-based Nexus TV would likely trump Chromecast with much more content and the added benefit of not requiring external devices to operate.
But the real story may be how Google's move into streaming TV could impact Netflix (NASDAQ:NFLX).
Google's Nexus TV would add even more streaming-capable set-top boxes to the marketplace, and as an unintended result, will likely be a boon to Netflix and other digital content providers. Why? Since Netflix is the leading online subscription-video service, it stands to reason that Google will eventually make Netflix accessible through Nexus TV, bringing an influx of subscribers to the service.
Netflix, which has separated itself from the competition by offering a broad range of content including proprietary shows, is currently in talks with Comcast (NASDAQ:CMCSA), the largest U.S. pay-TV provider, and Suddenlink Communications, its smaller cable provider rival, to make its online video service available as an app on their set-top boxes. Netflix has already inked a similar deal with U.K. cable operator Virgin Media Inc.
After raising prices and separating its DVD-by-mail and streaming video business in 2011, Netflix lost customers in droves. As a result, the company missed estimates and the stock plunged-from a high of almost $299 to a low of around $53. Since then, he company has bounced back with a vengeance, clocking consistent global subscriber growth, which has sent the stock soaring (this time last year, shares were trading at about $90; they're now in the $366 range).
Shares have been in a Normal risk state since hitting $350.50 in late November, based on the SmartStops equity risk signals.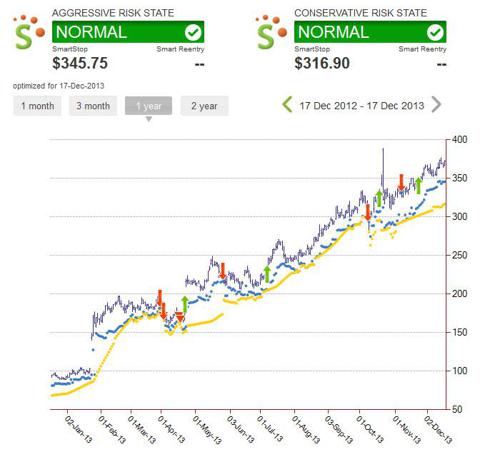 Source: SmartStops.net
In the fourth quarter, Netflix expects to reach between 32.7 and 33.5 million U.S. subscribers, or an increase of between 1.6 million and 2.4 million subscribers. It expects domestic revenues to be in the range of $731 million and $741 million, and international sales to come in somewhere between $210 and $224 million. All said, the company anticipates total earnings of $29 million to $49 million, or $0.47 to $0.73 per share.
If Netflix meets those expectations, the stock could continue on its current meteoric trajectory. But if the Netflix stumbles, with such high expectations, things could get ugly fast. Investors should consider deploying protective stop loss orders or use options to buy some insurance against a major pullback while maintaining long exposure.
Disclosure: I have no positions in any stocks mentioned, and no plans to initiate any positions within the next 72 hours.
Business relationship disclosure: This article was written by SmartStops Contributor Shannon Roxborough. SmartStops compensates contributing writers for articles submitted and approved. SmartStops does not own or have any business relationship with any company whose stock is mentioned in this article.