Recently there has been a plethora of news from the 'Industrial Conglomerates' industry. General Electric (NYSE:GE) announced a 16% increase to its quarterly dividend to $0.22 per share (a 3.3% annual yield). The industrial behemoth was just added to the portfolio of our Dividend Growth Newsletter October 21 on account of its fantastic Dividend Cushion score and solid third-quarter performance.
Additionally, Honeywell (NYSE:HON) approved an authorization to repurchase up to $5 billion of its common stock, now that the firm's previous $3 billion share repurchase program approved in 2011 is substantially complete. We encourage Honeywell management to be a bit cautious buying back shares at current levels on the basis of our estimate of the firm's intrinsic value and the undeniable cyclicality of its operations. We'd prefer management hang on to cash and buy shares back aggressively during the next economic downturn, which will inevitably come.
United Technologies (NYSE:UTX) provided an investor update. The company noted that it continues to face some pressure in the European commercial and military aerospace end markets, but that commercial aerospace aftermarket demand remains strong. Restructuring expenses at the firm will be a bit higher than previously estimated, but the company is positioned extremely well over the long haul. By doubling down on aerospace with its Goodrich acquisition, the company has gained even greater exposure to the burgeoning trend of increased air travel. Revenue passenger miles, an airline industry-specific measure of passenger demand, are expected to increase exponentially in coming years as the emerging middle-classes in Brazil, Russia, India, and China (BRIC) just start to experience air travel for both work and leisure.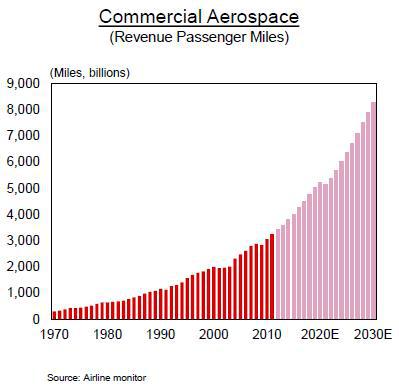 Image Source: United Technologies
United Technologies' outlook for 2014 was encouraging, with top-line expansion expected in all major end markets, with the exception of the US government, the latter largely expected due to competing budget priorities. On an organic basis, sales are expected to expand 4%-5% in 2014, excluding the impact of declining military revenues, or 3%-4% all-in. Earnings per share are expected to be in the range of $6.55-$6.85, though our estimates indicate there may be some upside to this number. Free cash flow will remain strong as well, estimated to be 100% of net income.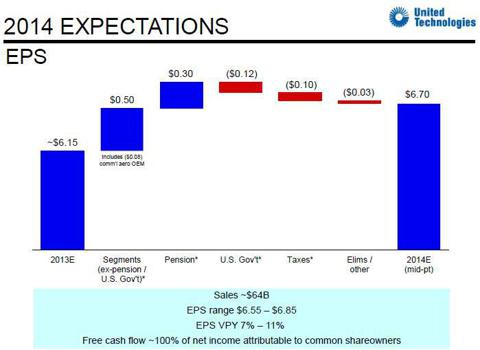 Image Source: United Technologies
Valuentum's Take
General Electric's dividend increase may have been a surprise to some, but its recent fundamental performance has been the best in years, and we certainly wanted to gain exposure before dividend growth starts to accelerate. Though United Technologies' outlook for 2014 is slightly lower than our expectations, we are enthused at the potential for upside and think the company's decision to double-down on commercial aerospace exposure will prove to be the right move over the long haul. Honeywell's buyback program is great news in that it showcases the firm's strong cash-flow potential, but we encourage management to be selective in picking its points to be actively buying its company stock. There will be a better time. All-in, our favorite idea in the 'Industrial Conglomerates' industry is General Electric, which is a holding in both of our actively-managed portfolios.
Disclosure: I have no positions in any stocks mentioned, and no plans to initiate any positions within the next 72 hours. I wrote this article myself, and it expresses my own opinions. I am not receiving compensation for it (other than from Seeking Alpha). I have no business relationship with any company whose stock is mentioned in this article.
Additional disclosure: GE is included in the portfolio of our Best Ideas Newsletter and the portfolio of our Dividend Growth Newsletter.