It dawned on me one day that my cell phone calls aren't inadvertently disconnected as often as they used to be. The reception I get lately from most if not all locations is of very high quality. I gave credit to my cell phone service provider for expanding its network and improving its service. But then I wondered if they really deserve the credit, or if there were other reasons for our improved cell phone service. As we will go over in this article, the answer is yes, and it offers us a compelling opportunity to invest in.
As we approach the end of 2013, we read quite a bit about how investors should be positioning their portfolios for 2014. Besides the fact that we feel portfolio management should be done on a continuous basis, we find it somewhat amusing that so many investors fall for the "calendar-year-time-horizon" when making asset allocation decisions. Unfortunately, the entire investment industry emphasizes calendar year returns and making asset allocation recommendations for short time horizons, as is the case now that the end of 2013 nears and we prepare for 2014. We agree that this is a good time to re-evaluate one's holdings, but to specify 'best investments for 2014' seems to us a pretty silly concept. In any case, we are just one player in an industry that likes to measure performance according to the calendar. And as the old saying goes, 'if you can't beat them, join them'
Sector Forecasts
When it comes to 2014 forecasts, the following table provided by Ned Davis Research in a Barrons article comes quite close to the consensus expectations for sector returns. Industrials and Consumer Discretionary are at the top of the list, while Utilities, Energy, and Telecom are at the bottom.
S&P 500 Sector
Recommendation
36-Mo Beta
Industrials
Overweight
1.16
Consumer Discretionary
Overweight
0.97
Health Care
Overweight
0.75
Materials
Marketweight
1.38
Consumer Staples
Marketweight
0.50
Financials
Marketweight
1.42
Information Technology
Marketweight
0.99
Energy
Underweight
1.37
Telecommunication Services
Underweight
0.31
Utilities
Underweight
0.25
Source: Ned Davis Research
In their December 2013 monthly report, S&P Capital IQ, another research provider, had this to say about their rankings:
Our underweight ranking on the telecommunication services and utility sectors reflects our view that share prices are relatively expensive and the appeal of their comparatively high dividend payments will diminish if interest rates keep rising.
Meanwhile, Zacks Market Strategy report dated December 5 was not as negative, but still rated the sector as 'market perform.' Other investment houses have echoed the same thought: Telecom is not the place to be in 2014.
But wait a second…I can hear you now. I can hear all of my phone calls now. Isn't that worth something?
Well, when there is so much negativity towards a sector, it's a safe bet that the odds of disappointment are low. Being pleasantly surprised is a much better investment outcome than falling short of expectations. For this reason, it is sometimes worth finding the shining star in an otherwise dull sector. In many cases, a forecast for a sector also applies to related industries and companies, but in the case of telecom, there may be a hidden gem along the value chain.
If you can still hear me, you may want to take a peek at companies in the wireless communications infrastructure space, and specifically, the communications tower industry. One of the market leaders in the space: American Tower Corp. (NYSE:AMT)
American Tower Corp. is a real estate investment trust [REIT] that owns, operates, and develops communications sites that make up the infrastructure for wireless and broadcast communications. It owns over 62,000 cell towers globally, and is the second largest publicly traded REIT.
Investment Rationale
American Tower has had consistent top line and cash flow growth over the last 7 years, and the industry it operates in is poised to continue that growth for the foreseeable future. With a strong balance sheet and consistent revenue growth backed by real assets and a strong customer base, AMT is probably the best positioned cell phone tower owner/operator for the global demand growth expected in the coming years.
The Tower Industry
Depending on which data source used, the number of towers in the US ranges anywhere from 190,000 to 260,000, and the number of towers outside the US may be several times greater and growing at a faster pace. Within the US, there are three major players in an otherwise fragmented industry. As larger companies buy the tower assets of smaller companies, the industry may become more consolidated, and early indications are that the bigger players will be the biggest beneficiaries.
A tower is basically a vertical structure utilized primarily by telecommunications companies to receive and transmit data, including telephony, mobile television, and radio. Wireless tenants, for example, may lease vertical space on the tower as well as some of the land surrounding the area for equipment and storage. A tower company usually owns the tower and the small parcel of land around the tower, while the tenant owns the equipment, cables, and shelters on or around the tower.
The growth of demand for wireless phones and tablets, as well as higher quality and speed, results in a very attractive opportunity for the tower companies, and in particular American Tower, which is the largest of the three pure play tower companies and has the most exposure to the fast growing international markets. The other two major US players are Crown Castle International (NYSE:CCI) and SBA Communications (NASDAQ:SBAC).
Positive Attributes of the Tower Business Model
The tower industry is an interesting real estate play, with attributes that would be attractive for any industry.
Recurring and Growing Cash Flows - Revenues for the tower owner/operators are quite predictable. Most contracts are for initial terms of 5-10 years with 5 year renewal periods and built-in lease escalators ranging from 3-5%. Many of these contracts are non-cancellable and historically have had an annual churn of just 1-2%.
Low Costs - Operating costs are primarily fixed, and capital expenditures for maintenance are relatively low, usually around $1500 per year, per site. Meanwhile capex for increasing capacity, while higher than maintenance capex, usually only takes 1-2 years for payback. With costs so low, we wondered why carriers wouldn't build their own towers. According to information obtained from the American Tower Overview Presentation, it makes more sense economically for the carriers to lease space than to build their own.
Scalability - Unlike other REITs whose assets include buildings, office space, or malls, American Tower has enough capacity to almost double the number of tenants per tower. The current average tenant per tower is 2.6, and each tower can probably accommodate 4-5 tenants. Each tower is easily scalable to add tenants with most of the incremental revenue flowing to the bottom line. The table below was provided by AMT and is for illustrative purposes only. As the table illustrates, the incremental operating expenses for adding tenants is marginal, and the resulting gross margin on new tenants is close to 95%.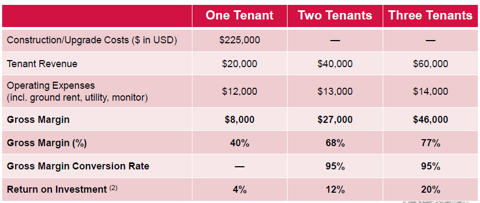 Source: American Capital 3Q Presentation
Strong Customer Base - despite the dour outlook for the telecom industry, most of the companies in the industry are financially stable, and in some cases, operate on a global scale. Customers may include: AT&T (NYSE:T), Sprint (NYSE:S), Telefonica (NYSE:TEF), Vodafone (NASDAQ:VOD), T-Mobile (NASDAQ:TMUS), and others.
Barriers to Entry - it might seem easy to throw up a tower and begin leasing it, but the process is much more complicated than that. For starters, there may be zoning and permitting restrictions that either prevent or delay the building of towers in certain locations. And while maintenance costs are low, it costs approximately $250K to construct a new tower, so reaching a meaningful scale may take years to achieve.
Demand Drivers
Demand from consumers for higher quality and greater amounts of data requires service providers to spend capital on improving consistency or extending the reach of their networks. That usually translates into adding more equipment on existing towers or adding equipment to more towers that are spaced closer together. If you've ever wondered how your cell phone signal has improved over time or how it was possible to download information to your phone faster than you could before, there is a good chance it was enabled by the addition of more cell towers and/or additional transmitters added to existing towers. See chart below.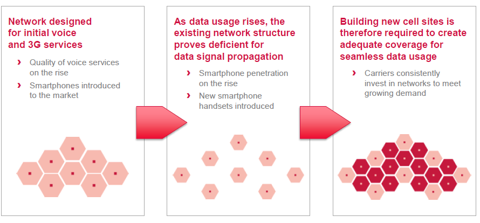 Source: American Tower 3Q Supplemental Presentation
New software and games and music, etc. is causing the demand for data to grow exponentially. According to information found on the American Tower website, US mobile data traffic per month will quickly reach over 1000 petabytes. (What's a petabyte? 1.049 X 106 gigabytes!! In other words: LOTS OF DATA)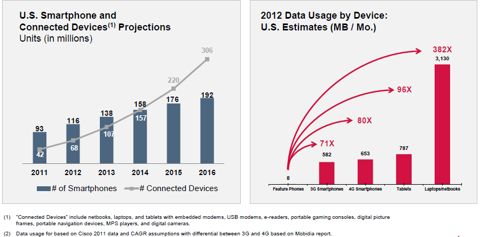 Source: American Tower 3Q Supplemental Presentation
With the previously mentioned increase in demand for high quality data and the greater number of devices being used to access that data, the supply/demand dynamics for the industry favor the tower owners, not the carriers. The carriers are discounting phones to compete with each other and cajoling consumers into upgrading devices every few years. Meanwhile, the tower companies are sitting on prime real estate that is in high demand.
You might wonder why the carriers don't use or build their own towers, right? As we previously mentioned, it is more cost effective for carriers to lease towers than to build their own. It costs anywhere from $225K to $250K to construct a new tower, with $1,250 in monthly operating expenses and a built in escalator of 3%, on average. If we looked at the present value of building vs. leasing, the choice to lease is much more attractive for the carriers even over very long periods of time.

So the towers are left to the tower companies, as wireless industry trends continue to move towards next generation networks (i.e. 4G).
And the migration may take some time to evolve, which will drive demand for towers for years to come.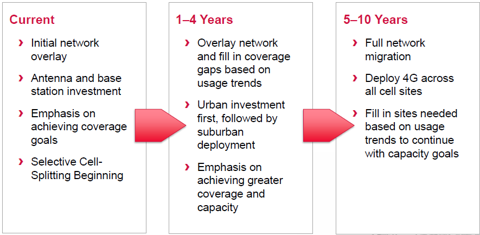 Source: American Tower 3Q Supplemental Presentation
As we mentioned earlier, there are three big players in the US. American Tower Corp, Crown Castle International, and SBA Communications. Combined, they own and operate over 120,000 towers, but despite Crown's larger presence in the US, American Tower seems a better choice, because it has greater exposure internationally and is in a REIT structure. It also has other characteristics that are appealing.
Diversified Customer Base
American Tower has a strong customer base, which includes the Big 4 in the US and a variety of other players internationally. It actually has more towers outside the US than within the US, which gives it exposure to less mature markets with more upside potential. Of the 9 markets with wireless penetration rates of less than 85%, AMT operates in 4 of them. See chart below.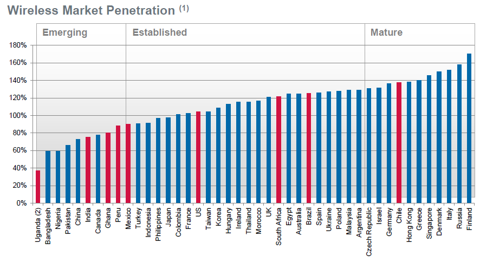 Source: American Tower 3Q Supplemental Presentation
It has diversified its revenue base nicely as the following chart shows, with most leases not due for renewal until 2018 and beyond.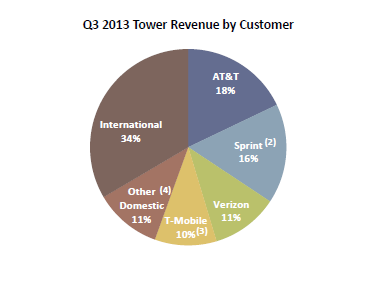 Source: American Tower 3Q Supplemental Presentation
In international markets, the company has also diversified its customer base within each country, with partnerships with no less than two carriers in any country in which it operates.

Approximately 67% of revenue comes from US customers, with the remaining balance diversified across some of the largest emerging market countries, including Mexico, Brazil, Chile, Colombia, Peru, and India. With only 42% of tower sites within the US, we see great upside potential to increase revenues in Non-US markets. See chart below.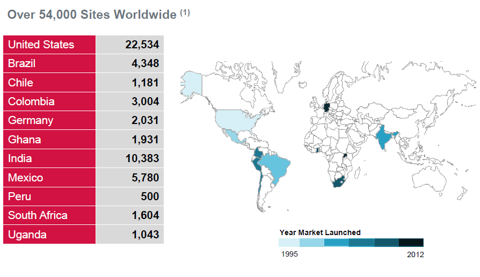 Revenue growth internationally was in excess of 22% in the 3Q 2013 compared to 3Q 2012, a substantial difference when compared to just 10% growth in the US. This top line growth has translated into core adjusted EBITDA growth of over 25%.
American Tower also has over $20 billion in revenue backlog due to the non-cancellable nature of the contracts they sign with carriers. That is the equivalent of 7 times 2012 revenues of $2.8 billion.
Proven Operational Capabilities
AMT has grown revenues from $1.3 billion in 2006 to $2.8 billion in 2012, and trailing 12 months revenue through 9/2013 reached $3.1 billion. Full year 2013 revenue is expected to reach $3.3 billion. That is a growth rate of almost 14% annually since 2006. EBITDA growth has been equally impressive, growing from $868 million in 2006 to $1.9 billion in 2012. A growth rate of 14% as well. And finally, adjusted funds from operations, the standard metric for REITs, had a growth rate of 13.7% from 2007 to 2012.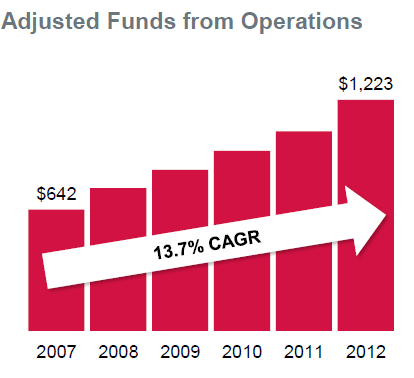 Competitors
We already mentioned the other top 2 competitors. They are both major players in the US market, but neither has a huge presence outside the US.
Crown Castle International
Crown Castle owns, operates, and leases towers and other infrastructure for wireless communications. Crown Castle offers significant wireless communications coverage to 98 of the top 100 US markets and to substantially all of the Australian population. Crown Castle owns, operates and manages over 40,000 sites in the US with the recent acquisitions of over 9,000 sites from AT&T, and an additional 1,700 wireless communication sites in Australia.
SBA Communications
SBA is an independent owner operator of wireless communications towers in the US, Puerto Rico, and the US Virgin Islands. It was founded in 1989 and currently owns over 17,000 towers.
On many metrics, American Tower is a better run company than both of its top competitors. Besides being the largest of the three, it also boasts impressive margins and a stronger balance sheet than either.
In the table below, we highlight some key metrics comparing all three companies. AMT boasts gross margins of almost 75%, operating margins of 38%, and return on investment of 16.6%. The balance sheet is equally superior, with interest coverage of over 2.4, a current ratio of 5.7, and a debt/equity ratio of 3.6.

Source: Morningstar
Recent News/Developments
Recent M&A developments in the industry may at first be a cause for concern. After the Sprint/T-Mobile announcement, the company issued a press release stating that the impact of a merger would only affect 5500 sites in which the company leases space to both Sprint and T-Mobile, and that the revenue from these sites is less than 5% of its total revenue. Furthermore, many of these contracts are non-cancellable and will not expire until 2018, so the impact in general will be minimal and won't be a factor until at least 2018. The estimated impact of other pending or recently closed deals are below.

Another recent development was the announcement by Crown Castle International regarding the closing of a deal to purchase AT&T's wireless towers, making it the largest tower operator in the US, surpassing American Tower Corp. The agreement to buy 600 towers and lease and operate an additional 9,100 towers for an average period of 28 years poses a risk to AMT. AT&T will lease those towers from CCI for $1,900 per month with 2% annual rent increases.
While the monthly rent is slightly above the average contract for AMT ($1800/month), AMT has an average rent escalator of 3.5%. If we compare this deal to the average AMT contract, the table below indicates that the AMT scenario is superior beyond a 4 year period. CCI also announced a deal to purchase 7,200 towers from T-Mobile in October 2012, so CCI has expanded aggressively within the last year.

Crown Castle is probably the most formidable competitor in the industry, and they too are worth a look for interested investors. As mentioned however, we like AMT because of the international exposure, REIT structure, dividend payment, strong balance sheet, and operational performance.
For investors who hold a variety of REITs in their portfolio, American Tower offers a variety of different characteristics than other, more traditional type of REITs, such as Realty Income (NYSE:O), Simon Property Group (NYSE:SPG), Ventas (NYSE:VTR), and Annaly (NYSE:NLY). All of these REITs are leaders in their respective industries, and they should all be a part of a well-diversified portfolio of REITs. Don't be scared by the myth that REITs perform poorly in a rising rate environment. In an article published earlier this week, we highlighted certain sectors in the REIT space that may actually perform well in rising rate environment. If you haven't read it yet, we highly recommend you do so.
In the meantime, as we state in the title: If you can hear me now, you should give serious consideration to American Tower Corp.
Disclosure: I am long NLY, VTR. I am considering investing in AMT in a few weeks. I wrote this article myself, and it expresses my own opinions. I am not receiving compensation for it (other than from Seeking Alpha). I have no business relationship with any company whose stock is mentioned in this article.