Many investors seem to be confused by Kinder Morgan Energy Partners' (NYSE:KMP) recently announced investment into two oil tanker companies. Critics of the transaction argue that the tanker business carries very high risk, with many prominent tanker companies engaged in a race to the bottom, sending rates and thus profits lower. However, I believe Kinder Morgan Energy Partners' tankers will see healthy demand at profitable rates, due to the limited supply of Jones Act qualified vessels. In addition, these tankers are likely to boost demand for other Kinder Morgan Energy Partners related services, adding further incremental profits for the company. In essence, these tankers should be seen as just another cog in Kinder Morgan Energy Partners' North American energy transportation network.
Below is a summary of the key details about the acquisition from my previous article:
On December 23, Kinder Morgan Energy Partners announced that it was buying two tanker companies for $962M. The sellers are affiliates of PE firms Blackstone Group (NYSE:BX) and Cerberus Capital Management. The companies acquired, American Petroleum Tankers and State Class Tankers, are Jones Act qualified, which means they are engaged in the marine transportation of crude oil, condensate and refined products in the United States domestic trade. In total, the transaction involves 9 vessels from with each having 330K BBLs of cargo capacity. Currently, five of the American Petroleum Tankers ships are in operation under long-term contracts. The four State Class Tankers are still in construction and are scheduled to be delivered in 2015 and 2016. Kinder Morgan Energy Partners is to invest about $214M to complete the construction of these vessels.
Overall, it seems like this deal is a good one for the Kinder Morgan Energy Partners. The APT vessels are already generating yearly EBITDA of $55M, while the SCT vessels should boost combined annual EBITDA to over $140M by 2016. With an EBITDA multiple of only 8.4x, the company is hardly overpaying for these assets. Most importantly, the company has noted that the transaction will be immediately accretive to unitholders once closed. Do note that Kinder Morgan, Inc. (NYSE:KMI) is waiving some of its IDR payments through 2016 to facilitate the transaction.
As I noted in the intro, these vessels are Jones Act qualified, which basically means they will be primarily used for transporting energy products from port to port within the US. In fact, the Jones Act is one of the main reasons the US still even has a merchant marine worth mentioning. Demand for Jones Act qualified vessels is currently sky high as the cost to move crude oil via tanker is often competitive to moving it via land based pipelines or railroads. Also, in some areas such as the Gulf Coast and Mid-Continent, pipelines are actually near capacity, which further boosts demand. The most frequent route for Kinder Morgan Energy Partners new tankers will likely be taking crude oil and other energy related products from the Gulf Coast to the Atlantic based, and thus Brent priced, end users.
There are many examples of changes in the North American Energy situation. As many know, Mexico produces tons of oil, which is often then either used domestically or exported to the US. As a result, most electricity generation in that country has historically used oil. However, Mexico's national power company has been building out natural gas based generation due to the abundant and cheap supply available here in the US. As a result, natural gas exports to Mexico have ballooned higher, only capped due to limited pipeline capacity. Kinder Morgan Energy Partners by itself is exporting to Mexico over 1.9 BCF per day, which makes up the vast majority of Mexico's imports. These imports are likely to increase considerably over time.
North American energy production is growing rapidly. However, this production is coming from places where it is not being used. Kinder Morgan Energy Partners, as a midstream MLP, needs to offer all forms of transportation services for its customers. Be it exporting coal to Asia from its terminals, or building pipeline capacity in Western Canada, or even expanding capacity in the Mid-Continent to accommodate growing production.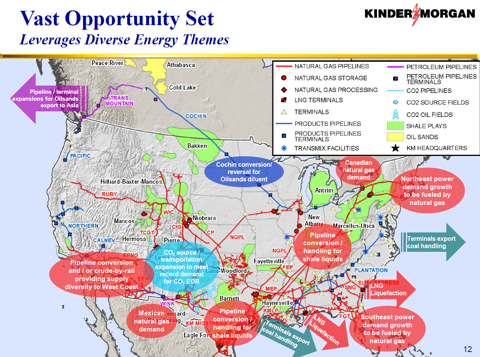 Conclusion
Kinder Morgan Energy Partners and its stock dividend paying peer Kinder Morgan Management (NYSE:KMR) are solid investments and are clearly undervalued as both are trading near their YTD lows and offer compelling yields.
It seems odd that Kinder Morgan Energy Partners would get criticized for expanding its presence in the energy service industry. The simple truth is that the company needs to and should offer a wide array of midstream services. If tankers are currently competitive with pipelines in transporting crude to certain areas, why not invest in them? Kinder Morgan Energy Partners has assets in place to gather, process, and deliver energy to and from more places than any other midstream company in North America. This gives it a strategic advantage over its peers while also securing profits for its unitholders.
Disclaimer: The opinions in this article are for informational purposes only and should not be construed as a recommendation to buy or sell the stocks mentioned. Please do your own due diligence before making any investment decision.
Disclosure: I am long KMI. I wrote this article myself, and it expresses my own opinions. I am not receiving compensation for it (other than from Seeking Alpha). I have no business relationship with any company whose stock is mentioned in this article.