Editors' Note: This article covers a stock trading at less than $1 per share and/or with less than a $100 million market cap. Please be aware of the risks associated with these stocks.
Summary
Willdan Group (NASDAQ:WLDN) is an engineering consulting company operating primarily in California, but also in New York and other states, and possesses expertise in areas such as transportation, infrastructure, public finance, energy, homeland security and municipal operations. The company was suggested by a recent article by Andreas on Seeking Alpha. At current valuations such as 6.8X EBITDA as of 12/27/2013, and a double digit FCF yield, and an impeccable balance sheet that combines significant net operating losses with net cash totaling over a 1/4 of the company's market cap, Willdan simply needs to maintain current levels to generate significant returns for investors. After examining company documents, listening to recent conference calls and consulting public records, it appears that the company is likely poised for growth in key areas, and margin improvement in their various business lines. It appears that WLDN is conservatively worth 29% more than it currently is.
Factors Aiding Top Line Growth
Engineering:
Willdan was part of the winning team for the first part of the California high speed rail. This joint venture is orchestrated by Tutor Perini-Parsons. According to the firm's second quarter conference call, the current contract is very tough and Willdan is using it to prove themselves. But if they are successful this project will last for 20+ years, which will provide a base of revenue the company has never had.
According to the second quarter conference call, Willdan is hiring people in engineering for infrastructure and transportation for the 1st time in 6 years.
Building permits for housing are on the rise. This helps the firm because building permits stress municipal engineering departments, which often outsource this type work to Willdan.
The poor condition of existing municipal infrastructure helps Willdan because Willdan often designs and manages simple infrastructure projects for municipalities. Continued deterioration only encourages local governments to pursue repairs. An example of the poor condition of local infrastructure comes from a Willdan report: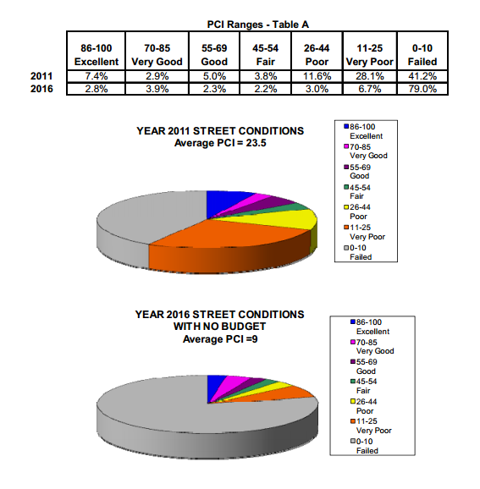 Willdan had its contract with Elk Grove renewed due to how well it executed the original contract.
Energy
In 2011 ConEd New York was responsible for 28% of total revenue or about $30MM. In 2012, with half a year of contract loss and replacement with new smaller contract that is split with another contractor, ConEd generated 21% of total revenue or about $19.6MM. For a full year without the large contract but with the smaller split replacement, ConEd may now only generate about $10MM causing for another $10MM loss. Prorated energy sales are $35.3MM in 2012 compared to $45.5MM. Thus almost all the drop is related to ending this large contract and not decline in general contract level.
Prop 39 in California gives $2.5B over 5 years, $500MM per year to school districts to improve energy efficiency. Individual school districts administer the program and not utility companies. This is likely an advantage to Willdan because large utility companies would just go to a major contractor with capabilities across the state. Rather, contractors have to market themselves to each district. This process requires local knowledge and relationships, which Willdan has. Willdan is targeting $200MM of the $500MM worth in 2014.
According to the most recent conference call, YoY comps will look better next year after new contracts come in and ConEd revenue decline is behind the firm. This implies revenue growth.
Financial services
According to most recent conference call, they have more wins outside of California.
General Company
Management has continually mentioned healthy backlog. According to 3rd quarter conference call, this backlog does not even include potential revenue from the high speed rail.
Reviews of Willdan generally positive or service as illustrated by renewal rate.
Factors Aiding Margins
Willdan's segments could be under-earning. Engineering just turned profitable but in better years has been at EBITDA margin of 5+%. Energy margins were at least 6+% 2009 to 2011 and were hurt by passing work through sub consultants. Homeland has not been profitable over 9 months but turned profitable this quarter. This may be a business they keep around to maintain relationships. Just because margins were higher in the past does not mean they will return to that level. However, there are signs improvements are ahead. At a minimum, contraction from further levels appears unlikely.

According to 2013 Q3 conference call, Willdan is self-performing more work in Energy. Previously Willdan had sub contractors or sub consultants perform this work in pass-through contracts. These pass-through contracts had zero margin contribution. A continued shift towards self performance will increase margin; in the 1st quarter conference call, Willdan stated that self-performed work should have at least a 10% margin. What type of margin management was referring was unclear. But profitability should improve.
According to the 2nd quarter conference call, Willdan is increasing the wage rates it charges clients for the first time in years.
In the 2nd quarter call, Willdan stated that it can now focus on growth and profitability after years of trying to maintain business through recession.
According the firm's 2012 10-K, "the work for which we compete is awarded primarily based on the company's qualifications, rather than the fee proposed." They can do this because they have established relationships and track records that can only be acquired over many years. Also they do a lot of work in California where the engineering and political landscape is a mine field. Engineering has to deal with demanding CalTrans specs, which are different than similar engineering specifications of many other states, and also green requirements. Budget is difficult because there are audit demands and unique laws. This experience allows Willdan to have a moat without significant capital investment.
An example of such a contract and Willdan's ability to win comes from a recent contract win in Norwalk, California: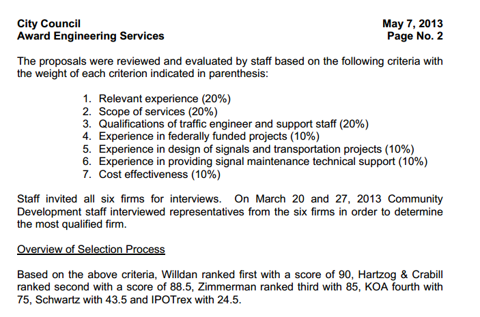 Balance Sheet
Willdan has $8MM of federal NOL and $10.3MM state NOL on the balance sheet. Consequently Willdan has been paying a very low cash tax rate:
2010: 1.8% net income

2011: 3.8% net income

2012 2nd Half (impairment occurred during 1st half and skews results): 11.9%

2013 1st 3 quarters: 8.5%.
Willdan has $10.4MM of cash on the balance sheet. While $5MM is required for collateral in new credit agreement, Willdan has plenty of resources to return to shareholders or pursue an acquisition.
Valuation
Michael Baker acquired in July 2013 for $397MM. That was 11.5X EV/EBITDA. At this multiple, WLDN possess an upside of about 50% as of 12/27/2013.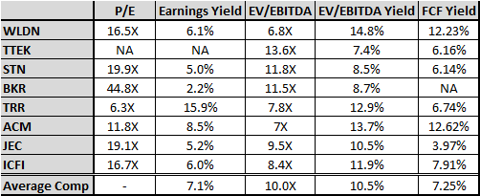 A reversion to mean EV/EBITDA yield of competitors represents upside of over 29%, even after the run-up after Andreas' article. This estimate is likely conservative because it implies cash does not generate any returns, and does not take into account the significant value of its NOLs.
A DCF for Willdan is next to impossible to implement because:
Revenue depends upon contracts. Most of these contracts are under a year and investors cannot accurately estimate growth rates other than in a broad qualitative manner.

Cost structure is dependent upon many factors including contract structure and type, area of work, and execution. Margins or costs cannot be accurately predicted based upon factors such as revenue, employee count, % of work dedicated to energy (or another segment), % of contracts that are fixed, # of contracts, or other features. Additionally, low profit margins creates too much variability in predicted cash flows
However, in the valuation one should keep in mind concepts such as depreciation and amortization, capital expenditures, and working capital. Capital expenditures are low and have been:
2012: $0.36MM

2011: $0.40MM

2010: $0.69MM

2009: $0.39MM
Depreciation has been significantly greater than this, yet the company is not under-investing. While Willdan operates in the construction industry and is a contractor, the firm performs consulting. Capital purchases are small for items such as computers and vehicles.
Willdan's business is working capital light. Since the end of 2011, WC (current assets-current liabilities-cash) has been less than 10% of revenue and declining. Further declines are unlikely, but it appears the firm has control of working capital, and any swings will not be significant over the long run.
Risks
Top and bottom line results are likely to be lumpy due to dependence on contracts. For example, loss of ConEd contract caused significant revenue decline. This could cause significant short-term price swings.
High fixed costs such as executives and rentals require a revenue threshold to maintain profitability. The loss of a chunk of revenue would have disproportionate effect on the bottom line.
There is a lack of information due to the small size of the company. Transcripts of quarterly reports not publicly available, but audio is available online. This makes monitoring the investment time consuming and requires an additional margin of safety.
Blowout in an existing contract or failure to secure other contracts.
Disclosure: I am long WLDN. I wrote this article myself, and it expresses my own opinions. I am not receiving compensation for it (other than from Seeking Alpha). I have no business relationship with any company whose stock is mentioned in this article.
Additional disclosure: The author has presented his findings. He encourages all potential investors to perform their own due diligence.