With the S&P returning nearly 30% in 2013 and REITs barely breaking even, many investors have been selling their REITs for the tax loss to wash the gains from their broader portfolios. While this behavior is rational at an individual level, the aggregation of it has created some truly irrational market pricing. This article will identify the most notable victims of tax loss selling and demonstrate them to be strong buy opportunities at the current heavily discounted prices.
Identifying potential opportunities
Since the loss must be substantial in order for selling to provide a meaningful tax break, we can narrow our search to REITs that have dropped greater than 25%. Further, we must note that the loss is calculated based on the difference between entry and exit price, regardless of holding period.
Searching for REITs that have dropped 25% YTD may reveal some tax loss selling, but we believe the most likely tax loss sellers will be those who purchased at or around the peak pricing of May 21st. Therefore, we can narrow our search to REITs dropping >25% since May 21st.
Given that the RMZ is down 16.15% over this time period, the list of companies meeting the above criteria is quite extensive.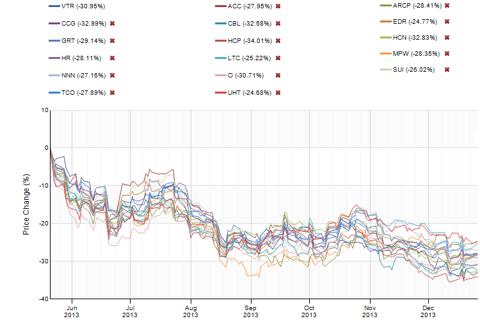 Data from SNL Financial
Eliminations from consideration as tax loss sale opportunities
The fact that a stock dropped over 25% is not a sufficient criterion to declare it a tax loss sale opportunity. In reality, many of these securities dropped for other identifiable reasons and can be eliminated from our pool of consideration.
To be clear, the following eliminations are quick and dirty by necessity, as exhaustive coverage of all 17 would be excessive. It should also be noted that the elimination of a company does not mean I consider it to be a bad investment or not opportunistic, but simply that the nature of its opportunity is not tax loss selling.
Triple-net elimination
The triple net REITs, Realty Income (NYSE:O) National Retail Properties (NYSE:NNN) and American Realty Capital (ARCP) have most likely fallen consequent to the rising interest rate environment. As "risk free" yields have risen, the locked in spreads generated by these companies have become relatively less desirable.
Fundamental oversupply issues among student housing
Much of the decline in the market prices of American Campus Communities (NYSE:ACC) and Campus Crest Communities (NYSE:CCG) can be attributed to the present oversupply risk in domestic student housing. Their fundamentals are further strained by the new student loan rates which may hurt enrollment.
"Justified" price declines
In my opinion, the following are still fairly expensive relative to FFO, even after the price decline.
| | |
| --- | --- |
| Company (ticker) | P/FFO* |
| Education Realty Trust (NYSE:EDR) | 13.7 |
| Glimcher Realty Trust (GRT) | 12.0 |
| HealthCare REIT (NYSE:HCN) | 13.2 |
| HealthCare Realty Trust (NYSE:HR) | 15.1 |
| LTC Properties (NYSE:LTC) | 13.3 |
| Taubman Centers (NYSE:TCO) | 16.7 |
| Universal Health Realty (NYSE:UHT) | 14.9** |
*2014 FFO as estimated by FactSet consensus and provided by SNL Financial
**Based on extrapolation
Note that Glimcher's 12X multiple is only considered high because of its leverage/growth.
Debt structure is susceptible to interest rate increases
HCP inc (NYSE:HCP), unlike much of the healthcare REITs in the table above, has fallen into a desirable price range at a P/FFO of only 12. However, I believe that much of its price decline is due to its debt structure which is rather susceptible to higher interest rates. Specifically, it has a shorter weighted average maturity of debt at just under 6 years, and it has a substantial amount in need of renewal in the near term.
The Final Four
Out of the initial 17 potential tax loss sale opportunities, I believe that only 4 actually present opportunity of this nature: CBL and Associates (NYSE:CBL), Medical Properties Trust (NYSE:MPW), Sun Communities (NYSE:SUI) and Ventas (NYSE:VTR). Each of these companies is fundamentally strong, and we have been unable to identify any reason for a price decline of such magnitude, other than tax loss selling. While full analysis is suggested before any purchase, that would be outside the scope of this article, which is merely intended to bring awareness to the tax loss sale opportunities among REITs. For more information on these companies, please reference the links below
Catalyst for realization of opportunity
We believe the prices of these securities will bounce back as the tax loss selling concludes in these next couple days. In addition to the reduced supply of shares, we anticipate more market demand, as those who sold these securities for tax loss purposes attempt to re-purchase. Since there is a wash sale rule in which the position must be vacated for a full month to trigger the tax savings, full re-entry may not occur until the start of February. At this time, I believe these stocks will have fully recovered from the portion of price decline consequent to tax loss sale.
Disclaimer: This article is for informational purposes only. It is not a recommendation to buy or sell any security and is strictly the opinion of the writer.
Disclosure: I am long ARCP, CCG, VTR, CBL, MPW, SUI. 2nd Market Capital and its affiliated accounts are long VTR, CCG, CBL, ARCP, MPW and SUI. I wrote this article myself, and it expresses my own opinions. I am not receiving compensation for it (other than from Seeking Alpha). I have no business relationship with any company whose stock is mentioned in this article.