Thanks to its judicious acquisitions, Intel is becoming a serious player in the 4G LTE and wireless market.
In my previous Intel (NASDAQ:INTC) article I emphasized the fact that several Intel products have been inside Android phones and tablets for the last few years. Intel makes money from the sales of Android phones which use Intel branded IC wireless components.
Here's one more tournament where Intel is also seriously winning: Telematics. Intel is on the driver seat of the Internet of Things (IoT) money train. Cisco (NASDAQ:CSCO) made the IoT catchphrase famous but Intel has been profiting from the concept a long time ago.
Intel critics always highlight Intel's setbacks on the smartphone sector and decline in PC sales. This is why I'm compelled to dig up more positives for INTC and publish them here at Seeking Alpha. Ashraf is doing great being the biggest INTC bull here at SA and MF. He is doing a fine job defending and promoting Intel.
However, with due respect to Sir Ashraf, I also want to share my own perspective. Intel is a better buy for me than Advanced Micro Devices (NASDAQ:AMD) for 2014. As we poker players say, Intel is always In the Money (ITM) in a lot more tournaments than the competition. I made a tidy profit with AMD this year but I believe INTC has better prospects in 2014 when it makes notable inroads in the tablets category.

Qualcomm (NASDAQ:QCOM) is the top winner in smartphones and tablets now but Intel is In The Money on a lot of technology ventures. Losses in one or two tournaments are easily recouped from other big pot wins. On a long term basis, the player who consistently finishes In the Money in many tournaments, always pockets the most money.
Aside from making big money from selling processors to traditional PC users, Intel is also in the money for telematics and Internet of Things. IoT is a future diamond mine that will further enrich INTC stockholders.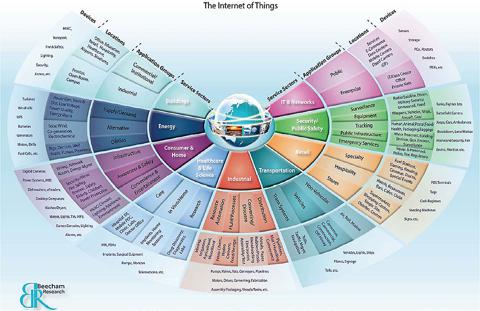 Wind River is Intel's Royal Flush in Telematics
Intel's purchase of Wind River Systems in 2009 has made it an industry leader in embedded compute solutions. Intel paid $884 million for Wind River which, in my opinion, was a prescient move to conquer the surging telematics and Internet of Things business. Wind River was a pioneer in making software for embedded computing. It was established in 1981 and has multinational and Fortune 500 corporations as clients.
Before it became a subsidiary of Intel, Wind River's 2009 revenue was $359.8 million. The company's VxWorks is the world's No. 1 Real Time Operating System (RTOS). VxWorks is a dominant embedded OS that is being used in the Aerospace & Defense, Medical, Automotive, Networking, Consumer Middleware, and Industrial industries. Enterprise clients like Boeing, Raytheon, Honeywell, General Dynamics, BAE Systems, Varian Medical Systems, BD Biosciences, and other big companies rely on VxWorks for their embedded Device Optimized Software (DOS) needs.
Wind River products are used by U.S. organizations including NASA and the U.S. armed forces. Intel's VxWorks was the software that NASA used for Curiosity which landed on the Gale Crater of Mars last year. The software managed Curiosity's mission-critical operations from take-off, flight, and landing. This example alone compels me to believe in Intel's bright future.
The Curiosity project cost was $2.5 billion and NASA relied on the Intel-owned RTOS to make-or-break the Mars Mission. It wasn't AMD, Apple (NASDAQ:AAPL), Samsung (OTC:SSNLF), ARMH, or Qualcomm, who helped Curiosity land on Mars. INTC brought us to the Red Planet. This accomplishment was in 2012, imagine what Intel technology could earn from the future when all of us will travel by commercial space ships, instead of cars or planes. I am not as smart as Ashraf but I humbly predict that an INTC share might be worth $3,500 in the year 2115. :-)
Elon Musk, yeah the billionaire geek behind Tesla (NASDAQ:TSLA) and PayPal, also owns SpaceX. His future commercial space travel company is using Intel's VxWorks RTOS to launch and remotely manage its Falcon 9 rocket's computers. SpaceX is launching Falcon 9 this coming January 3. I bet he is also using Intel/Wind River for his Tesla cars.
VxWorks for Infotainment and Telematics
I hate wars but VxWorks is also used by defense companies in their weapons and warfare systems. Wind River products are inside fighter planes, tanks, battle ships, missiles, jets, smart bombs, and drones. Intel makes good money from their products inside military hardware.
On a brighter note, most VxWorks clients use it for more peaceful and productive purposes. The Wind River Platform for Automotive Devices provide cars telematics, GPS navigation, infotainment, and always-online connectivity. Intel's clients for this platform include Hughes Telematics, Continental Automotive, Clarion, Mobis, and Bosch Motorsports.
All of these telematics and In-Vehicle Entertainment companies rely on Wind River technology and Intel processors, wireless modems, RF chipsets, and other IC components. Infotainment alone is already a robust growth industry for connected vehicles. HIS iSuppli Research estimates Automotive Infotainment electronic sales will hit $41.2 billion by 2016.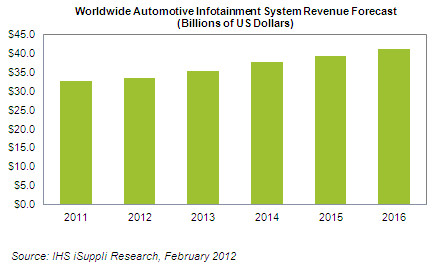 If we include the iSuppli projection for OEM Automotive Telematics, Intel's Wind River subsidiary stands to gain a lot from the estimated 2016 delivery of 68.4 million cars with pre-built telematics systems.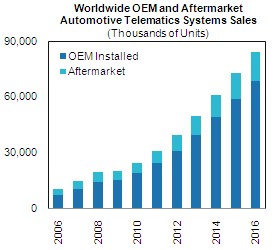 Car makers like Ford (NYSE:F), GM, BMW, Honda (NYSE:HMC), Toyota (NYSE:TM), Hyundai, Nissan (OTCPK:NSANY), and Mercedez-Benz are all shipping cars with OnStar or proprietary telematics on their new cars. Automobiles are now being hooked up to the internet. GM, who owns OnStar, is already calling for 4G connectivity which is greatly beneficial to Intel because it has some of the best RF chips and 4G LTE chipsets.
Synergy with 4G LTE Strategy
In my previous INTC article, I discussed how Intel bought Infineon's Wireless division, Fujitsu Wireless (OTCPK:FJTSY), and MindSpeed Wireless assets. All that 4G and wireless IP buying binge is greatly complementary with its Wind River purchase. Intel has bold plans to dominate the telematics and the Internet of Things market too.
Telematics-equipped vehicles will be part of Intel's master ecosystem. The Internet of Things calls for connected smart devices. Intelligent cars, road signs, gas pumps, traffic meters, garages, smart tires, all will be online and able to communicate with each other.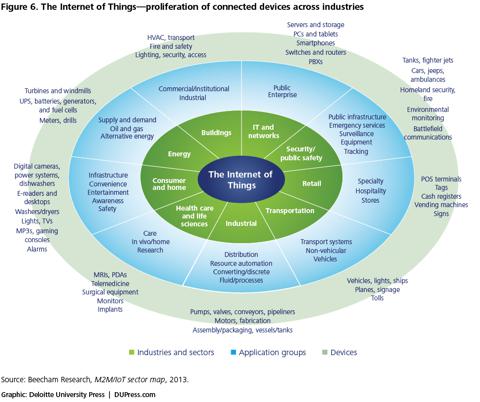 Intel's serious intention for telematics and IoT is further highlighted when they made a new business division just for it. The company's grand plan is for Machine to Machine (M2) device proliferation superiority. Everything that's cool and web-connected device should have Intel Inside it.
Wind River solutions are found in more than a billion devices already. Intel bashers conveniently overlook the fact that INTC has a leading edge in Telematics and embedded software/hardware market.
Summary
I'm upgrading INTC from strong hold to a BUY. I'm going long because Intel is indeed an attractive long-term investment with many avenues for growth. The company has a strong edge in Telematics with Wind River IP and its tons of LTE assets and patents.
VxWorks delivered another winning performance, not in Mars but in the endurance racing circuit. Wind River helped Bosch Motorsports win the 24 Hours of Le Mans, 6 Hours of Spa, and 6 Hours of Silverstone races. Bosch Motorsports uses VxWorks for their Engine Control Units (ECUs).
I'm optimistic that INTC can achieve a 20% to 25% YTD increase in 2014. I hope to hand down at least 500 INTC shares to my 2115 descendants.
Happy New Year and Happy INTC investing.
Disclosure: I have no positions in any stocks mentioned, but may initiate a long position in INTC over the next 72 hours. I wrote this article myself, and it expresses my own opinions. I am not receiving compensation for it (other than from Seeking Alpha). I have no business relationship with any company whose stock is mentioned in this article.