By John Gabriel
The health-care reform saga rolls on. Those hoping for clarity out of Washington following last week's bipartisan Healthcare Summit were probably disappointed at what essentially amounted to seven hours of nationally televised political theatre.
In case you missed it, here's a quick recap: A bipartisan compromise appears even less likely than before. In short, Republicans, imploring the president and Congress to scrap the bill and start from scratch, refused to back the proposed Democratic bill, citing the overall cost of the bill, the lack of tort reform, and sweetheart deals cut with certain states.
With health-care reform back in the spotlight, many are taking the opportunity to evaluate their exposure to the sector. As it has done for most domestic-equity sectors, the exchange-traded fund industry has done a good job of carving up health care. Along with health-care sector funds, we also have several industry and subindustry funds at our disposal. Let's take a look at some of our options. Of course, this is only an introduction. For more information about any of the funds mentioned or to learn more about an ETF's sensitivity to potential reform, we encourage readers to click through and check out the Analyst Reports.
The tremendous uncertainty that continues to hang over the sector can make it extremely difficult to develop the conviction to make focused bets within one's portfolio. For those in this crowd who still wish to add some health-care exposure to their portfolio, broadly diversified sector ETFs are the way to go. But it still pays to know what you own; the industry breakdowns can vary widely from fund to fund. The table below shows the industry exposures offered by four of the most popular health-care ETFs.
click to enlarge

We've highlighted each fund's exposure to managed-care organizations, or MCOs, for your reference, as this continues to be one of the most vulnerable subsectors to potential reform.
Of course, there are folks out there who view this period of uncertainty as a tremendous opportunity. While there aren't any pure-play managed-care ETFs out there, investors could consider a couple of funds that focus on health-care providers and services (that is, MCOs, hospitals, laboratories, distributors, etc.). Notice the subindustry breakdowns in the table below.

Understanding the various exposures offered by each health-care ETF is a great place to start. The goal is always to most accurately match our thesis with the proper tool. For those looking to dig a bit deeper, the following tables might be handy resources. Along with the makeup of the portfolios, investors might also evaluate the general portfolio characteristics, fair value analysis, and performance records for these potential investments.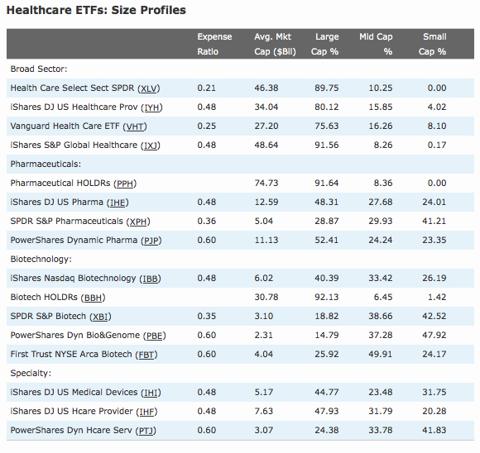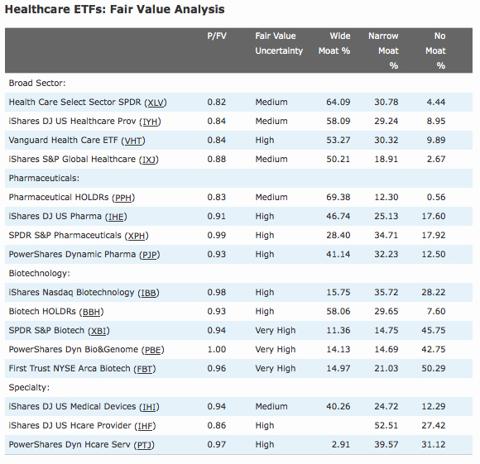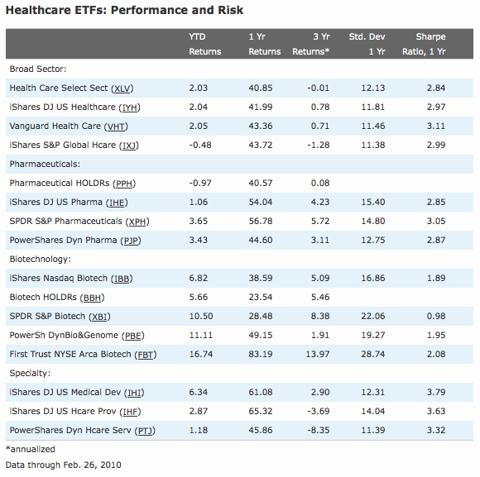 The Democrats are likely to try to push a bill through the Senate on reconciliation, a budgetary tactic, which is essentially an end-around on filibusters that requires only 51 votes--rather than the usual 60. If health reform is abandoned now, the chances of Obama pursuing comprehensive reform again in his first term plummet further yet. Keep in mind that he'll be facing a slimmer congressional majority. If they don't go the reconciliation route, our equity analysts expect only very minor health-care legislation for a long time.
Disclosure: Morningstar licenses its indexes to certain ETF and ETN providers, including Barclays Global Investors (BGI), First Trust, and ELEMENTS, for use in exchange-traded funds and notes. These ETFs and ETNs are not sponsored, issued, or sold by Morningstar. Morningstar does not make any representation regarding the advisability of investing in ETFs or ETNs that are based on Morningstar indexes.