2013 is a year that Amarin (NASDAQ:AMRN) shareholders will want to put behind them. Amarin lost 75% of its value since the beginning of the year, and high hopes for the ANCHOR indication that bulls started the year with have been reduced to a mere glimmer of hope for approval before the company's REDUCE-IT study is complete. The consensus right now is that the FDA will wait to approve ANCHOR until the REDUCE-IT study is complete.
The last article that I had written about Amarin was with regards to the stock running over 30% on the announcement of the FDA delaying a decision on the companies sNDA for its ANCHOR indication on its sole drug, Vascepa.
The expanded pool that makes up the patient population that Amarin is going after with the ANCHOR indication is almost 10 times as many patients as Vascepa is approved to treat currently. Needless to say, an approval of this would turn the stock upwards exponentially. In the very small chance that this occurs, with Amarin trading at $1.80 a share, it would likely result in several hundred percent gains. But, again, that's a long shot at this point.
My argument in my previous article was to not buy into this news, as it held no real material substance. Since then, after rallying 30% to two dollars, Amarin has since been clipped to the tune of 10% and is now trading around $1.80.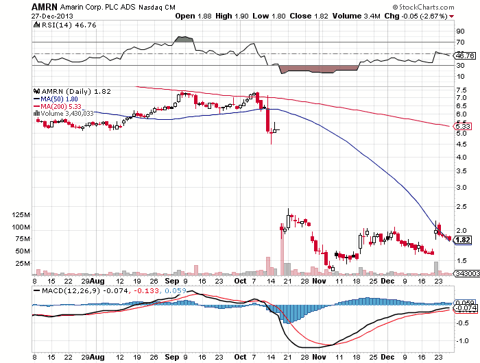 So, in the interest of writing something that is forward-looking and realistic for the bulls, I've put together a list of three things that Amarin bulls should be demanding from their company if they want to find some success in the coming year.
1. A Plan
The next two years are going to be crucial for the company. I'm predicting that the company is still not going to receive sNDA approval, despite the delay in the decision. So, managing the cash burn for the next two years until the REDUCE-IT study is going to wrap up is going to be crucial.
New CEO John Thero needs to take the new year as an opportunity to get in touch with shareholders, potentially have either a conference call or a Q&A, and lay out to his shareholders exactly what he intends to do in the year going forward that is going to make Amarin an appealing long-term investment.
They have plenty of cash in the bank, it's going to simply be a question of monetizing Vascepa under the MARINE indication and reducing the amount of cash spent.
2. Insider Buying
This one isn't going to make a fundamental difference on the business moving forward, but it's in the interest of rebuilding shareholder/company relations.
When Amarin's last CEO left the company - or "retired", as he so eloquently put it - he took with him a lot of money - many millions of dollars. It left a very bad taste in shareholders mouths that Joe Z. was able to profit from shareholders to the tune of millions of dollars, right before he watched the stock implode over 75%.
So, what shareholders should want to see in 2014 is the company executives trying to change this paradigm by significant insider buying or stock-based compensation instead of taking cash. John Thero needs to nip this issue in the bud, realign shareholders with the company, and show them that he truly feels that they're all "in the same ship" together.
3. A Renewed Focus on Vascepa for MARINE
Some of the comments over the last couple of months from shareholders have been with regards to the amount of Vascepa prescriptions that have gone out under the drug's initial indication. Notably, after the ADCOM failure, the company reduced its Vascepa sales force, and the results showed it immediately. If possible to cut elsewhere and reinstate the company's Vascepa sales force, it could be beneficial to the company at this point - as MARINE is the company's sole source of revenue. They need to monetize Vascepa, plain and simple, in the next two years as a hedge against potentially having to wait for the REDUCE-IT study to conclude.
Conclusion
With over $200 million in the bank to end the year, this should be a very tough one for Thero to screw up. At the very least, he needs to batten down the hatches and make sure the company can hold its own until 2016, where they will likely re-visit the ANCHOR indication based on REDUCE-IT's results. Hoping for ANCHOR results before then is, respectfully, a long shot.
One thing is for sure, shareholders that have been in with this company throughout 2013 should be the first and foremost to be heard. These three items listed above are nothing extraordinary. They are the bare minimum of what Amarin shareholders should demand from their company going forward into the new year.
Trading at current levels, there is money to be made in Amarin moving forward this year if management can cover the basics and right the ship. Best of luck to all investors.
Disclosure: I have no positions in any stocks mentioned, and no plans to initiate any positions within the next 72 hours. I wrote this article myself, and it expresses my own opinions. I am not receiving compensation for it (other than from Seeking Alpha). I have no business relationship with any company whose stock is mentioned in this article.