2013 was the year that preferred stock investors have been waiting for. There are now 167 investment grade preferred stocks selling for a market price below these securities' $25 par value, delivering an average 6.82 percent current yield. That's up from a mere 36 such issues providing an average current yield of 5.62 percent a year ago (see "The Preferred Stock Marketplace for 2013", December 12, 2013).
And ten of those 167 offer dividend rates (coupon) of at least seven percent. That was unthinkable just a few months ago.
Until June, preferred stock prices were at record highs, pushing yields to miserly lows and interest rates on savings accounts below the rate of inflation. But throughout the summer, preferred stock investors became increasingly convinced that the Fed was going to start backing out of our market, with preferred stock market prices returning to their pre-QE2 level (see "Have Preferred Stock Investors Already Moved Beyond QE?", September 30, 2013).
This Preferred Stock Market Snapshot (TM) chart depicts the preferred stock marketplace at the end of 2013 (December 27) along with two characteristics that are usually high on the list of considerations of risk-averse preferred stock investors - current market price (above and below these securities' $25 par value) and investment risk (as reflected by investment grade versus speculative grade Moody's ratings).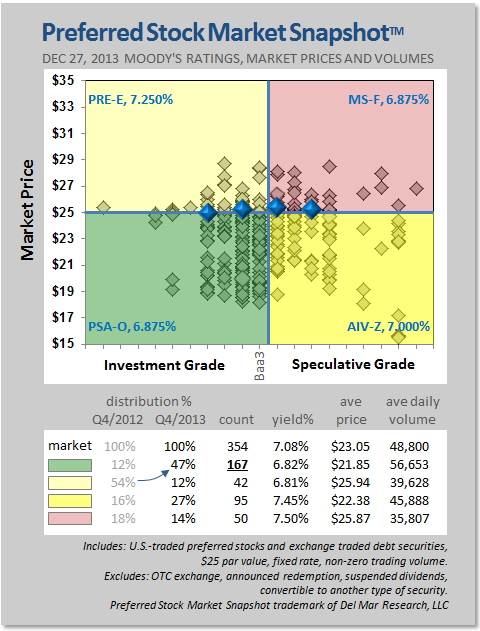 While there are currently 930 preferred stocks trading on U.S. stock exchanges, 354 meet the criteria listed under the chart. The lower-left quadrant (green) is the sweet spot -- investment grade preferreds selling for a market price below $25 per share.
(Source: CDx3 Notification Service database, see Disclosure)
What does $25 buy?
The purple diamonds on the above chart provide examples (not to be taken as recommendations) of preferred stocks from each quadrant, all of which are trading at, or very near, $25 per share. The dividend rate (coupon) offered by each security is also indicated.
PRE-E is a traditional preferred stock from PartnerRe Ltd. (NYSE:PRE), a Bermuda-based reinsurance company. PRE-E offers a Baa2 Moody's rating (two notches into investment grade territory) with a 7.250 percent annual dividend.
PSA-O, another traditional preferred stock, was introduced by Public Storage (NYSE:PSA) on April 7, 2010 and is not callable until April 15, 2015. Rated A3 by Moody's (PSA has the highest rated REIT preferreds), this 6.875 percent security was selling for over $28 per share as recently as May.
AIV-Z was issued by Apartment Investment and Management (NYSE:AIV) in July 2011 with a Ba3 rating, three notches into Moody's speculative grade category. AIV-Z pays a 7.0 percent annual dividend. It is unclear how this security could be priced so close to PSA-O, given the rating differences.
MS-F is one of the new fixed-to-floating preferred stocks currently favored by banks, this one offered by Morgan Stanley (NYSE:MS). MS-F pays a fixed 6.875% dividend for ten years (until January 15, 2024 when it also becomes callable) then switches to a variable rate formula (LIBOR + 3.94%). For some interesting performance data on variable rate preferreds see "Variable-Rate Preferred Stocks Underperform Their Fixed-Rate Cousins", November 12, 2013.
(Source: SEC prospectus filings for PRE-E | PSA-O | AIV-Z | MS-F)
Avoiding the perpetual ownership trap
As much as the preferred stock market has improved, there are still risks to be avoided, the most significant of which is probably the "perpetual ownership trap." The perpetual ownership trap presents itself during periods of upward pressure on rates, like we are likely to be seeing over the coming quarters.
The trap can occur when you purchase shares of a low-paying preferred stock that (A) you can never sell without a capital loss and (B) the issuing company is never motivated to redeem.
If you are a buy-and-hold preferred stock investor who never intends on selling (either on the open market or to back to the issuing company in the event of a call), then the perpetual ownership trap is not a concern.
But for those more concerned about their principal balance, in the event of a call, you will receive the par value (usually $25 per share) in cash in exchange for your shares from the issuing company. Savvy preferred stock investors therefore seek to purchase shares for a market price below the $25 par value but also offer a dividend rate that is high enough that the issuing company is highly likely to want to redeem the shares downstream.
So how high is that?
Likelihood of a call
Historically, dividend rates offered by high quality preferred stocks range from 6 percent to 9 percent. Those offering a dividend rate of at least 6.5 percent (0.5 percent above the bottom of the rate barrel) can almost always ultimately be sold for a capital gain either to the issuing company in the event of a call or on the open market the next time rates fall toward 6 percent. There have only been two exceptions since January 2001.
Lower dividend payers (below 6.5 percent) are less likely to be called than higher payers. In fact, if the issuing company can save a mere 0.375%, there is a 91 percent likelihood that they will call your shares (see "Is Your Preferred Stock About To Be Called?", April 23, 2012).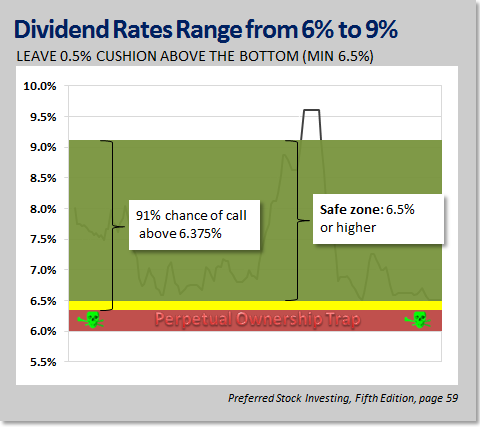 So avoiding the perpetual ownership trap is a simple matter of resisting the temptation to purchase low dividend payers, even when the price looks too good to be true. Limiting your purchases to higher dividend payers (at least 6.5 percent) priced below $25 per share turns the issuing company of your preferred stock shares into your "built-in buyer," helping to keep you out of the perpetual ownership trap.
(Source: Preferred Stock Investing, Fifth Edition, page 260)
What's Next?
Preferred stock investing is long-term investing, taking advantage of the known inverse relationship between rates and prices over time. Buyers purchase their shares when rates are increasing and prices are falling below par. Sellers sell those shares once rates head back down and prices head back up above par, adding a capital gain to the dividend income that you receive in the meantime (for the results of using this approach since January 2001 see "Why Falling Prices Should Be Welcomed by Preferred Stock Investors", August 12, 2013).
2013 was a transitional year. Higher dividend payers have become available for lower market prices; a classic "buyer's market" for preferred stocks, providing risk-averse preferred stock investors with increasing dividend income and many more choices to pick from.
Disclosure: I have no positions in any stocks mentioned, and no plans to initiate any positions within the next 72 hours. I wrote this article myself, and it expresses my own opinions. I am not receiving compensation for it (other than from Seeking Alpha). I have no business relationship with any company whose stock is mentioned in this article.
Additional disclosure: The CDx3 Notification Service is my preferred stock email alert and research newsletter service and includes the database of all preferred stocks and exchange-traded debt securities traded on U.S. stock exchanges used for this article. Securities identified within this article are for illustration purposes only and are not to be taken as recommendations.