With the final days of 2013 fast approaching, I find the end of the year an excellent time to review the events of the past year. I use this time to reflect on the blessings and challenges faced during the year and how each was handled. In the investing realm, I tend to focus on the "mistakes" made during the year, as learning from failures in my view provides more valuable information that the winners.
With 2013 rapidly approaching its demise, I thought it would be wise to look upon what could be in store for us in 2014. The article below will detail my bullish thesis for AT&T (NYSE:T) the venerable communications giant. The article below will be focus on the four key reasons for my bullish stance towards T.
T has been at the forefront of communications since the inception of the telephone. Over the years, it has undergone many changes beginning with the government mandated breakup in the 80's which spun off the local and long distance branches, to its new form today which consists of a wireless, broadband and traditional wire line service. T has been and will continue to be a steady hand, as the reoccurring nature of its business, gives it a significant amount of predictability and durability. The consistent predictability of T revenue model is one of my primary reasons for interest in the shares. T business model could be termed an "annuity" like revenue stream which appeals to my conservative nature.
| | | | | | | | | | |
| --- | --- | --- | --- | --- | --- | --- | --- | --- | --- |
| Year | 2004 | 2005 | 2006 | 2007 | 2008 | 2009 | 2010 | 2011 | 2012 |
| Revenue in millions | 40,787 | 43,862 | 63,055 | 119,839 | 124,028 | 123,018 | 124,399 | 126,723 | 127,434 |
| Dividends per share | 1.25 | 1.29 | 1.33 | 1.42 | 1.60 | 1.64 | 1.68 | 1.72 | 1.76 |
| Shares outstanding in millions | 3,300 | 3,877 | 3,882 | 6,043.5 | 5893 | 5901.9 | 5911 | 5926.5 | 5581.4 |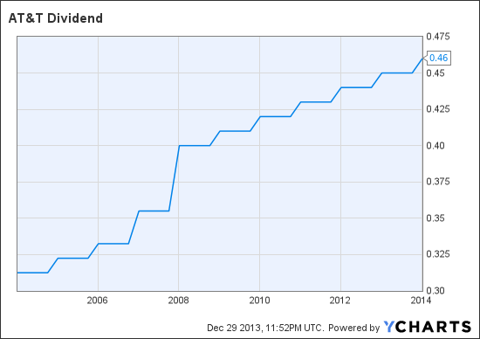 T Dividend data by YCharts
The consistency of T's revenue allows for a generous dividend payment which would be my second reason for an investment in the shares. T is a member of the S&P 500 Aristocrats Index which is comprised of companies that have raised their dividends for at least 20 years. While the designation is impressive, it fails to properly show the rock steady payouts T has made over the last century. AT&T Corp., a division of T has made quarterly dividend payments since 1883! T is currently yielding over 5% based on a current quote of roughly $35 per share. While a yield north of 5% is enticing, I would need to have a clear path for capital gains before considering investing in the company.
The third and in my view most important reason for my bullish view on T revolves around its share repurchase program. The excerpt below taken from page 32 of the most recent 10-Q show management's commitment in returning value to shareholders via dividends and share repurchases.
In May 2013, we completed a repurchase authorization that was approved by our Board of Directors in July 2012. In March 2013, our Board of Directors authorized the repurchase of an additional 300 million shares of our common stock. During the first nine months of 2013, we repurchased 312 million shares for $11,134 under these authorizations. At the end of the third quarter, we had 216 million shares remaining on the March 2013 authorization. We expect to make future repurchases opportunistically.
The share repurchase plan in my view bestows three beneficial effects on T shareholders. The first benefit is the tremendous amount of profits the company retains by not having as many shares outstanding. The excerpt below from page 33 of the most recent 10-Q, shows a savings of roughly 413 million for the nine months ending in September of 2013.
AT&T INC.
SEPTEMBER 30, 2013
Item 2. Management's Discussion and Analysis of Financial Condition and Results of Operations - Continued
Dollars in millions except per share amounts
We paid dividends of $7,325 during the first nine months of 2013, compared with $7,738 for the first nine months of 2012, primarily reflecting the decline in shares outstanding due to our repurchases during the year, which offset the increase in the quarterly dividend approved by our Board of Directors in November 2012. Dividends declared by our Board of Directors totaled $0.45 per share in the third quarter of 2013 and $1.35 per share for the first nine months of 2013 and $0.44 per share in the third quarter and $1.32 per share for the first nine months of 2012. Our dividend policy considers the expectations and requirements of stockholders, internal requirements of AT&T and long-term growth opportunities. It is our intent to provide the financial flexibility to allow our Board of Directors to consider dividend growth and to recommend an increase in dividends to be paid in future periods. All dividends remain subject to declaration by our Board of Directors.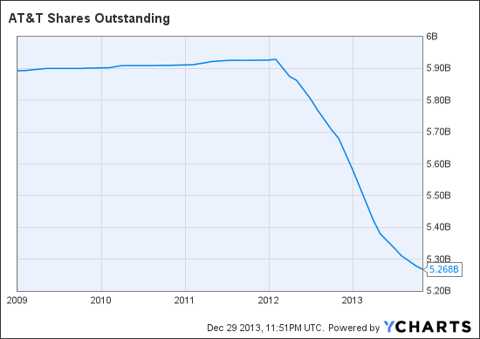 T Shares Outstanding data by YCharts
T is unique in the fact that it has targeted a certain number of shares to be acquired under its share repurchase agreement. Most companies will assign a gross dollar value which typically falls short of their goal of retiring a significant amount of shares. T is looking to retire an additional 4% of its shares, which will reduce the total amount of dollars paid out in dividends. The third benefit to having a share repurchase plan in effect is the plan helps mitigate downside risk in the shares. T has indicated it wants to be an opportunistic acquirer of its shares, which I translate to mean "We plan on stepping up and buying anytime the Street sells off". T reacquiring its shares doesn't make it immune to downside pressure; instead it should help cushion any sort of sharp decline.
The fourth and in my view most compelling reason for an investment in T revolves around the magic of compounding. T's stable business model allows for stable revenue and earnings which allows for higher dividends and share repurchases. An investor in T can be reasonably certain to acquire an enterprise that can grow its revenue at a mid single digit clip, while returning over 5% of its earnings to shareholders in the form of dividends. When combined with a repurchase program that will retire roughly 4% of the share outstanding, it isn't unrealistic to estimate a total return north of 10%. Barring a foreign acquisition, T can continue on its current path for at least the rest of the decade which should reward long term shareholders.
In summary, I find T to offer a compelling value at its current quote. The combination of steady revenues combined with a high dividend and a share repurchase plan should allow a long term investor to compound at a double digit clip. Thank you for reading and I look forward to your comments.
Disclosure: I have no positions in any stocks mentioned, but may initiate a long position in T over the next 72 hours. I wrote this article myself, and it expresses my own opinions. I am not receiving compensation for it (other than from Seeking Alpha). I have no business relationship with any company whose stock is mentioned in this article.
Additional disclosure: Investors are always reminded that before making any investment, you should do your own proper due diligence on any name directly or indirectly mentioned in this article. Investors should also consider seeking advice from a broker or financial adviser before making any investment decisions. Any material in this article should be considered general information, and not relied on as a formal investment recommendation.