By Brad Zigler
Earlier this week ("Add Soft Wheat To Your Hard Asset List"), we noted bottoming action and bullish seasonality in Chicago wheat futures bolstering the price of the iPath Dow Jones-UBS Grains Subindex Total Return ETN (NYSE Arca: JJG).
The buoyancy in agricultural futures, however, is being leveraged by agribusiness firms, much as mining company stocks key off the price of gold. This tendency is clearly reflected when the price ratio of agribusiness stocks over agricultural futures is plotted. The price differential between the equity-based Market Vectors Agribusiness ETF (NYSE Arca: MOO) and the futures-holding PowerShares DB Agriculture Fund (NYSE Arca: DBA) has been steadily growing in MOO's favor for more than a year. In fact, the MOO/DBA ratio has ticked up to historic highs over the past couple of trading sessions.
Price Ratio: Ag Stocks (NYSEARCA:MOO) Vs. Ag Futures (NYSEARCA:DBA)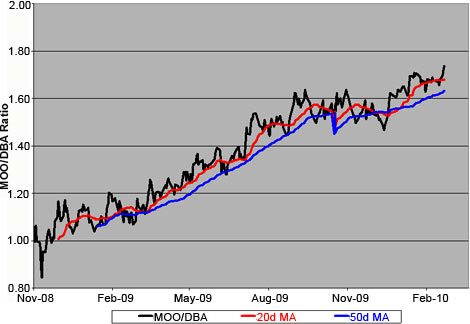 MOO's been appreciating at a compound annual rate of 49.3 percent since late 2008, while DBA's struggled to grow at a 0.2 percent pace.
Part of DBA's troubles come from the rejiggering it was forced to undergo last year when its then very concentrated index methodology bumped up against position limits. Another factor has been an almost universal contango in the fund's component futures that ate into returns.
The biggest factor accounting for MOO's strength, though, is the vigorous growth in constituent companies such as Deere & Co. (NYSE: DE), Mosaic Co. (NYSE: MOS) and Potash Corp. of Saskatchewan (NYSE: POT). These issues, now averaging a 12.5 percent premium to their 200-day moving averages, make up more than a fifth of the fund's portfolio.
Since bottoming last month near $40, MOO's retraced to test the $45 level, but needs closes above $44.82 to set a course for its January high at $47.90.
Yesterday, bulls and bears squared off to a standstill around $44.50. This morning, profit-taking pressured prices a quarter-point lower, after six straight days of higher closes.
Time will tell whether this morning's action is a sufficient slowdown in MOO's trajectory to attract buyers to take on the $45 offer.
Author's Disclosure: none