Sunshine Heart (SSH) is one of my Top Med Picks for 2014 and a possible multi-bagger stock in the coming 3-5 year timeframe. For those of you who may be new to the Sunshine Heart story, it's an innovator focused on developing, manufacturing and commercializing the C-Pulse® System for treatment of Class III and ambulatory Class IV heart failure. It was founded in 1999, headquartered in Eden Prairie, MN and is an early stage medical device company, focused on innovative technologies for cardiac and coronary disease. Unfortunately, Class IV patients, despite optimal drug therapy, have persistent symptoms and their treatment options are very limited. One treatment option is surgery, however surgical approaches usually involve complex open-heart surgery or heart transplantation.
Filling an Unmet Need for Class III and Class IV Heart Patients
Sunshine Heart's C-Pulse® Heart Assist System is an innovative approach to assist the heart's function, not replace it and may be implanted using a minimally invasive approach.
Sunshine Heart and the FDA
Sunshine Heart completed an approved U.S. Food and Drug Administration (FDA) feasibility clinical trial for the C-Pulse System and presented the results in November 2011. In March 2012, the FDA notified the Company that it could move forward with an investigational device exemption (NYSE:IDE) application. Sunshine Heart received unconditional approval from the FDA in November 2012 to initiate its pivotal trial. In July 2012 Sunshine Heart received CE Mark approval for its C-Pulse System in Europe.
U.S. and European Long-Term Outlook Is Encouraging
First, and given that the company is in early stage development, it is nevertheless expected that meaningful procedure volume will build--in Europe on the C-Pulse's continued expansion in key European markets, and due to introduction to the U.S. market. European expansion could drive significant growth over the next few years along with FDA approval of the C-Pulse System in a few years. This marks a pivotal event in the top line trajectory for the company.
Second, research suggests there are roughly 1.5M NYHA (New York Heart Association) Class III and ambulatory Class IV heart failure patients in the U.S., or roughly 25-30% of the overall heart failure population. A key inclusion criterion of SSH's U.S. pivotal trial is heart failure (NYSE:HF) patients with left ventricular ejection fraction (LVEF) of ≤ 35%.
The analysis of a large scale heart failure trial, the Digitalis Investigation Group trial, conducted to examine the effect of a mainstream heart failure drug on mortality and hospitalization in stable patients with HF, found that of the 7,788 stable, but clinically confirmed HF patients screened for the trial, 66% had LVEF of ≤35%.
Apply this 66% theory to the broader population of 1.5M moderate heart failure patients and the results would conclude that there very well might be close to 1 million patients in the U.S. eligible for the trial under the LVEF inclusion criterion. Here's the math. (1.5M x 66% = 990K).
I believe that within this market, SSH's realistic target population will be those patients moving towards advanced Class IV heart failure.
Taking a conservative estimate: 130,000 patients in the U.S. are experiencing Class IV heart failure and this population may represent the ideal target group. If successfully reached at a cost of $59K per device, the estimates total a significant market opportunity of $7.5B in the U.S. alone, and we are not even counting Europe.
Similarly, by applying estimates of 66% to Europe's estimated 3.7M patients with Class III/ambulatory Class IV heart failure, there are an additional 2.5M patients in Europe who would ideally become very good candidates for the C-Pulse system.
A Real Game Changer In The Making
Please try to remember that science and breakthrough technologies in medical advances do take time. Key breakthroughs don't occur overnight. Sunshine fits within this category. Fully implantable heart assist devices will likely be available within a few years and could very well be achieved by SSH. I do believe that this is the real "goal" which has not yet been achieved by either Heartware (NASDAQ:HTWR) or Thoratec (NASDAQ:THOR) who have invested several costly years and multiple millions into R&D.
Sunshine Heart Chart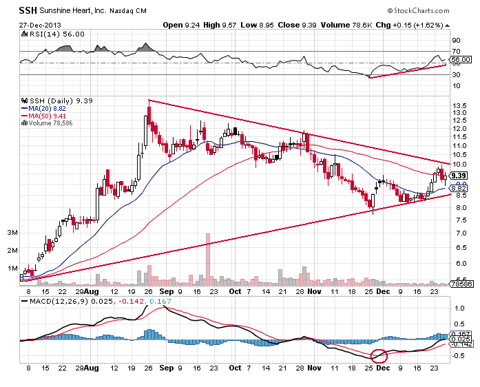 Reimbursement
With regard to reimbursement for C-Pulse, the Company continues to receive feedback from sites with qualifying LVAD programs that they have received regional CMS reimbursement approval for the C-Pulse procedure under established LVAD codes.
Upcoming Catalyst
The Company submitted an NUB application for reimbursement in Germany in October 2013 and expects to receive feedback in February of 2014. The Federal Republic of Germany currently has approximately 82.5 million inhabitants and is organized in 16 states.
German Decision Makers and Influencers
SHI - (Statutory Health Insurance): Germany utilizes a "Bismarck" Insurance Fund-based system of healthcare provision which covers the vast majority of the population. Statutory Health Insurance Funds (SHIs) are responsible for the costs of healthcare provision to their insured population. Being insured is legally mandatory and 92% of the population are members of a SHI.
DIMDI - (German Institute of Medical Documentation and Information): Maintains diagnostic (ICD-10-GM) and procedural (OPS) coding.
InEK - (Institute for the Hospital Remuneration System):Maintenance of G-DRG codes and associated reimbursement rates and the handling of applications for NUB and monitoring of NUB utilization.
G-BA - (Joint Federal Committee): Ratification of new procedures for coverage by the SHI.
Ambulatory Care Committee (Part of G-BA): Maintains the EBM catalogue (see below), which is the basis for the fee for service remuneration of providers.
IQWiG - (Institute for Quality and Efficiency in Healthcare):May conduct health technology assessments if requested by G-BA. There is no standardized health technology assessment procedure by IQWi) for (companion) diagnostics existing, yet.
The NUB Application - The Quick Pathway for Innovative Products
Recognizing the need for a mechanism allowing innovation within the G-DRG system, the InEK has created an "on-top" funding process for innovative products. This process is known as NUB (Neue Untersuchungs- und Behandlungsmethoden). Application can be filed by hospitals only for technologies that have been introduced in Germany.
Every hospital will need to apply separately (electronic application at InEK) and the "on-top" payment (if the application is approved) will be available only to the hospitals that applied for it and not to every hospital in Germany. Approved applications are subsequently monitored by InEK and should the new technology be adequately used, correctly coded, and exhibit a cost profile of sufficient difference, the InEK may integrate it permanently to the G-DRG. It should be noted that InEK makes no decision on the actual amount of the "on-top" payment. That will need to be directly negotiated between the successful hospital applicants and the SHIs. The NUB pathway has the potential to accelerate market access for new technologies but requires significant effort from its users.
Sunshine Heart Recent Public Offering of Common Shares
On September 24, 2013 -- Sunshine Heart, Inc. announced the closing of an underwritten public offering of 4,381,500 shares of its common stock, which includes the full over allotment of 571,500 shares. Price to the public was $10.50 per share. The net proceeds from the sale of shares, after underwriting discounts and offering expenses, totaled approximately $42.6 million.
Smart, Experienced Management and Board Members
One element to successful investing can be attributed to following the management and directors in innovative growth companies.
Take a look at one key board member Warren Watson:
Warren Watson is from Medtronic (NYSE:MDT) and recently appointed to the SSH Board of Directors - Click This Link. With over 35 years of experience in medical devices, Watson brings to Sunshine Heart 33 years of experience from medical technology innovator Medtronic, Inc., where he served in several management roles ranging from technical management to general management responsibilities. While at Medtronic, Watson spent 8 years as VP of Research and Development for the Cardiac Rhythm Management business. He has also served on the Board of Directors of several U.S. cardiology companies: Cameron Health connection and note, Boston Scientific buys Cameron Health -- March 2012.
Additional key officers and directors are listed here and here.
Stock Valuation
Analysts Jason Mills and Jeffrey Chu at Canaccord maintain a 12 month price target of $14.75, which is based on the current mean "high growth multiple" of 9x to their 2016 revenue estimate yet discount this back 15% per year to the end of 2014. This might be conservative.
Summary Notes
The Sunshine Heart C Pulse II has the potential to be the first completely self-contained therapy for heart failure since the bi-ventricular pacer.
Lack of blood contact and non-obligatory feature make it the most likely candidate to leverage TETS in a mechanical circulatory assist device.
Pump innovation has facilitated development of a novel technology, avoiding the safety and regulatory risks of an implantable battery.
The system is well suited for implantation off-pump through a small sternal-sparing incision, making it well suited for patients earlier in the course of heart failure.
The company has exhibited major positive transformations and I believe we should see more positive catalysts in 2014.
The shares are very tight and are believed to be in very good hands during its recent consolidation from the strong run it has experienced so far this year.
In my opinion, Sunshine Heart will be a home run for investors in 2014.
Sunshine Heart's December Investor Presentation
For more due diligence, please see Sunshine Heart's December 2013 presentation.
Disclosure: I am long SSH. I wrote this article myself, and it expresses my own opinions. I am not receiving compensation for it (other than from Seeking Alpha). I have no business relationship with any company whose stock is mentioned in this article.