S&P 400 mid-cap and S&P 600 small-cap stocks have outperformed S&P 500 large-cap stocks in the US since the March 2009 low. The S&P 500 large-cap stocks have outperformed the S&P 100 larger-cap stocks. The S&P 500 Dividend Aristocrats have out performed the S&P 500 index. The S&P 500 Equal Weight index has outperformed them all.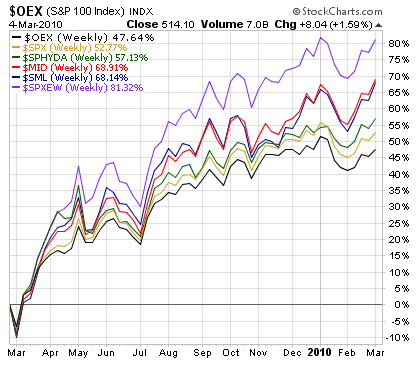 The mid-cap and small-cap stocks frequently outperform the large-cap stocks. Our research shows that the mid-cap stocks outperform the small-cap stocks more often that the other way around.
Research from a few years ago from S&P suggested that the equal weight S&P 500 index had an edge over the standard market weighted S&P 500 index.
Over three years the mid-cap stocks also came out ahead, with the equal weight index in second place. The dividend index, however, did poorly; perhaps due to relative lack of interest in equity income over that span, or perhaps due to the cancellation and reduction in dividends by so many companies as a result of the 2008 crash.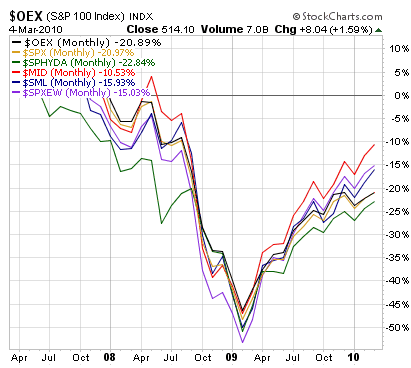 Big companies probably have better access to equity and debt capital and may have better internal funding capacity, as well as better ability to source and sell globally. That is a factor to consider in a dangerous world.
Mid-size companies on the other hand may have better ability to grow, change and innovate than the largest companies — at least their superior returns would suggest that. They have distinguished themselves enough to grow out of the small-cap arena, but have not yet become so large that high growth comes with great difficulty.
We tend to think that when US equities are desirable, mid-cap stocks should be over-weighted. The same may be true of the S&P 500 equal weight index, which may resemble the mid-cap index in the greater importance of the smaller constituents of the S&P 500 than the mega-companies that dominate that market-weighted index.
We are out of equities at this moment in tactically active accounts, but are in equities in those committed to maintaining equity exposure.
Reasonable proxies for the indexes in this article are:
Holdings Disclosure: As of March 4, 2010, we hold positions in SDY and MDY in some managed accounts, but do not have current positions in any other securities discussed in this document in any managed account.
Disclaimer: Opinions expressed in this material and our disclosed positions are as of March 4, 2010. Our opinions and positions may change as subsequent conditions vary. We are a fee-only investment advisor, and are compensated only by our clients. We do not sell securities, and do not receive any form of revenue or incentive from any source other than directly from clients. We are not affiliated with any securities dealer, any fund, any fund sponsor or any company issuer of any security. All of our published material is for informational purposes only, and is not personal investment advice to any specific person for any particular purpose. We utilize information sources that we believe to be reliable, but do not warrant the accuracy of those sources or our analysis. Past performance is no guarantee of future performance, and there is no guarantee that any forecast will come to pass. Do not rely solely on this material when making an investment decision. Other factors may be important too. Investment involves risks of loss of capital. Consider seeking professional advice before implementing your portfolio ideas.