I'm currently reading a book, Stocks For The Long Run, by Wharton Professor, Jeremy J. Siegel, and in the Fourth Edition the author wrote:
Over the past 200 years the compound annual return on a diversified portfolio of common stock is nearly 7 percent in the United States, and it has displayed a remarkable consistency over time…
Siegel went on to say that much of the success of stocks throughout the past two centuries has been in the ability to manage and control risk effectively. By that, Siegel explains:
… the ability to create value also springs from skillful management.
So how do successful investors manage to acquire that necessary "trace of wisdom" that Ben Graham often mentioned in his book, The Intelligent Investor? What is it that separates "the best from the rest?" Howard Marks, the author of The Most Important Thing said, "Investing consists of exactly one thing: dealing with the future," so how does an intelligent investor learn to control risk and generate satisfactory returns?
Benjamin Graham best described that secret sauce when he said:
A long-term investor is the only type of investor there is. Someone who can't hold on to stocks for more than a few months at a time is doomed to end up not as a victor but as a victim.
Many people believe that the fastest way to the highest market returns is by short-term trades that are accurately timed. These investors - known as market timers - try to pick bottoms and tops and they think they can capture large returns by jumping in the market to profit during periods when stocks are up, and then jumping when prices are down. In The Little Book of Value Investing, Christopher Browne explains:
There is no way to accurately and consistently time short-term market movements… It's simply better to be in the market, invested in value stocks that offer the highest possible return than to play the timing game.
Looking for everlasting gobstoppers?
So how does an "intelligent REIT investor" determine how to profit for the "long-term?" Maybe that answer lies in this question from one of Graham's exemplary students, Warren Buffett:
Do I buy stocks on the assumption that it'd be fine if the market closed tomorrow and didn't reopen for five years?
Maybe then, if you're prepared to buy and hold for five years, nothing but the best-positioned companies will do. Or perhaps the words "buy and hold" have gone the way of the dinosaur and predicting short-term market direction has become the newest innovation along with StockTwits and FINVIZ.com. Or just maybe there are some securities that are worth owning "if the market closed tomorrow" and maybe even then, these select few could be described in the words of the Oracle from Omaha:
Our favorite holding period is forever.
It's virtually impossible to consistently make money timing (a good reason I don't invest in mortgage REITs), and you're better off investing for the long term and riding out the bumps. Value investors have the added security of knowing that they can own REITs that have characteristics of long-term winners, and they pay special attention to investing with a "margin of safety." Accordingly, "buy and hold" investors seem to avoid the periodic market bubbles that result in painful losses (i.e. mortgage REITs).
Earlier this year I wrote an article referencing one of my favorite childhood movies, Charlie and the Chocolate Factory. In one of the scenes Willy Wonka defined the "everlasting gobstopper" in a way that is much like one of the most significant ingredients of a "buy and hold" REIT. As Wonka explains:
Everlasting gobstoppers! They're completely new! I am inventing them for children who are given very little pocket money. You can put an everlasting gobstopper in your mouth and you can suck it and suck it and suck it and suck it and it will never get any smaller!... There's one of them being tested this very moment in the Testing Room next door. An Oompa-Loompa is sucking it. He's been sucking it for nearly a year now without stopping, and it's still just as good as ever!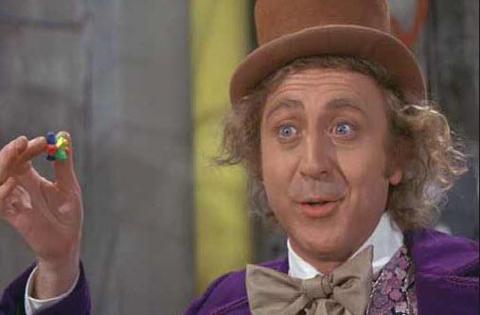 Click to enlarge
So what's the "everlasting" REIT ingredient? That's easy. It's the dividend. Most of the time the past is no prediction of the future. However, when it comes to the top dividend paying stocks, a REIT's dividend history can give investors some hints about the future.
Most Seeking Alpha readers know that David Fish produces a monthly DRiP Investing report that lists US companies that have paid and increased dividends repeatedly. By filtering the stocks, DRiP Investing categorizes them into three buckets: (1) the champions (25 or more straight years of higher dividends), (2) contenders (10-24 straight years of higher dividends) and (3) challengers (5-9 years of higher dividends). There are 16 US Equity REITs that are included in the combined champion, contender and challenger categories. The winners are as follows: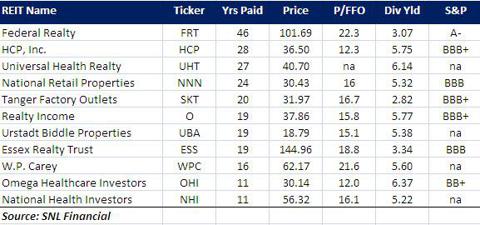 Click to enlarge
Now it's true, dividend repeatability is an important ingredient for "buy and hold" investors; however, an equally important attribute is the dividend growth, that is, look for REITs that continue to increase their dividend annually. It's one thing to enjoy sucking on an everlasting gobstopper, but it's essential to maintain the flavor by adding juicy increases in time.
Other important elements to consider are dividend payout ratios. We know that dividend history and yield are important measures of REIT stocks; however, dividend investors must also pay attention to the dividend payout ratio of a company as well. A REIT that continually increases its dividend each year could be a great investment opportunity; however, if the dividend increases are coming at the expense of earnings then there could be a problem. The payout ratio will tell investors how much of a company's earnings are being used to pay the dividend to common shareholders.
REITs to Buy and Hold in 2014 and Beyond
To set the record straight, I love everlasting gobstoppers, and I love REITs; however, I shouldn't overpay for them. Actually, I don't buy groceries; I leave that up to my wife. But there's a common denominator - we (my wife and I) both like bargains.
It's important to remember that there are growth stocks and there are blue-chip dividend stocks. Investors should never overpay for a dividend stock. Even the best investments go on clearance every once in a while. Dividend stocks are no different, and investors should never overpay to own them.
One of the best ways to determine the value of a REIT is by utilizing the price-to funds-from operations ratio or P/FFO. In a previous Seeking Alpha article I explained that price-to-earnings had no meaning in REIT-dom since P/FFO is a more standardized metric that analysts use to compare earnings. As I wrote:
By utilizing price to FFO valuation, analysts and investors can determine the trading history of each REIT by itself and relative to the entire REIT sector. Accordingly, payout ratios are based on AFFO (adjusted funds from operations) because it more accurately measures cash flow when compared to net income (due to depreciation), and given the contractual nature of lease payments today, earnings growth rates are higher than the S&P.
Over the last few months, and thanks to Mr. Market, investors have been able to find much better entry points - some fairly valued and even a few bargains. What's interesting is that many of the higher quality REITs have improved their fundamentals while the cost of buying the shares has come down. In other words, it's possible to own a BMW (in a REIT wrapper) at a Buick sticker price. That's not to say that all blue-chip REITs are on sale, but there are several worth examining.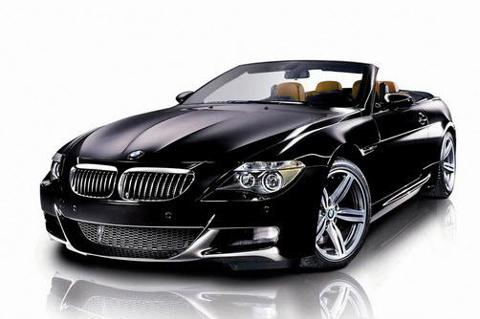 Click to enlarge
First, however, I want to mention that the REITs that I consider to be "buy and hold" stocks are characteristically "best in class," and the primary test that differentiates these REITs from the others is the fact that they have been able to withstand "remarkable consistency" (as Siegel described) and "skillful risk management." All of my picks have the dividend attributes of the everlasting gobstoppers, and they appear to be equally or as profitable as their closest competitors. More importantly, I'm very comfortable with the fact that these chosen REITs will be able to produce satisfactory earnings throughout the next three years.
Finally, and directly correlated to the "remarkable consistency" and "skillful risk management" practices, are the undeniable fortress balance sheet characteristics. A strong balance sheet is a good indicator of a company's stamina and that's generally the secret ingredient that allows a REIT to survive when the going gets tough.
Tanger Factory Outlets (NYSE:SKT) is my first "Buy and Hold" REIT on the list. I'm sure some of you will argue that the company's 2.82% dividend yield is weak; however, the growth opportunities seem endless for the Greensboro-based REIT that owns 43 upscale outlet centers in 26 states and Canada. This year Tanger became a Dividend Aristocrat inductee, which simply means that the company has paid and increased dividends for 20 years in a row. Part of that success can be attributed to the company's fortress balance sheet (BBB+) as well as its experienced risk management practices (current occupancy stands at 98.7%). Shares are currently trading at $31.97, and with a P/FFO multiple of 16.7x I'm looking for a little better entry point. When I see a P/FFO multiple of 15.0x or less I plan to pounce on the shares and hold on until the fat lady sings.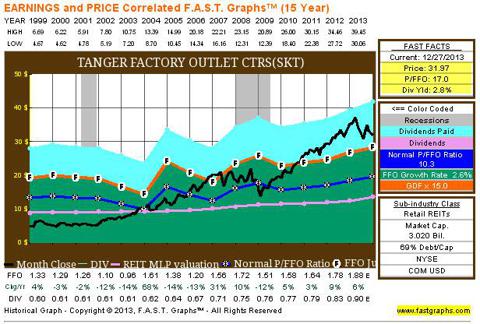 Click to enlarge
Ventas Inc. (NYSE:VTR) is my next "Buy and Hold" REIT. Like Tanger, Ventas has an enviable balance sheet, and as the credit quality has improved (BBB+) the blue chip REIT has dropped into sound value range. It's highly unusual to see Mr. Market giving Ventas a low grade when the CEO has hit the cover off the ball. Debra Cafaro is, in my opinion, one of the best CEOs in REIT-dom, and her score card can only be defined by 10 remarkable years of managing risk as evidenced by superior returns (From 2002-2012, the compound annual total shareholder return of 25.1% far outpaced both the MSCI US REIT Index and S&P 500 Index, and our total shareholder return was a remarkable 835.4%.). Ventas is trading at an incredibly attractive valuation of 13.8 P/FFO that equates to an opportunistic divided yield of 5.07%. I would argue that Ventas has moved into a quasi-bargain range with the latest price of $57.24.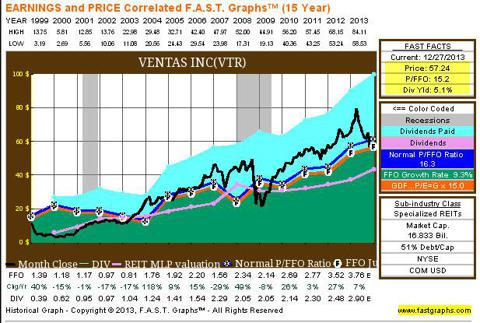 Click to enlarge
Realty Income (NYSE:O) is my final "Buy and Hold" pick for 2014. Like Ventas, Realty Income has also hit the cover off the ball in 2013. Even with the seamless retirement of the former CEO, Tom Lewis, Realty Income has been able to step up and produce more value for shareholders. Through the third quarter of 2013 Realty Income invested approximately $1.37 billion in 407 new properties and properties under development or expansion (not including the $3.2 billion acquisition of American Realty Capital Trust (NASDAQ:ARCT) which was completed during the first quarter of 2013). Also, if growth is a question, Realty Income recently announced that the company signed purchase and sale agreements with Inland Diversified Real Estate Trust, Inc. to acquire 84 single-tenant, 100% net-leased properties, for approximately $503 million. That's almost 50% of 2014 guidance that should close in the first quarter. Realty Income also increased the size of its moat this year by upgrading its balance sheet from BBB to BBB+.
Realty Income is the only REIT that I own with more than 5% concentration, as I have intentionally moved into a tactical over-weight strategy. With shares trading at $37.86 and a dividend yield of 5.77% it is easy for me to justify the increased exposure to my blue-chip brand. I consider the valuation of 15.8x sound and I liken owning Realty Income to the above-referenced analogy - I'm driving a BMW for the cost of a Buick.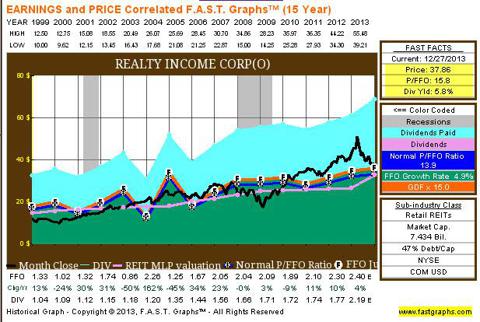 Click to enlarge
Sleep Well Every Night
So this concludes my 2014 "Buy and Hold" picks. I consider all three of my picks to be "blue chip", core-quality holdings that an investor should buy for his or her grandparents, parents and children. They are the "sleep well at night," confidence-inspiring companies with management teams and operational expertise that REIT investors can rely on for above average earnings growth throughout long time periods.
Value investing is the stress-free route to investment success. That's why I define "sleeping well at night" by the formula known as the margin of safety. It's so true - buying stocks when they are cheap is the best way to grow money and stocks of high quality companies on sale always reap the highest returns.
Here's a New Year's Tip: I never lose at Monopoly when I buy Park Place and Boardwalk... Good Luck and Happy REIT shopping in 2014!
Check out my monthly newsletter (The Intelligent REIT Investor).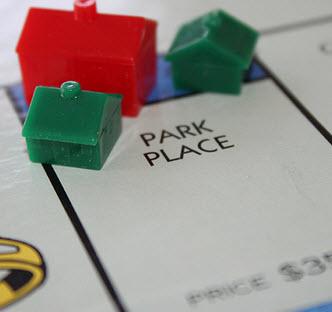 Source: SNL Financial and FAST Graphs.
Disclaimer: This article is intended to provide information to interested parties. As I have no knowledge of individual investor circumstances, goals, and/or portfolio concentration or diversification, readers are expected to complete their own due diligence before purchasing any stocks mentioned or recommended.
Disclosure: I am long O, ARCP, VTR, HTA, HCN, CSG, DLR, UMH, CBL, ROIC, STAG. I wrote this article myself, and it expresses my own opinions. I am not receiving compensation for it (other than from Seeking Alpha). I have no business relationship with any company whose stock is mentioned in this article.