While headline November new-home sales fell by a statistically-insignificant 2.1%, upside revisions to the previously-unbelievable data for October, and before, showed ongoing reporting instabilities. The pattern of recently-surging activity here also has run counter to that estimated for rapidly-slowing existing-home sales. - John Williams, Stadowstats.com
As has been widely written about, the Government's shutdown has created a high degree of "instability" - to use John Williams term for it - in the economic data being released by Government agencies. In what I believe is a reflection of this unstable data reporting is the Census Bureau's latest monthly new home sales report for November (pdf link).
As I will show below, the data just published for new homes sales substantially deviate from the trends in the data for September through November for both mortgage purchase applications and existing homes sales. In addition, September-November are typically among the slowest seasonal months for all home sales. As just reported, the numbers put out by the Census Bureau completely defy this historical seasonality. Because of these factors, the reported "preliminary" number for November, and the large upward revisions to the September and October reports, go well beyond the realm of credibility.
The Census Bureau per the report linked above has reported that new homes for November sold at a 464,000 seasonally adjusted annualized rate, up from the 450k SAAR that was reported for June. While it is possible that November exhibited "outlier" behavior in terms of what the historical seasonal data would have predicted for November's new home sales, the low probability of this event necessitates a closer examination of the data.
As part of this re-examination, I took at look at the 3-month average for new homes sales this year for June-August, three of the highest seasonal sales months for new homes, and compared it to the 3-month average for September-November, three of the lowest seasonal months for new home sales. The 3-month average for reported new homes sales from June-August is 403k (from the data linked above). The 3-month average for September-November as reported is 447k, or 44k higher. The numbers reported for September and October include significant upward revisions to the numbers originally reported. In other words, the Census Bureau is reporting data that now shows new home sales during one of the lowest 3-month seasonal periods of the year to be 11% higher this year than for the highest 3-month period of the year: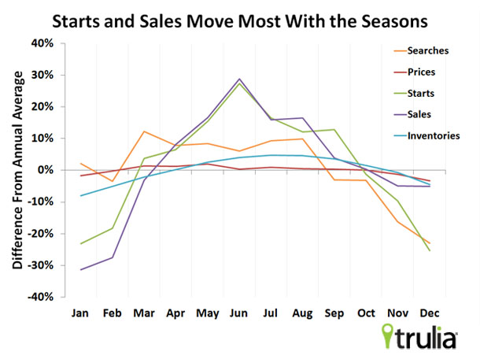 Click to enlargeThis chart was sourced from Trulia.com and shows 5 years of seasonal data that was derived directly from the Census Bureau's statistical model. It shows each month's new home sales as a percentage of the annual average. As you can see, new home sales for September-November for the last five years on average exhibit a marked decline from the average monthly sales rate for the entire year. Moreover, they typically decline significantly below the sales rate for the summer months. In other words, the numbers presented by the Census Bureau - both as revised higher for September and October and as preliminarily reported for November - are the exact of opposite of what has been experienced over the last 5 years for those months on average, thereby in my view calling into question their veracity. For the record, the numbers originally reported for September and October were consistent with the interrelational historical seasonal trends.
While the reported and revised data are certainly a statistical possibility when assessed independent of other factors, the data runs completely contrary to the data being reported for mortgage purchase applications and for existing home sales.
A few hours before the Government released new home sales for November, the Mortgage Bankers Association released its weekly mortgage applications report which showed that mortgage applications dropped 6.3% to a 13-yr low. The purchase applications index dropped 4% and has now fallen in 9 of the last 13 weeks:
(click to enlarge, chart source from the Calculated Risk blog, edits in black are mine)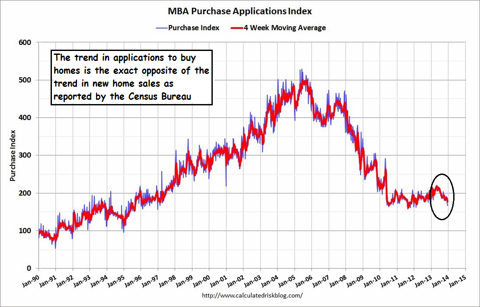 Click to enlarge
As you can see, during the period of time in which the Census Bureau is asking us to believe that new home sales spiked up during a low seasonal period for sales, mortgage purchase applications were declining at a fairly steep rate. This would suggest either that an unusually large number of new home buyers used all cash to purchase their new home or the new home sales data is not reliable. As this data from the National Association of Homebuyers shows, not only are less than 8% of all new homes purchased with all cash, the percentage of all cash transactions declined slightly in Q3. Given this fact, the decline in mortgage purchase applications suggests that new home sales actually declined during the last three months. This can only mean that the Census Bureau's data is not accurate.
Finally, the National Association of Realtors reports monthly sales numbers for existing home sales, which I analyzed in a recent Seeking Alpha article. Existing monthly home sales on a not seasonally adjusted basis have declined every month successively since June (data table linked in my article). Compare this graph to the rising trend that is being reported by the Government for new home sales since June:
(click to enlarge - source Bloomberg, red edits are mine)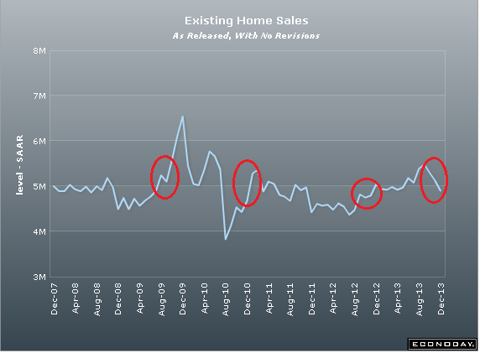 Click to enlarge
As you can see, the data that is being reported for existing home sales, which make up nearly 90% of all home sales, show a declining trend for September-November. In other words, existing home sales behaved in line with both seasonal trends and mortgage purchase application trends. It would therefore stand to reason that new home sales data would be consistent with that of existing home sales and mortgage application data. In the absence of a credible explanation for why the new home sales data was significantly divergent from this other benchmark data, I can only conclude that the Census Bureau's data is not reliable.
If analyzed on a standalone basis, the big bounce being reported in new homes sales might be explained by a rush of home buyers seeking to buy a home before the tougher new mortgage underwriting standards being levied by the Dodd-Frank legislation and lower mortgage limits being imposed by the FHA, which kick in at the beginning of 2014. But the problem with this view is that the data as reported by the Census Bureau significantly diverges from seasonal behavior and from the data already reported for both mortgage purchase applications and existing home sales. On this basis I argue that the new home sales data reported last week are not credible.
One last point on this, as I reviewed in some previous articles on Seeking Alpha, the CEOs of PulteGroup (NYSE:PHM), D.R. Horton (NYSE:DHI) and Hovnanian (NYSE:HOV), remarked in their recent quarterly/annual reports that the near-term outlook for new home sales was for a soft market. Again, this runs counter to the data being reported by the Census Bureau.
I continue to pound the table with my call to sell or sell short the new homebuilder stocks. The big move in the DJUSHB new home construction index since December 18th has occurred on exceptionally low volume and bearish fundamental housing market data, including a move to 3% in the 10-yr Treasury interest rate which is used to price 30-yr fixed rate mortgages. Please see my previous articles on Seeking Alpha for ways to implement a bear play. My favorite homebuilder shorts continue to be D.R. Horton and KB Home (NYSE:KBH) and I recently added to both of my short positions in those stocks.
Disclosure: I am short DHI, KBH. I wrote this article myself, and it expresses my own opinions. I am not receiving compensation for it (other than from Seeking Alpha). I have no business relationship with any company whose stock is mentioned in this article.