Can you hear the whispers at the holiday parties across Silicon Valley? Did you sense a certain note of urgency in Tim Cook's holiday message to employees this year? I suspect that investors other than Carl Icahn might be murmuring something similar to the tune that turned taboo into truth at Microsoft this past summer. Maybe even because of the imminent change at Microsoft, calls for a change atop Apple (NASDAQ:AAPL) might not be long in coming. Apple's stock performance has been below par since the death of Steve Jobs, and I think many would agree that there's been a less innovative energy about the company since then as well. The stock's valuation certainly shows a less confident outlook among investors. While none of it may be the fault of Tim Cook, who sure seems to me to be a genuine good spirit and leader, it still could lead impatient investors to call for a change in leadership without a quick shift in all of the above at Apple. Cook's 2013 compensation was just made public, and while $4.25 million does not sound like enough for the CEO of Apple, it might be sounding like too much today to shareholders.
The Microsoft Precedent
After a long lull in the price activity around Microsoft (NASDAQ:MSFT) and with the sudden and disruptive arrival of Apple and significant inroads by Google (NASDAQ:GOOG), an impossible argument became possible around Microsoft this past summer. The idea of Steve Ballmer leaving Microsoft went from taboo to true, as investor and Board pressure mounted. The company is now engaged in a high profile CEO search. If that was possible given Ballmer's history with the company, it should not be long before more media ask the question and shareholders demand a similar change at Apple . After all, the shares have not performed up to even the market par, let alone the rate Apple investors are accustomed to.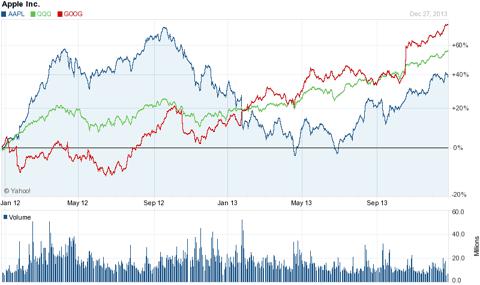 AAPL has appreciated at a dividend adjusted 53% since October 5, 2011, the day Steve Jobs died. That seems to show the company did not skip a beat. It does, anyway, until you compare its performance to that of rival Google or even the PowerShares QQQ (NASDAQ:QQQ), which is modeled to match the Nasdaq. Even Microsoft , which has struggled mightily to keep pace with its burgeoning competitors, has outperformed Apple since that tragic day in 2011. More recently, over the year-to-date period, Apple has barely budged while the other four securities noted here have set the world on fire.
| | | |
| --- | --- | --- |
| Company | Since Oct. 5, 2011 | Year-to-Date |
| Apple | 53% | +5.2% |
| PowerShares QQQ | 68% | +34.4% |
| Google | 122% | +58.1% |
| Microsoft | 54% | +39.6% |
The issue is not valuation; it's the fact that Apple is not getting a valuation. The favorite argument of longs in AAPL has been valuation and the inevitable reversion to mean value for the shares. The stock trades at a significant discount to peers on all metrics and to its intrinsic value implied by earnings growth projections. However, the discount implies investor skepticism about the company's growth outlook.
| | | | | |
| --- | --- | --- | --- | --- |
| Security | P/E | 5-Yr Growth Est. | PEG | P/S |
| Apple | 14.1X | 14.3% | 0.9X | 3.0X |
| Google | 30.4X | 15.7% | 1.6X | 6.5X |
| Microsoft | 14.0X | 7.2% | 1.9X | 3.9X |
Microsoft's PEG ratio of 0.9X implies uncertainty about the 14.3% five-year growth forecast of analysts for it. It shows Apple is not reaping its fully due valuation, and is therefore a sign of inadequate leadership. If Apple can attain the growth expected by analysts for it, then it needs to make that clear to investors through better communication or by effecting the means through which it will get there for all to see. The means to get there would seem to be international expansion and new product and service innovation.
Excitement about the company's ability to innovate has dulled since Steve Jobs passed away. Apple insiders are frustrated with that argument, because they have been innovating and enhancing for the company's mainstay products including the iPhone, iPod, iPad and Mac computers. That kind of innovation is the type that helps a company defend its turf and market share, which is of course critical. However, it does not necessarily carry with it the fuel for P/E expansion.
Apple's PEG ratio has improved of late, as it was too deeply penalizing the company capable of generating the earnings projected for it this past year. But if Apple wants to get the premium Google flaunts, it has to excite the public again about new and wonderful game-changing and disruptive gear. I have been waiting for Apple to revolutionize television for several years now and have grown impatient and lost some confidence. Samsung (OTC:SSNLF), Sony (NYSE:SNE) and the other mainstays in the TV market could have been caught off-guard several years ago, but today they have well-anticipated Apple and are in better position to defend their turf. While Google and Samsung have offered up a "why not" attitude for wild new gear of all sorts, Apple seems to wait for grand slam development and misses home run valuation like Google is enjoying today. Who knows, though, maybe Apple will introduce a hologram TV this coming year and disintegrate critical articles like this…
Some, like activist investor Carl Icahn, believe the company should free value to shareholders through the issuance of dividends and share buybacks. This implies that excess cash and investments are being held that are not necessary for value-added investment in the business. Again, if this is the case, it implies less than optimal corporate management. The company does hold approximately $140 billion of cash and equivalents on its balance sheet. It has a $100 billion dividend and share repurchase program in place already, but Icahn is proposing that it be increased so that $50 billion is used during fiscal 2014. Apple is putting Icahn's proposal up for vote at the annual shareholders meeting in February, and suggesting investors vote it down.
Activist investors tend to turn up in cases where a stock seems to have unlocked value to tap into. Important investors like Icahn can acquire enough of a company to disrupt the normal flow of things and make suggestions that have to be addressed by the corporate management team. I think that activist investors mostly add value for shareholders, because at minimum, they force sometimes comfortable executives to think differently. But in some cases, they might force a short-term solution at the cost of long-term plans.
If Apple needs that $140 billion to revolutionize the American home, say with a hypothetical hologram machine, then it would be hampered by the issuance of the shares through dividend or share repurchases.
In my view, Tim Cook probably has a little more time to show shareholders that his leadership can return the capital appreciation that Apple investors had grown accustomed to. After all, he has preserved the ship, unlike the value destruction that occurred over at J.C. Penney (NYSE:JCP) upon similarly timed leadership transition there. Still, it seems as though Cook will have to follow through in 2014 on the kind of amazing year he spoke about to employees in his holiday message. That is because investors, however enamored with Apple's history, should be expected to exhibit a show me mentality and a focus on the present with money on the line today.
Disclosure: I have no positions in any stocks mentioned, and no plans to initiate any positions within the next 72 hours. I wrote this article myself, and it expresses my own opinions. I am not receiving compensation for it (other than from Seeking Alpha). I have no business relationship with any company whose stock is mentioned in this article.