In this previous article, I wrote about what I believe to be the best opportunities for 2014. The companies with the most cash, continual modest growth, and a record of increasing dividends year after year without missing a beat, are poised to outpace the major indices. Why? Because they will not need to borrow money at higher interest rates. All of these companies are enormous blue chip stocks with deep pockets and tend to churn out revenues seemingly endlessly.
While this will be the final 2013 update for two of our retirement portfolios, the Team Alpha Retirement Portfolio and Team Alpha Growth And Income Portfolio, it could very well be the beginning of expansive capital appreciation for many of the stocks within each portfolio.
Let's Get Right To It
The Team Alpha Retirement Portfolio currently consists of Apple (NASDAQ:AAPL), AT&T (NYSE:T), Cisco (NASDAQ:CSCO), CSX Corp. (NYSE:CSX), Chevron (NYSE:CVX), Exxon Mobil (NYSE:XOM), Ford (NYSE:F), General Electric (NYSE:GE), Johnson & Johnson (NYSE:JNJ), Coca-Cola (NYSE:KO), McDonald's (NYSE:MCD), Procter & Gamble (NYSE:PG), Realty Income (NYSE:O), Wells Fargo (NYSE:WFC), Franklin Street Properties (NYSEMKT:FSP), Omega Healthcare Investments, Inc. (NYSE:OHI) and Microsoft (NASDAQ:MSFT).
Allocation
Stock
#Shares
12/27/2013
TotValue
Orig. Price
div rcvd
7.00%
XOM
125
102/shr
12750
75
7.00%
JNJ
105
92/shr
9660
63
9%
T
400
35/shr
14000
28
8.00%
GE
500
28/shr
14000
15
110
2.00%
FSP
200
12/shr
2400
13
7.00%
AAPL
20
560/shr
11200
436
6.00%
PG
100
82/shr
8200
61
3.00%
KO
100
41/shr
4100
34
2.00%
OHI
100
30/shr
3000
31
6.00%
WFC
200
45/shr
9000
40
9.00%
O
300
38/shr
11400
34
54
7.00%
CSCO
400
22/shr
8800
18
5.00%
CVX
65
125/shr
8125
116
7.00%
MCD
110
97shr
10670
86
4.00%
CSX
200
28/shr
5600
19
4.00%
F
300
15/shr
4500
13
5.00%
MSFT
200
37/shr
7400
37
2.00%
Cash Rsvs
x
x
3635
100.00%
Tot Value
x
x
148440
The total value of this portfolio has increased by nearly 49% in 25 months. More importantly, we have gone from a yield on cost of 4.10% to 5.04% as of today.
Keep in mind that we began with $100k invested, and now we have $144.8k invested, working hard to create our income. We achieved the increase by having several dividend opportunity stocks (Annaly Capital (NYSE:NLY), BlackRock (NASDAQ:BKCC), etc.) with high yields, for periods of time until we could invest those dollars into the dividend winners.
We also bought just about every dip in some of the higher yielding stocks like AT&T, Realty Income, and General Electric. While only AT&T is currently a dividend champion, GE is on its way to becoming one again, and Realty Income has a very healthy and steady 5.7% yield with over 550 consecutive months of payments and over 70 increases.
The Team Alpha Growth And Income Portfolio consists of Apple, Ambarella (NASDAQ:AMBA), Cisco, CSX Corp., Chevron, Ford, Facebook (NASDAQ:FB), Galena (NASDAQ:GALE), General Electric , Altria (NYSE:MO), Johnson & Johnson, Coca-Cola, McDonald's, Realty Income, Procter & Gamble, AT&T, Wells Fargo, Exxon Mobil, Yahoo (NASDAQ:YHOO), Mid-America Apartments (NYSE:MAA) Franklin Street Properties, Omega Healthcare Investments, Inc. and Microsoft.
Stock
Shares
Price Now
Total Value
Cost Basis
AAPL
10
560
5600
$475
AMBA
350
32
10200
$19
CSCO
125
22
2750
$23
CSX
125
28
3500
$26
CVX
30
125
3750
$120
F
200
15
3000
$17
FB
100
55
5500
$50
GALE
3500
4.25
14875
$2
GE
175
28
4900
$24
MO
175
38
6650
$34
JNJ
40
92
3680
$86
KO
75
41
3075
$38
MCD
40
97
3880
$97
O
150
38
5700
$40
PG
50
82
4250
$76
T
175
35
6300
$34
WFC
100
45
4500
$41
XOM
50
102
5100
$86
YHOO
175
41
7175
$33
MAA
100
61
6100
$62
FSP
200
12
2400
$13
OHI
100
30
3000
$31
MSFT
30
37
1110
$37
Cash Rsvs
x
x
480
Tot.Value
x
x
117,475
In less than 4 months, our new portfolio has increased in value by almost 18%. While this portfolio has just a 3.93% yield on cost, I feel confident that 2014 will show a significant increase just by the dividend champions continuing their increases.
Since this portfolio also has only several specific growth stocks, the value of the portfolio has been driven higher by terrific increases in Ambarella, Galena BioPharma, Facebook, and Yahoo. All have done extremely well, and 2014 could bring similar results, although with some temporary pullbacks due to valuations.
The only issue I see right now with this portfolio is the lack of cash to take advantage of buying opportunities. To address that, I am considering selling all of Cisco, and skimming some profits in Ambarella and Facebook. If these moves are made it will be sometime in the 1st quarter of 2014, not before.
Several Key Stocks For 2014
The makeup of both portfolios fills several requirements; solid current income, and strong opportunities for growth. That being said there are several standout companies that more than fit the description of those that I believe will outperform.
Exxon Mobil
The largest company on the planet also has an enormous amount of cash and cash equivalents that can be deployed by the company at any time for any purpose. The fundamentals also show great ability to return even more shareholder value in 2014.
Forward PE of only 12.90
Operating cash of more than $48 billion with an 8:1 ratio to debts.
A dividend payout ratio of just 31%
A price to book value of 2.60 and a very low price to sales ratio of just 1.11
A bullish ESS rating.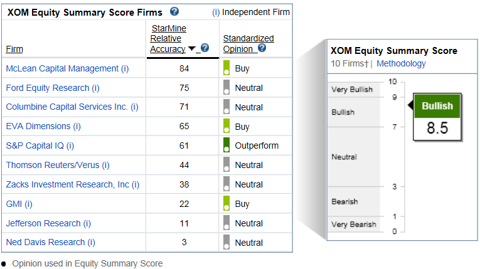 Apple
The second largest company on the planet is a cash cow that has been vacillating between being a growth company again, as well as a future dividend champion. I believe that this one company can achieve both, and to me that means everyone should own shares of this company right now.
Over $200 billion in cash and cash equivalents (assets) with only $17 billion in debt, which was used for the company share buy back plan.
A ridiculously low forward PE of 11.70.
A dividend payout ratio of just 29%.
A bullish ESS rating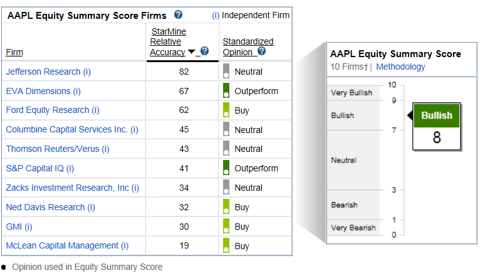 These two stocks typify what I believe will be the superior performers in 2014, and while I can point out a handful more that are similar, these are the two big guns I feel.
The Bottom Line
2013 is just about over and while we could finally see some sort of correction in the first quarter of 2014, I feel good about these two portfolios for next year.
The bigger the better, the more cash available and the better will get bigger.
Disclaimer: The opinions of the author are not recommendations to either buy or sell any security. Please remember to do your own research prior to making any investment decisions.
Disclosure: I am long AAPL, AMBA, CSCO, CSX, CVX, F, FB, FSP, GALE, GE, JNJ, KO, MCD, MAA, O, OHI, T, WFC, XOM, YHOO. I wrote this article myself, and it expresses my own opinions. I am not receiving compensation for it (other than from Seeking Alpha). I have no business relationship with any company whose stock is mentioned in this article.